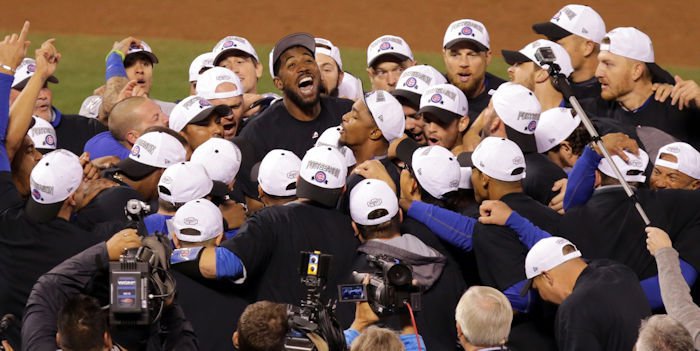 | | |
| --- | --- |
| Commentary: Thank you to Dexter Fowler | |
---
| | | |
| --- | --- | --- |
| Saturday, December 10, 2016, 3:29 PM | | |
CHICAGO -- Well, one thing is certain: Dexter Fowler will not be showing up and surprising his teammates in a Cubs uniform in Mesa, come this spring. But that's no reason to not appreciate every bit of the two fantastic seasons he spent here, which should put him in Cubbie blue in many fan's hearts forever--including to his own admission, his very own.
When the 2015 season ended and Dexter Fowler became a free agent, his market was depressed due to draft compensation and many teams were reluctant to sacrifice that ever-so-sacred compensation draft pick. After Dexter Fowler spurned the Orioles when contract negotiations hit a snag (allegedly over an opt-out clause) in which he was to sign a three-year deal, worth 33 million total, he decided to return to Chicago on a one-year pact worth $13 million total (which he received in payments of 8 million in 2016, and 5 million through a team option/buyout clause, which had been agreed to prior to re-signing--as the Cubs held a 9 million option with the aforementioned five million buyout clause for 2017, a "gentleman's agreement" of sorts).
Fowler, a FA-to-be, was a fan-favorite among Cubs fans, as much as predicting that 2016 would be "the year" after he shocked teammates when he showed up to spring training after allegedly "spurning" the Orioles. Cubs players were more than happy to have him back for 2016's title run and as the saying went, "He Goes, We Go" and such was how it seemed to go. Fowler played a pivotal role with the Cubs over the past two seasons, but heading into his age 32 season, and looking to take the chance to sign his one big contract and test free agency, the writing was on the wall that Fowler was unlikely to re-sign with the Cubs. That was confirmed when it was announced he would be signing a 5-year, 82.5 million dollar deal with the rival St. Louis Cardinals, to the chagrin of many Cubs fans.
Yes, people are already starting to question the signing of Jason Heyward in comparison to Fowler and his deal with the Cardinals, but it isn't even fair to compare the two.
Calm down, Cubs fans, and let's all appreciate Dexter and remember him as a Cubbie who helped us "break the curse"--alongside Heyward, for that matter. The first title in 108--or some crazy amount of years, and he was a big piece. He earned his contract, and this adds a bit of dynamic to the rivalry, which is just fine by me. For the Cubs, they will also receive the Cardinals' first round draft pick after Fowler declined the team's 17.2 qualifying offer, which will be the 19th pick overall, to go along with the last pick in the 1st round (which the Cubs possess as their own).
Cubs fans will get to see Fowler right away, when he is likely leading off for the Cardinals on April 2nd, Opening Day of the 2017 MLB Season when the Cubs take on the Cardinals in St. Louis. From the Cardinals standpoint, despite getting a somewhat-older player who will be playing into his age-37 season under a five-year deal (which holds no opt-outs, and a no-trade clause), Fowler will likely slide into the lead-off spot for the Cards, pushing corner infielder Matt Carpenter back in the order, as well as allowing Randal Grichuk a move to left field.
Overall, Fowler gave the Cubs everything and then some and just because he signed with the Cardinals does not take away one thing he did for the City of Chicago. In my eyes, and hopefully many other fans out there, he will be a Cubbie for life and will always be remembered and thanked for helping bring a title back to Wrigleyville.
As it was said, "You Go, We Go!" and I look forward to Opening Day against the Cardinals and am confident in the Cubs being able to handle center field, even without Fowler, as much as his fantastic play in the field and presence in the clubhouse will be missed. I'm sure former Cubs teammates & Fowler will have some fun with each other that night, as well. As this winter and off-season starts growing colder, April 2nd and Opening Day can't come any sooner!

Upgrade Your Account
Unlock premium boards and exclusive features (e.g. ad-free) by upgrading your account today.
Upgrade Now