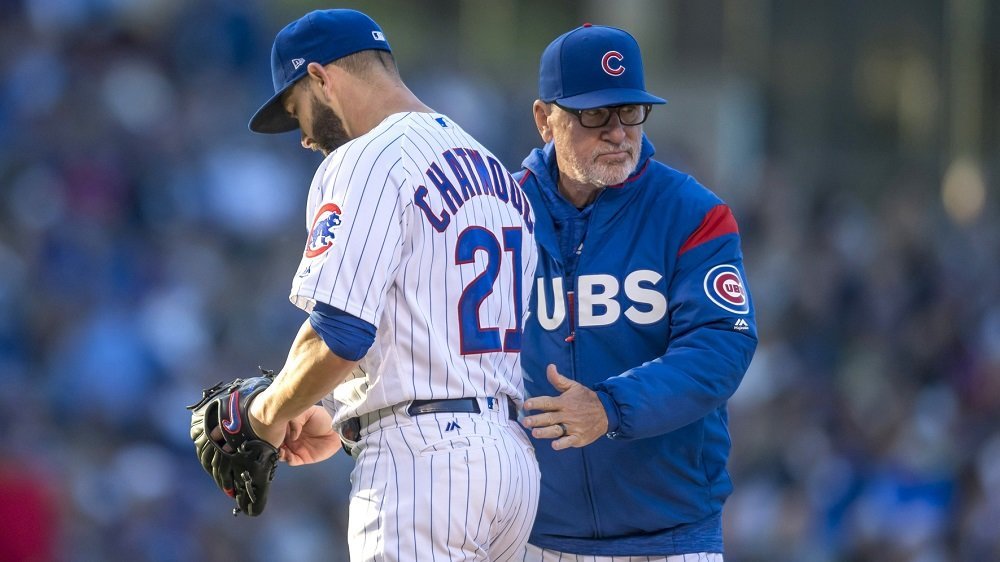 | | |
| --- | --- |
| Commentary: The Cubs' $164 million question | |
---
So far, twice every five days this season, I ask myself the same question; "Why in the world did the Cubs spend 164 million dollars on Yu Darvish and Tyler Chatwood?"
On the surface, Darvish appeared to be a solid choice. He was a force to be reckoned while playing with the Dodgers, and while not quite as effective with Texas, he got the job done most of the time. Between the two clubs, Darvish enjoyed a combined five-season record of 56-42 (131 starts) - well enough to boast a W-L% of .571, and an ERA of 3.42.
Then…there's Tyler Chatwood. While his career stats are semi-decent over his previous six seasons (40-46, 4.27 ERA), his overall career just seems kind of "meh" at best. By all accounts, Chatwood did well in spring training for the Cubs this year; averaging just over a strikeout per inning, and sporting a 2.91 ERA in his six Cactus League starts.
Fast forward to real life, 2018 big-league season though, and many fans, especially this one, are left asking themselves, "What did we get for all that money?" I guess the disclaimer from all of those investment commercials holds true for baseball as well: "Past performance is not indicative of future results." Darvish is now 1-3 over eight starts, with a 4.95 ERA, and Chatwood is 3-5 over 14 starts, with a 3.95 ERA - hardly worth 164M in terms of "dollars making sense."
Here's where objectivity has to get blurred by subjectivity though, as no one truly knows what is going on in the minds of Darvish and Chatwood; I'm not even sure they know, so let the stats fall where they may, and let conjecture take its course…
It's no secret that Darvish was tapped to fill some awfully big shoes- those of former Cubs starter, Jake Arrieta. Darvish has seemed nothing less than uncomfortable stepping into that role during every one of his starts this year. Somewhere between the laissez-faire attitude of Los Angeles, and the hustle and bustle of Chicago, Yu has lost his stride. I've read that he feels unwelcome in Chicago, and while I haven't really heard any boos or read any reports of death threats, I can imagine there's a certain amount of animosity looming over the Cubs losing Arrieta. Still, though, we've had players before who've started on a bad foot, but with hard work and perseverance, have come through as beloved favorites in the city- just ask Dennis Rodman.
So what happened to our promising new ace? As a Dodger, I feared for the Cubs when their offense had to face him; as a Cub, I fear what the opposing offense will do to him next. He appears to lack enthusiasm when he takes the mound, and shows little emotion as those pesky baserunners (and runs) pile up every time he starts. With the sporadic offense of the Cubs' bats this year, Darvish seems to be continually painting himself (and the team) into inescapable corners. Further hindering any potential turnaround, Darvish has already missed almost half of his scheduled starts, hitting the DL twice this year; once for the flu, and most recently for triceps tendonitis.
Where do I even begin to start with the trials and tribulations of Tyler Chatwood? For 38 million, we bought a starting pitcher who (on average) walks a man an inning, and thus far, has demonstrated the control of a 10-year-old little-leaguer. Because wild pitches are only considered "wild" when men on base advance, Chatwood has only accrued four of them (so far) this season, but that number hides countless, insanely errant pitches and doesn't account for all the times that Contreras has played like a world-class backstop.
I've tried to embrace and support Chatwood, but I just can't do it any longer. Over a month ago I suggested to my wife that it was only a matter of time before Chatwood's wildness got somebody hurt, then low and behold, he blasts Chris Taylor in the head last week- Taylor wasn't injured, but from the shape his helmet was in, it could've been ugly.
So what are the Cubs' options regarding Darvish and Chatwood?
I don't think trading Darvish is an option (yet), so they'd either have to return Darvish to the rotation, in hopes that he comes around, or put him in the bullpen in exchange for Montgomery. Chatwood, on the other hand, hasn't left the Cubs with many options. His astronomical walk rate and continuous lack of control should preclude him from the starting rotation. If he can't control his pitches well enough to start, I don't see how he could be trusted to come on in relief. He could develop one of those "phantom" injuries and spend some time in Iowa praying for a miracle. Finally, the Cubs could trade him (which gets my vote), but they would first have to (a) find a team willing to take him, and (b) prepare to take a financial loss.
So, I'll ask myself (and each of you) again… What exactly did we get for our 164-million dollars?