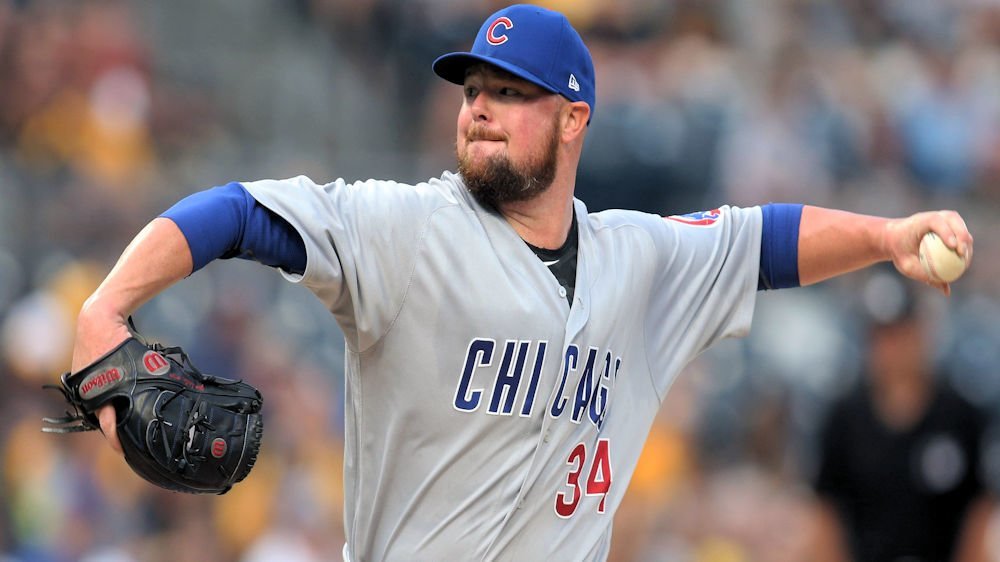 | | |
| --- | --- |
| Commentary: The Fantastic Four | |
---
So I've been asked for my intellectually superior opinion on which four players the Cubs should use to build another championship team around. Anchor points, if you will, from which the team would most benefit in keeping. Dan and Ken have already weighed in and it's tempting to just write, "Yeah, those guys" and call it a wrap. Doing that, though, would deprive my 1.5 member fan base of my brilliant insights, my keen eye for talent, and my whirlpool of wisdom.
Okay. More like my dart-throwing/coin-tossing skills. Enough intro. Time for the big reveal. Here is one starting pitcher, one reliever, one infielder, and one outfielder that the Cubs can safely hang their World Series party hats on.
Starting Pitcher: This was easy for me. I like my pitchers junkyard dog mean and ready to rumble. That's why I'm going with Jon Lester. Yes, he's getting long in the tooth, has a limited amount of years left compared to Kyle Hendricks and Jose Quintana, and it's unlikely his pitches will ever break the 100 MPH speed limit. But Lester has seen everything a batter can swing at him, and he pitches like he's angry and laser-focused. He gets ticked off when Maddon pulls him and is by all accounts an established leader on the bench and in the clubhouse. I want him passing that fire along to the rest of the pitching corps every day.
T-shirt: BE LESTER MEAN.
Reliever: I have to agree with Ken here and insist on keeping Jesse Chavez. I love Steve Cishek when he's on, and Carl Edwards Jr. when he's fired up. Pedro Strop doesn't count (though I think he's awesome) because he's a closer. For consistent command and again, attitude, there is no one in that bullpen quite like Chavez. Whether you watch him from the stands or your living room, the energy and dead-eye delivery he brings to the mound is palpable. Every time Maddon called for him, he breathed fire and spit warheads. He is a solid veteran out there, and every pitcher can learn something from Chavez. He's got to be kept, period.
T-shirt: YOU'VE BEEN CHAVEZED
Infielder: I know the popular choice(s) here, but I'm old and went off the rails years ago. No one is more reliable than Ben Zobrist, no one more solid than Anthony Rizzo, no one more exciting than Javier Baez. That's why my pick is David Bote. Yes, you read that right. I believe his bat will roar back to life in 2019, and his fielding is already near Gold Glove caliber. He's young, he's exciting, and he's a team player. This is a guy that although younger than my youngest kid just oozes with enthusiasm. He hustles like he's grateful to be there, and became the star of a bevy of GIF's, t-shirt graphics, and highlight reels. Zobrist said that Bote has the "it factor" after his now famous walk-off grand slam. He's got the perfect mindset for the up-and-comings to learn from.
T-shirt: OUR BOTE SAILS WAVELAND
Outfielder: Jason Heyward. All day long. He gets criticized when his bat gets a little cold, but personally, I don't care what he's hitting. His Gold Glove defense, his locker room leadership, and his rocket arm are plenty for me. I"ll let Baez, Rizzo, Zobrist, and whomever else in the lineup worry about clobbering the baseball. I want Heyward out there because he just has that presence - that leader-tude - that makes everyone around him better. And oh yeah, have I mentioned his arm? His speed to the ball? Be honest, how many times do you worry when you see a ball hit to right field? Exactly none, just as I thought.
T-shirt: BEWARE THE HEY-MAKER