| | |
| --- | --- |
| Commentary: The anti-climactic summer hot-stove | |
---
| | | |
| --- | --- | --- |
| Tuesday, July 30, 2019, 12:10 PM | | |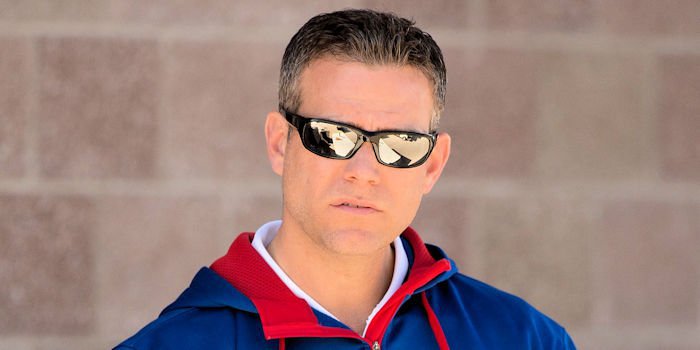 All and all, this summer's version of the hot-stove is about has been mundane as it was last winter. I had a reader ask me about where to find all of the trade info- the answer is mlb.com and the MLB Network, by the way- but here's a complete rundown of the total trades so far.
Sellers seem to dictate the market this summer, as so many teams find themselves 15, 20, even 30 games out of first place, and every one of those who has flopped seems to have at least one piece that the contenders want. You'd think that would make the market favorable to buyers, but with teams careful about how and who they deal, prices have climbed. Supply and demand.
The Cubs
If this comes as a shock to you, you may have been hiding under a rock, but the Cubs have done little (or, more realistically, next to nothing) to improve the dismal state of the bullpen, the leadoff man situation, or the second-base "crisis" that they seem to feel they have. With less than 24 hours remaining, just two trades for them so far, and neither one was earth shattering.
July 26: Cubs acquire LHP Derek Holland and cash considerations from Giants for cash considerations.
July 15: Cubs acquire C Martin Maldonado from Royals for LHP Mike Montgomery.
The Cubs are now looking to move Maldonado, but with the Brewers allegedly shopping Yasmani Grandal, the chances of moving him are slim to none, at least not for any pieces that will pay huge dividends. I wouldn't be surprised at this point- especially if the Cubs blow tomorrow night's game in St. Louis, to see the Cubs make some radical changes, but not as buyers; rather as sellers. This would be terrible six-ways-to-Sunday, but there's been more and more chatter about the Cubs considering a fire sale. Let's hope not.
The Remainder of the NL Central
This is actually more boring (proportionately) than what the Cubs have done.
July 29: Brewers acquire RHP Jordan Lyles for RHP prospect, Cody Ponce.
While the Reds haven't done a bunch (um, I mean nothing), they, too, are considering becoming sellers. They've already started to consider parting ways with several players, including Tanner Roarke, Yasiel Puig, Amir Garret and Scooter Gennett, among others.
The Rest of MLB
There's been a few big names that have been moved around the rest of MLB, but when you stop to consider that a month's worth of hot-stove "action" ends a day from now, 11 trades (total) sure doesn't seem like things ever got very hot.
July 29: Phillies acquire LHP Jason Vargas and cash from Mets for C Austin Bossart.
July 28: Mets acquire RHP Marcus Stroman and cash from Blue Jays for LHP Anthony Kay and RHP Simeon Woods-Richardson.
July 28: Rays acquire 2B Eric Sogard from Blue Jays for two PTBNL.
July 28: Indians acquire RHP Hunter Wood, INF Christian Arroyo from Rays for OF Ruben Cardenas and international bonus pool money.
July 27: Twins acquire RHP Sergio Romo, RHP Chris Vallimont and a PTBNL for Lewin Diaz.
July 27: Athletics acquire LHP Jake Diekman from Royals for RHP Ismael Aquino and OF Dairon Blanco.
July 27: Phillies acquire 2B/LF Jose Pirela from Padres for cash considerations.
July 25: Dodgers acquire 1B Tyler White from Astros for RHP Andre Scrubb.
July 17: Yankees acquire OF Terrance Gore from Royals for cash.
July 14: Athletics acquire RHP Homer Bailey from Royals for SS Kevin Merrell.
July 13: Red Sox acquire RHP Andrew Cashner from Orioles for OF Elio Prado and SS Noelberth Romero.
Teams like San Francisco have gone from sellers to buyers in just a couple of short weeks, while others don't seem to know which direction they're headed in before the deadline passes. Take the Mets for example, every other week they're going to sell off Noah Syndergaard, entertain offers on Jacob deGrom and hold onto Zack Wheeler, but with just 24 hours + to the deadline, Syndergaard stays, deGrom is off the table and Wheeler looks to be dealt.
There are plenty of other teams like the Mets out there, poised to do business one minute, then slamming the phone down on offers the next.
It's almost over folks, hang in there, then call me if you'd like to join my new support group for disgruntled fans (I think I may hire a certified Shrink to run that…)
Top 75 Trade Candidates At The Deadline https://t.co/pDWQZRC1yZ pic.twitter.com/nXDHutxiM8

— MLB Trade Rumors (@mlbtraderumors) July 30, 2019
No traction with 24 hours to go can often times cause a reaction which changes an offer by a fraction then can cause an immediate impaction which can lead to transaction.#JustSayinhttps://t.co/QE9tbfIbxC

— Jim Bowden (@JimBowdenGM) July 30, 2019