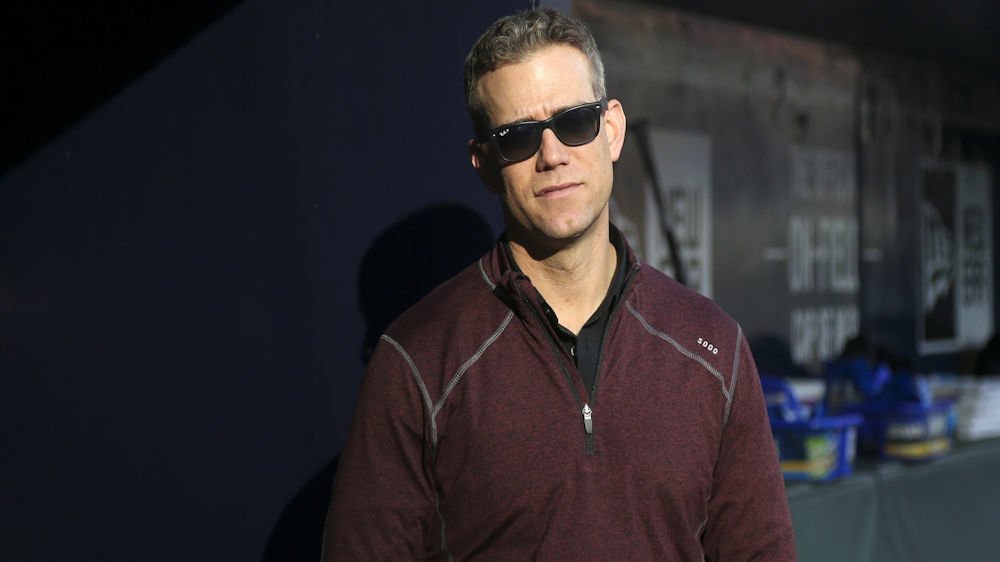 | | |
| --- | --- |
| Commentary: This seems to be a very strange Cubs Con | |
---
Rather than being in Chicago at the convention, I'm stuck in an ice storm in southwest Missouri, but even I can sense something isn't right at the Sheraton Grand Chicago. Not that I or anyone else should have expected that the Cubs would unveil a new star via trade or free agency, but I'd have expected them to announce Javier Baez's extension, or maybe, just maybe, that they'd locked down Nicholas Castellanos; but nada.
Just the sight of Castellanos in a 2019 highlight video got the crowd roaring, but it quickly grew anticlimactic when Theo failed to announce a new deal with the hard-hitting superstar.
Sight of Nick Castellanos in 2019 highlight video draws thunderous roar from Cubs Convention crowd.

— Tim Stebbins (@tim_stebbins) January 18, 2020
The winter hasn't been a ton of fun, but the somber tone for Cubs Con seemed to start with Jed Hoyer's pre-convention appearance yesterday afternoon on 670 The Score. Hoyer came right out and said that the window for signing core players to extensions might have passed, leaving us all to wonder about what would be happening next year (2021).
Anthony Rizzo, Jon Lester, Javier Baez, Kris Bryant, Kyle Schwarber – all free agents then, with Willson Contreras to follow in 2022. Of course, Big Jon will likely retire, but what about the heart and soul of the core? The Cubs' numero uno mission this year was to sign Javy to a long-term extension, but they haven't even accomplished that. Further concerning is that Sahadev Sharma now reports that talks have stalled concerning extensions for Baez, Bryant, Contreras, Schwarber, and Rizzo. That doesn't leave a ton to celebrate.
Theo on extension talks with players: "We've moved the ball forward a little bit. Not sure what the outcome is going to be. Some productive talks."

He didn't say him by name but this is most likely in regards to Baez.

— Jesse Rogers (@ESPNChiCubs) January 18, 2020
Theo says they've made a little progress on extension talks, but Javy doesn't seem as confident, stating, "It's up to them. I really have no comment about it. When the right deal comes, we'll be ready for it." No, Javy is not signing a David Bote or Kyle Hendricks type of deal, and neither is the rest of the core.
With what's now become two years of limited spending, Tom Ricketts took the stage to a crowd who was half cheering and half booing, but even that quickly changed.
Cubs convention crowd is now full on booing owner Tom Ricketts #cubscon

— MBDChicago (@MBDChicago) January 18, 2020
I may be one of the few who's OK with Ricketts, not spending on free agents. Yu Darvish is working towards making himself worth every penny of his $126M dollar deal, but the Cubs will be reeling for another handful of years after signing Jason Heyward to a deal seemingly equivocal to the national debt. Proportionately speaking, Theo's biggest blunder as of late, was the deal to bring Daniel Descalso to the Cubs on a two-year/$5M deal which hasn't produced squat. Hey, look at the bright side, at least the Cubs have an option on Danny D that they can decline in 2021. And then, Tom took his checkbook back from Theo's desk.
I like Theo; he built us a World Series winning team, but it's blatantly apparent that he's now in "spin-mode," trying to make the best of what's become a bad situation. The once robust farm system is now depleted, players aren't signing team-friendly extensions, and he has no access to more money to bail himself out.
Theo on the Cubs off season so far: "Maybe we're doing an Ali rope-a-dope on everybody and we'll do some stuff later."

Then said, maybe not. It could be status quo

— Jesse Rogers (@ESPNChiCubs) January 18, 2020
Trying to assure fans the best that he could, Theo said, "We've been more active on the phone this January than previously," but isn't that because you usually have things pretty well locked down by now, Theo?
Them he too was booed and heckled.
Theo and Jed now talking about the "busy" off season. Hecklers calling for Nick or keeping KB #Cubscon

— MBDChicago (@MBDChicago) January 18, 2020
Not even illness was a good enough reason for some fans, as they badgered Kris Bryant on social media, calling his flu-like symptoms a scam to avoid the team, fans, and media. Bryant's wife took to social media to defend him, but after KB's handful of years in the league, she should have learned by now that fans are going to bash him, and retaliating doesn't do much good – that is, unless you're Yu Darvish (must follow on Twitter).
Because it makes so much sense to fly all the way to Chicago to fake the flu. Not to mention leaving his pregnant wife who also has the flu at home because he truly loves being at the convention every year. But yep totally faking it??

— Jessica Bryant (@Jess__bryant) January 18, 2020
I'm OK for trading Bryant, but dear Lord, give the man a break. Jon Lester hasn't been there for two years, but then again, I suppose Big Jon isn't facing the issues that Bryant is, but either way, attendance isn't mandatory. KB did make a brief appearance to say hello, but quickly departed the stage, which most likely ended his appearances this weekend.
Flu prevents Kris Bryant from offering thoughts on his fuzzy future with #Cubs. My column from the Cubs Convention: https://t.co/4zPBVeeYUD pic.twitter.com/lF3KVznL6q

— Rick Morrissey (@MorrisseyCST) January 18, 2020
I understand that maintaining the status quo has become the new mantra for the Cubs, and I absolutely believe this team has what it takes to compete, but that'll only last so long. It's disheartening to see the players looking and sounding like such an uncertain bunch, with the punctuation being Jed's words about it being too late to sign extensions.
Theo on Cubs roster:

"What's most likely is status quo - it's hard to get long-term extensions done; it's hard to get trades done. We have what we feel is a pretty good club. We're trying to compete this year and we're not in a position where we *have* to do anything."

— Tony Andracki (@TonyAndracki23) January 18, 2020
Look, it's really this simple: Theo's objective has become less and less about the Chicago Cubs, focusing his attention on restocking the farm before his contract ends after 2021. All of these low-risk signings are an attempt to find the next diamonds in the rough while leaving the Major League team to fend for themselves. There's no better way to gain bargaining power than to win, but if the Cubs' core members want high-dollar extensions, they'll have to win with what they've got.
In retrospect, maybe this wasn't the year for me to go to the convention, as so far, it sure doesn't sound very festive.

Upgrade Your Account
Unlock premium boards and exclusive features (e.g. ad-free) by upgrading your account today.
Upgrade Now

Tags: Cubs Baseball
,
,
Anthony Rizzo
,
,
,
Kyle Schwarber
,
Willson Contreras
,
David Bote
,
Kyle Hendricks
,
Yu Darvish
,
Jason Heyward
,
Daniel Descalso