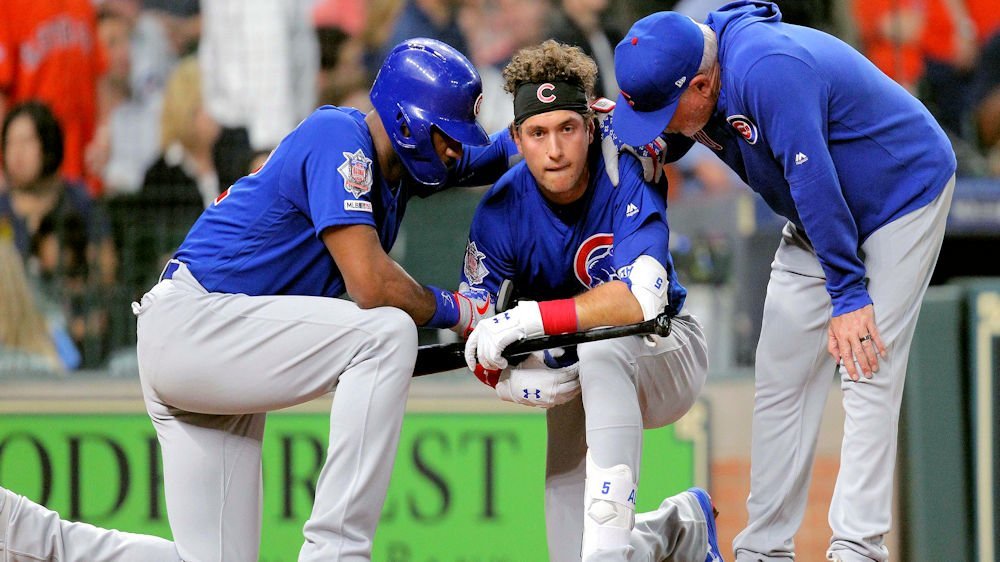 | | |
| --- | --- |
| Commentary: Too many fans getting hit by foul balls | |
---
| | | |
| --- | --- | --- |
| Thursday, May 30, 2019, 12:01 PM | | |
In last night's Cubs/Astros game, Albert Almora hit a screaming line drive down the third base line that unfortunately hit a young girl. As of this writing, the extent of her injuries are unknown. ESPN reported that the child was conscious and being taken to a local hospital for observations. It appears that she will be OK)
You hope and pray; she will be fine.
Aside from the child being affected, this has an incredibly emotional effect on others too. Obviously, the parents are worried sick. You can't even begin to imagine the pain they are going through. Almora was clearly upset and inconsolable for several innings, at one point he came in between innings and ran right to the clubhouse clearly in tears.
Who wants to be the guy that hurt some little child? The other players were upset themselves too. Many of them are parents, and I'm sure immediately thought of their children. Even if they don't have any children, who isn't going to be upset seeing a child get hit by a batted baseball?
The people in the stands around this incident immediately called for help and were visibly upset at what they were seeing. Nobody wants or expects, to go to a game and see someone get hurt in the stands. This will stay with everyone there for a long time even, hopefully, if everything is OK.
So, why does it seem that more people are getting hurt than ever before at baseball games? I believe there are three primary reasons, and fans can control only one of them.
The first reason, I believe, is that teams are reconfiguring their parks and adding more seating by bringing seats closer to the field and home plate. While it improves the view for everyone sitting there, it also brings the ball to them much faster, and they are not professional athletes with catlike reflexes. MLB has tried to fix this by adding screens stretching past the dugouts. The problem is that each team can determine where that should end, and some don't go far enough.
"Our fielders can hardly react to some of these line drives," Jed Hoyer told 670 The Score on Thursday morning. There's no way to expect parents/kids to pay attention every second and be able to handle such a hardliner."
MLB needs to establish a firm rule for all teams, and unfortunately, they may need to go the length of the foul area, from home plate to the foul pole. They can't continue to let people get hurt as reports are that there are a ton of lawsuits that pop up from fans getting hit by foul balls.
Cubs star Kris Bryant thinks that the netting should extend around the field of play.
"There's a lot of kids coming to the games -- young kids who want to watch us play, and the balls come in hard," Bryant told ESPN after Wednesday night's win. "I mean, the speed of the game is quick, and I think any safety measure we can take to, you know, make sure that the fans are safe, we should do it."
The second reason is that today's players are bigger and stronger, and they all are trying to hit a home run. This means that more pitches are being pulled, resulting in more balls being hit into the stands. This further supports the above point about extending the screens.
However, in my opinion, the number one reason is that people in the stands are not paying attention to the game. When I was a kid, my dad used to tell me as we were walking into the park that I needed to pay attention to the batter when the game was being played.
There are many points to this inattention problem, and I don't want to get into every one of them, but a few key things are simple fixes. First, stay off the stinking phone. I can't believe how many people are in the stands staring at their cell phone instead of watching the game.
Next, if you bring a child to the game sit between them and home plate so you can try to protect them.
Finally, teach your family to pay attention while the game is going on. There is plenty of time between innings to watch the scoreboard and look for the cotton candy guy. The whole point of going to the game is to see the game. If you need to watch it on the big screen, stay the heck home and watch it on TV.
I'm glad the child will be OK for her sake, her families sake, and for Albert Almora, who showed us what a great human he is with his compassion and caring.
Should MLB mandate extended netting in baseball stadiums? @thekapman @David_DeJesus3 and @dougglanville discussed it last night on #Cubs Postgame Live. pic.twitter.com/2eOJGR0yj3

— Cubs Talk (@NBCSCubs) May 30, 2019