| | |
| --- | --- |
| Commentary: What does the future hold for Ben Zobrist? | |
---
| | | |
| --- | --- | --- |
| Tuesday, September 24, 2019, 12:58 PM | | |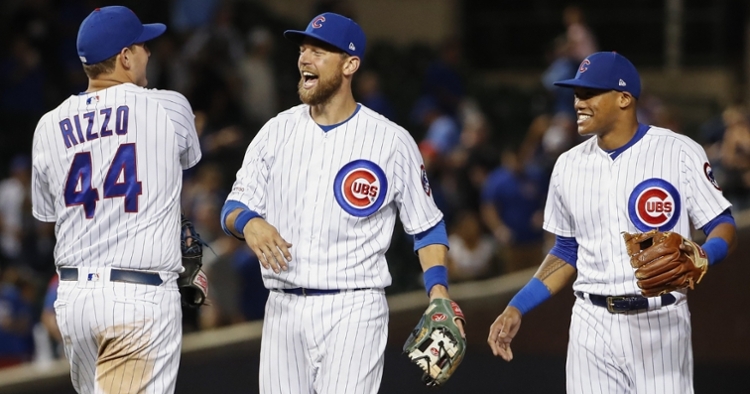 Since signing a four year 56-million-dollar deal with the Cubs ahead of the 2016 season, Ben Zobrist has quickly become one of the most beloved Cubs during his four-year tenure. That all started with game seven of the 2016 World Series where he laced a go-ahead single past Jose Ramirez in the 10th inning to put the Cubs in front for good ending their 108-year title drought. Zobrist went on to win World Series MVP the second straight time he accomplished that feat.
Following an injury-plagued 2017 that saw Zobrist limited to around 100 games, he responded in a big way in 2018 hitting over .300 that season which is a rare feat for a 37 – year old utility player. Then came 2019 which is a year Zobrist and Cubs fans may soon want to forget ever happened.
After a slow start to the season, Zobrist and his ex-wife Juliana filed for divorce. That sent a curveball Zobrist's way as he decided to take a leave of absence from the team in early May. Without the group knowing the bulk of the situation, they continued to support him in hopes of his eventual return to the club. Once August arrived, Zobrist felt ready to make his return and spend three weeks in the minors before coming back to the Northside ahead of September.
Zobrist appears to be back on track since his return as he is hitting a .263 with 1 HR and 16 RBI's thus far. That brings the question about his future and what it holds for him? This is the final year of his contract, and after what he all went through this season it certainly took a lot out of him. Add in the fact that he is now 38 years old and no one would be shocked to see him hang up the spikes following the end of 2019.
I will go on record and say that I did not expect to see Zobrist in a Cubs uniform at any point this season once he left. When he decided to return, I also didn't expect much, but he has surprised me and has shown that he has plenty left in the tank to continue playing if that is what he chooses to do. The man who defined the role of Utility Man may be in his last week with the Cubs, but if you ask him, it may not be the end of the road quite yet.
Zobrist about playing beyond 2019. "I think I could, yeah," said Zobrist, who was named World Series MVP after the Cubs' 2016 triumph over the Indians. "I think, physically, this month helped me know that physically I'm not behind, necessarily. I feel like I can keep up."
Keeping up is only part of the equation; however, as the mental grind and outside commitments to his family will also play a key role whether he decides to return for one more season. The family side of things is especially important given how he handled his situation this season. Even after battling through all that stuff and the Cubs September slide, Zobrist has responded with a .296 average in 61 plate appearances during the final month of the season. Not bad for a guy who many counted out in June.
Now in the final days of his four-year run with Chicago, the Cubs can sit back and look at his deal and be thankful that it mainly worked out in their favor. Not only did he give them two productive campaigns, but he helped lead the charge that ended the curse and returned the Cubs to greatness once again. However, it is still unclear as to whether the Cubs want him back next season or if they will even try to keep him should he decide to play again given the expected changes to come.
Given that he only has one homer this season, Zobrist probably won't be able to grab anything better than a cheap one-year team-friendly deal. Even if that is the case, his clubhouse presence, veteran leadership, knowledge of the game and keen eye at the plate is something that will make any team better should they try to bring him in next season.
If you ask the fans as to whether they want him back or not next season, most would if the price is right. He is a beloved fan favorite much to the delight of David Ross when he was here. Zobrist plays the game the right way and being an Illinois native he considers this place to be home and calls Wrigley Field the mecca of all MLB.
"It is the Big Leagues of the Big Leagues," he said on Sunday ahead of what could be his final home game with Chicago. "That's the way the fans make you feel here, the front office, the organization, the way everything's run. It's the top of the top. It's hard to beat the experience of being a Chicago Cubs player, especially when you walk out on that field."
If Zobrist decides he wants to return next season, he is aware of the tough decision it will be one way or another. However, at this time, he still has no idea what could pursue him from veering in one direction over another.
"I don't know," he said. "I'm trying not to think about that right now. I've got a lot of time once the season's over to think about that."
From riding his bike to Wrigley daily, to jumping around like a mad man on second base in 2016, the legacy Zobrist has established in Chicago is one that will make him a lifelong fan favorite. Whether or not he has played his last game in a Cubs uniform, it will not be his last time in Wrigley Field. He will be back either as a player or to throw out some kind of first pitch. Whatever direction he decides to take for his future endeavors, Zobrist has earned the right to go out on his terms.