| | |
| --- | --- |
| Commentary: What makes me a Cubs fan | |
---
| | | |
| --- | --- | --- |
| Sunday, November 18, 2018, 9:26 AM | | |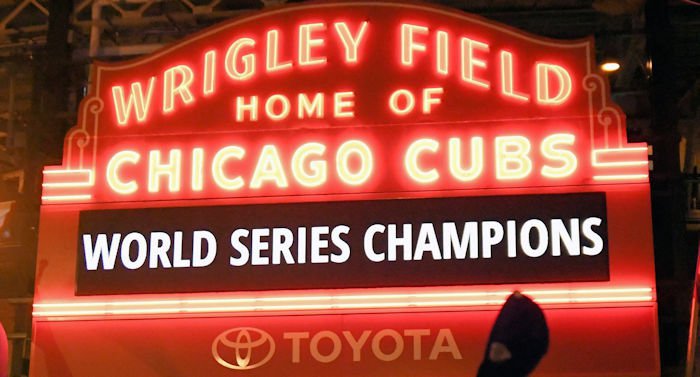 By and large, the fans who follow us on this website are passionate, informed, excited, and engaged in all things Cubs. We love them for that and would like to have more of these fans that are out there climb on board this fast-growing Cubs website.
Like everywhere in life, and social media, there are a few fans who seem to reach out to me for the sole purpose of name calling or hereditary guessing. These very few, take enjoyment in pointing out my low IQ and forgetfulness. That's OK too. It is your right to disagree with others any time you choose.
Its as if some of you feel I haven't earned the right to an opinion on the Cubs.
Now, I will not speak for anyone else writing for CubsHQ.com, other than to say that I know for a fact that everyone involved is passionate about the Cubs and has been for most of their lives. I will speak for myself, however.
I have been a Cubs fan since the first time I went to Wrigley Field in 1956. I was two years old, and it was the coolest place I had ever seen. I sat with my parents in the outfield bleachers and fell in love with the most perfect game ever invented.
Over the years I have lived thru ups and downs with this team. Frankly, more downs than ups to be sure. Since 1955 the Cubs have a winning percentage of .477. Stellar right. The last two decades have been far and away the two best in my lifetime, and their record is about .500 over that period. So, I've seen some bad baseball and can smell it from a distance.
In the 1950's who can ever forget that magical outfield of Frank Baumhultz, Solly Drake, and Frank Emaga. Of course, we had the great Dee Fondy at first and legendary Vern Morgan at third.
The 1960's ushered in the most revered team in Cubs history, until 2016, but before they came along, I had to live through the College of Coaches nonsense for three years. Their win total was a remarkable 189 wins over three years, that's an average of 63 wins per year. Wow! Oh yeah, the Cubs also traded away Lou Brock in the mid 60's for Ernie Broglio and two rosin bags.
Want to know why the Cubs moved Ernie Banks over to 1B? John Boccabella, Ed Boucher, Dick Gernert, Moe Morhardt, Dick Nen, and Mel Roach where the guys they tried there before giving up and begging a gold glover to switch. Seriously, you can look it up.
The 1970's were a lost decade for both the Cubs and me, and as a fan, I could not have picked a better time. The two highlights of this decade were the great Lee Elia rant against fans, (If you haven't heard the unedited version, you really must find one. It's well worth it), and the fact that Rick Reuschel was our best player. He was so head and shoulders above everyone else they signed his brother Paul hoping to catch lightning in a bottle for the second time.
The 1980's were two good years in 1984 and 1989 and a future Hall of Famer in Ryne Sandberg. The winning percentage for this decade, with two playoff years, .471. Be still my heart. The 1990's was filled with feuding between players and owners, and the only thing they could agree on was that steroids were the cure. Records were smashed. Water fountains were demolished in roid rage-filled outbursts. A forgettable period in baseball and Cubs history. Harry Caray made it fun to be a Cubs fan, but that was about it.
The new millennia finally brought some hope for our Cubs along with a sparkling .499 winning percentage in the first decade. They had some good teams; they had some awful teams, they were the Cubs. Who knew this was setting the stage for the next decade where all our dreams were going to be fulfilled on that day in November 2016 when finally the Cubs were world champions.
So, when anyone out there in Cubs fandom says to me that I don't know what it means to be a Cubs fan, I can tell you that you could not be more wrong. Unless you have walked the same path as me since 1956 then you don't know what I know.
Did you see the black cat cross in front of Ron Santo at Shea Stadium? Did you see Leon Durham let a ball go thru his legs at first base to let the Padres come back to beat the Cubs? Did you see Dusty Baker not go out and calm down his young pitcher after a fan reached for a very foul ball?
I know what heartbreak is. Most of our writing team knows what heartbreak is. Yet we come back for more year after year and offer to share our love, pain, hurt, and insight with you all each and every day. Why? Because we love all things Cubs.