| | |
| --- | --- |
| Commentary: What to do about Addison Russell? | |
---
| | | |
| --- | --- | --- |
| Wednesday, October 10, 2018, 9:46 AM | | |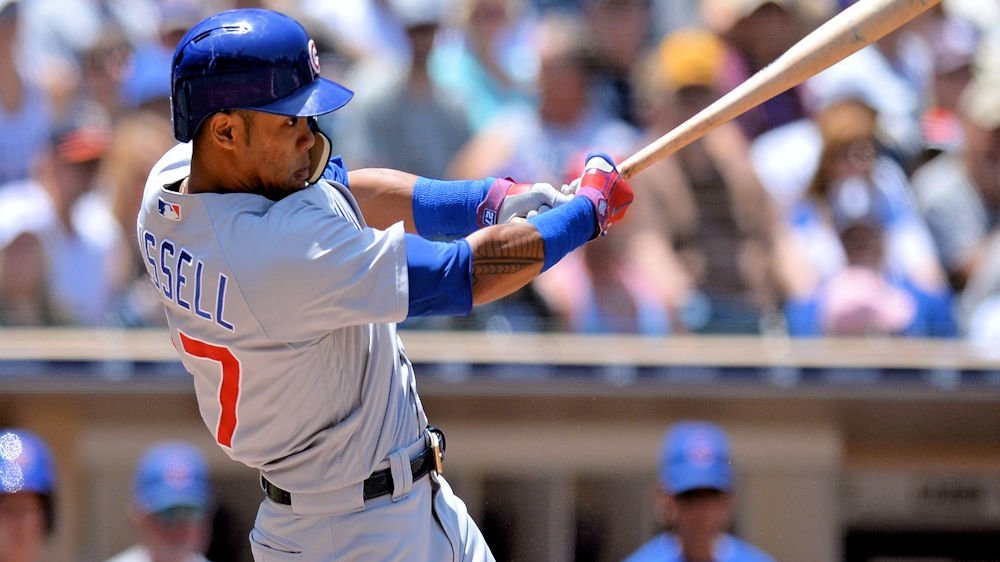 Before I begin, this wasn't an easy article to write. No one knows exactly what the detailed allegations against Addison Russell were, what physical evidence existed, nor do we fully understand to what level MLB's burden of proof is. Still, Major League Baseball is in a position where they almost have to err on the side of caution, no matter what the fallout is.
Cubs' fans seem nothing short of conflicted and divided about what should be done with Addison Russell, following MLB's investigation into alleged domestic violence, and the team's management and ownership may feel the same way.
I was asked yesterday if we still needed to include the word "alleged," as Russell was investigated and found guilty, to at least some degree, by MLB. I'd have to answer "yes" to that question. Fans and readers must realize that while Russell is subject to discipline by both MLB and the Cubs, he was not found guilty by a judge or jury, nor was he formally charged with committing a criminal act.
Russell was given a 40-game suspension, retroactive to September 21, 2018, and was ordered to seek treatment and counseling for domestic violence. While I initially thought the punishment was somewhat lenient, I have since become privy to some undisclosed information. While I am not at liberty to divulge my source, nor the details of our conversation, I feel reasonably safe in saying that the punishment handed down was fair.
Whether you believe the sentence was fair, mild or harsh, Russell may have bigger concerns.
When the Cubs acquired Daniel Murphy, the proposed trade was run all the way up the flagpole to the board of directors, because of Murphy's comments on homosexuality. With Laura Ricketts being openly gay, the Cubs were not going to put themselves in an awkward, politically incorrect position by signing Murphy without Ricketts' approval. Russell's alleged actions carry similar implications for the Cubs.
While people may still be split to some degree on the subject of homosexuality, very few are going to endorse a guy who was not fully exonerated by an investigation, stemming from allegations of domestic violence. I think for the Cubs, this becomes a very hot potato for a number of reasons.
First, the fanbase is divided as to whether or not Russell is even guilty, causing a bit of a conundrum for the Cubs from the get-go. If they keep him, those who think he's guilty are going to have a stroke; if they release him, those who think that Russell is innocent are going to scream that his team didn't stand behind him.
Further complicating the decision to keep Russell, is that there is always the possibility that similar (or worse) behavior could occur in the future. To whatever degree Russell was found guilty by MLB, God-forbid something like this should happen again. I would hope that Russell would learn from whatever mistakes he made, as this suspension has cost him about $800k in lost earnings and a good chunk of his reputation, but only time will tell.
Fans were livid with Russell when these allegations first surfaced in June of 2017, and they were even more outraged when Melisa Reidy-Russell came forth last month. If allegations of domestic violence were to ever occur again, by any woman associated with Russell, obviously the Cubs' first concern would be for the victim, but the backlash would be a public relations nightmare.
While it may not seem fair to part ways with Russell, I think MLB's conclusions have left the Cubs little choice. MLB has an obligation to protect the integrity of the sport, and through whatever means, they have found Russell's actions to compromise that integrity. The league has clearly defined their Joint Domestic Violence, Sexual Assault and Child Abuse Policy, and through that instrument, Russell was found to be in violation.
Russell's bigger concern, beyond lost income and reputation, should be what this may have cost him in terms of his career. I personally don't think Russell's career is completely finished, though his market value is bound to drop, while some team prepares to take the heat for signing him.
It was suggested by my source, that the Cubs would be wise to become pioneers and to be on the leading edge of these types of issues. It was suggested that the Cubs should implement a mentoring program for the players, showing them how to avoid such pitfalls in their personal lives. While I applaud that suggestion, I really think that the Cubs would be wise to let Russell go, then implement such a program for the future. To do so, would show the players that not only do they not condone such behavior but that they are trying to circumvent it from happening to others in the future. An ounce of prevention is worth a pound of cure.
Stay tuned to CubsHQ, and we'll keep you up to date on new developments.