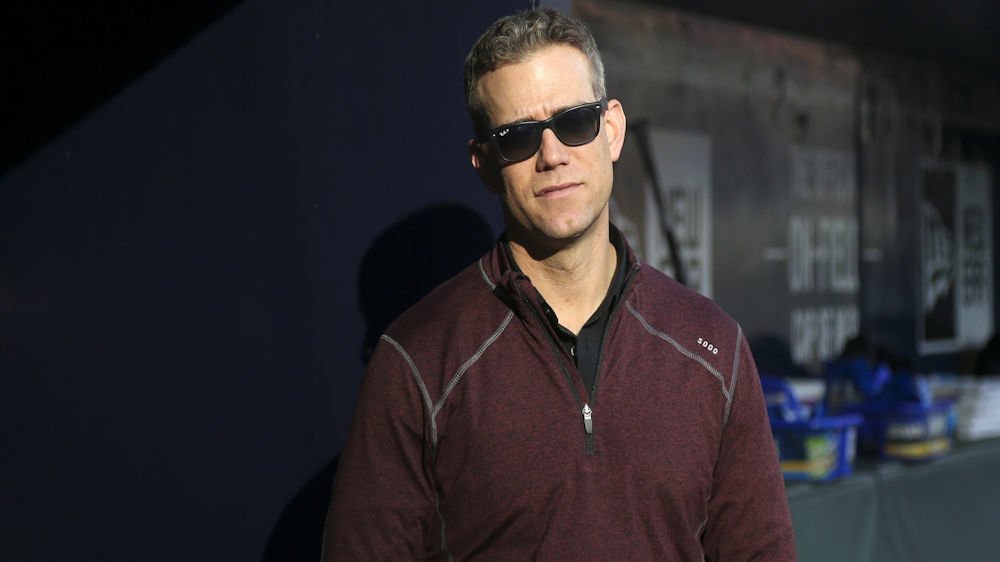 | | |
| --- | --- |
| Cubs News and Notes: Epstein's plan, Happ's bats, Hughes nominated, Loaded Hot Stove | |
---
CUBS NEWS AND NOTES
Theo Epstein: "I do believe you're going to look at that team and say Wow. They made some bold moves."
Well, Mr. Epstein, I'm eagerly awaiting you to fulfill that prophecy. As your new skipper says, "Accountability." This team has been solid, yet weak, for three years. It has a ton of talent being weighed down by a handful of overpriced and underperforming acquisitions, and there seem to be a few that are playing for themselves rather than for the greater good of the team. I challenge you to "make the total greater than the sum of the parts" as you recently phrased it, and I implore you to make it happen expeditiously, though carefully and systematically. The clock has started ticking; let's get this ball rolling.
Happy anniversary: I can't believe it's been three years already, but on this date in 2016, Joe Maddon and the Cubs accomplished the seemingly impossible, as they downed the Cleveland Indians in Game-7 of the World Series.
This will never get old. pic.twitter.com/pK2fBzzBzR

— Cubs Talk (@NBCSCubs) November 2, 2019
The Cubs would come back from a deficit of three games to one, winning three-straight, including two road wins to finish it. During the series, the Cubs outscored the Tribe by the narrow margin of just one run, combining for a total score of 27-26.
The landscape has certainly changed, with only a handful of players remaining from that year. That number is bound to get much thinner this winter, as trades and free agency further decimate one of the greatest rosters in Cubs' history.
A little more on Ross: "The biggest thing that helped me was being in the front office for three years. I became more well-rounded as a thinker and someone that was going to be a leader."
Sounds promising. However, those weren't David Ross' words; they were Craig Counsell's. The successful Brewers' manager took just about the same trip through the front office that Ross did, proving that FO experience can be a very vital and integral part of managing in MLB these days. Add to that Ross' experience as an analyst at ESPN for the last few years, and it makes for at least a theoretically promising future.
Jesse Rogers on the Cubs situation: ESPN's Jesse Rogers put some thought into some recent Theo Epstein's quotes, laying out his own philosophy about the 2020 Cubs in an article entitled, " Can David Ross fix the Chicago Cubs in his first year as manager?" Rogers says that three Cubs' mega-stars could be on the chopping block this year, including Kris Bryant, Javier Baez, and Willson Contreras, with two of them likely to be traded.
If we take Rogers' comments at face value, I'd have to think it would be KB and Willy who could be dealt with, but I believe the Cubs can deal only one (Bryant) and remain competitive.
"The goal is to do everything we can to win the World Series next year, but we also have to pay attention to the long term and maximize this window while also putting in a lot of good work to open a new one as well." -Theo Epstein
According to Rogers, this equates to players either signing (team-friendly) extensions with the Cubs now or becoming trade candidates if their past words have indicated a desire to test free agency in the future – leading me right back to my original thoughts on trading only Kris Bryant this year.
As I surmised in Part-4 of my end of the year series, entitled, "Maybe Next Year," Chicago's first order of business this winter (after appointing a manager, of course) would be to extend Javy to a multi-year deal and begin rebuilding the team around him and a few others, including Wilson Contreras.
Theo has some tough decisions to make this winter, and each will either loosen or further tighten the hands of David Ross. The Cubs have a rather extensive shopping list, which will grow exponentially larger, should they miss out on re-signing Brandon Kintzler and Nicholas Castellanos.
Locking in Yu Darvish and Jose Quintana will help shape the bullpen, especially with Jon Lester and Kyle Hendricks still under contract, but this has done nothing to reshape the Cubs aching bullpen and their inconsistent offense. This offense has creamed fastball pitchers, but once the opposition starts spinning balls across the plate, it's been no bueno. Stay tuned; changes should start coming soon.
Happ's on it: It started with Ian Happ's comment, "I only said snow sucks in October." Impressed with his performance in Chicago, I acknowledged that early snow indeed sucks, but that he just needed to focus on keeping his bats warm and his swing smooth. I never dreamed he would take it to this level…
Don't worry bats are staying warm https://t.co/HznxnIGDDW pic.twitter.com/8I86bU5YFi

— Ian Happ (@ihapp_1) November 1, 2019
Then, there's this. The minute he starts wanting to sacrifice a live chicken, we'll need to talk.
You learned from the best, my friend. pic.twitter.com/ruu9YKRId5

— Staci Heaton (@StaciHeaton) November 1, 2019
Pat Hughes: Cubs' radio announcer Pat Hughes has been named a finalist for this year's Ford C. Frick award. The honor is presented annually for excellence in baseball broadcasting. Hawk Harrelson is also a finalist. Former Sox broadcaster Hawk Harrelson (barf) is also in the finals.
Pat Hughes, Hawk Harrelson named finalists for Ford Frick Award, which is given annually for excellence in baseball broadcasting https://t.co/nnaNk7j4hK pic.twitter.com/pMOaXBdLrU

— 670 The Score (@670TheScore) November 1, 2019
Cubs' Birthdays Celebrating today were former Cubs Anthony Bass (32), Miguel Diloné (65), Clint Compton (69), and posthumously, Larry French (112), Earl Blackburn (127), James "Lefty" York (127), Sherman "Snapper" Kennedy (141), and Fred DeMarais (153).
Baseball Quotes: "When you're a winner, you're always happy. But if you're happy as a loser, then you'll always be a loser." -Mark (the Bird) Fidrych
Kids are our future, and we hope baseball has given them some idea of what it is to live together and how we can get along, whether you be black or white. -Larry Doby pic.twitter.com/lnFtQTIvl8

— Baseball Quotes (@BaseballQuotes1) November 1, 2019
RIP Sweetness: Baseball column or not, I wasn't about to let the day go by without mentioning that it was 20 years ago yesterday that we lost the greatest running back ever. Rest in Peace, Sweetness.
Walter Payton died 20 years ago today. Earlier this year, @paytonsun opened up to me about his father's legacy and how he's trying to carve out his own. https://t.co/BHW7ZdAnkP

— jon greenberg (@jon_greenberg) November 1, 2019
MLB and the Hot Stove
NL Central:
Brewers: Both Mike Moustakas and Yasmani Grandal have declined their mutual options, making both free agents. I'm not shocked at Grandal's choice, but I thought Moustakas would stay. Depending on what his asking price is, Moose could be a great fit for the Cubs, especially if they decide to deal Kris Bryant this winter (as many predict). Moose takes a $3M buyout (must be nice) while forfeiting an $11M salary. Grandal will take $2.25M in buyout money while foregoing his $16M salary.
Milwaukee has also outrighted 1B/OF Tyler Austin, as well as utilityman Corey Spangenberg.
Cardinals: St. Louis has outrighted catcher Joe Hudson to Triple-A Springfield. His roster spot was needed, with several players being reinstated following 60-day injured list stints. The team has since reinstated RHP Jordan Hicks, LHP Brett Cecil, OF Lane Thomas from the 60-day IL.
Pirates: Sad news from the Pirates' camp last night, as Vera Clemente (wife of Roberto Clemente) is said to be in "delicate health." Our condolences to the family and friends of Mrs. Clemente.
Vera Clemente, Pirates and MLB Goodwill Ambassador & wife of the great Roberto Clemente, is in delicate health and has been hospitalized.
We ask all fans to join our Pirates family in sending thoughts and prayers at this difficult time to Vera and the entire Clemente family. pic.twitter.com/hE1RY4PRys

— Pirates (@Pirates) November 1, 2019
From the rest of MLB:
Angels: Los Angeles has claimed RHP Mike Mayers off waivers from St. Louis, and the word is, the team is probably not going to pick up Kole Calhoun's $14M option, but instead, will buy him out for $1M.
Mike Gallego is the Angels' new bench coach #gags

— Jon Heyman (@JonHeyman) November 1, 2019
With the announcement that Brian Butterfield would be coaching third base in Anaheim this year, it should have become evident that Gallego would become Maddon's bench coach; but whoever knows what Joe's thinking?
Gerrit Cole: Despite Cole's remarks about not being an employee of the Astros (after Game-7), Cole says that he's not entirely writing off the Astros for his next place of employment.
Gerrit Cole discussed his future after game 7 while wearing a Boras Corporation cap. But that doesn't mean he's writing off a return to Houston: https://t.co/hXAd8hDhAL pic.twitter.com/U812uzsixh

— MLB Trade Rumors (@mlbtraderumors) November 2, 2019
While I completely understand the frustration with which his comments were made, the fact that he was donning a Boras hat at the time speaks volumes. By doing so, Cole completely dissociated himself from the team, and it would seem that his recent apology (combined with the current comments) maybe some form of damage control ordered by Boras.
Mets: Looks like Carlos Beltran will be the next manager of the NY Mets. After being informed that he was no longer in the running, Eduardo Perez offered this…
I would like to thank the #Mets for the incredible opportunity to have interviewed for the managerial position. That being said, I am even prouder that @CarlosBeltran15 is going to be the next manager of the @Mets. Estoy #orgulloso de nuestra bandera!????????????

— Eduardo Perez (@PerezEd) November 1, 2019
Marlins: In addition to declining the option on Starlin Castro, the Marlins have reinstated INF Brian Anderson, INF JT Riddle, RHP Drew Steckenrider, catcher Chad Wallach from 60-day IL.
Nationals: Washington has declined to pick up the mutual option on infielder Matt Adams. He'll instead receive a $1MM buyout and head back onto the open market.
Cleveland: The Tribe has declined 2020 club options on INF Jason Kipnis, RHP Dan Otero. Cleveland has picked up RHP Corey Kluber's option.
Royals: KC has declined the mutual option for OF Alex Gordon.
A's: Oakland has selected the contract of catcher Jonah Heim. Had he not been added to the 40-man, Heim would have qualified for minor-league free agency.
Mariners: Seattle has claimed RHP Phillips Valdez off waivers from the Rangers.
Mets: The Mets have declined their club option on outfielder Juan Lagares. Meanwhile, second baseman Joe Panik and lefty Donnie Hart each elected free agency after being outrighted.
Padres: New Mets' manager Jayce Tingler is assembling his staff, with his latest choice being Phillies' infield coach Bobby Dickerson, who will likely serve as Tingler's bench coach. Before joining the Phillies last winter, Dickerson worked in various coaching roles in Baltimore from 2010-2018, during which time he developed a strong bond with Manny Machado.
Dickerson looks forward to working with Machado again, stating, "I'll say this: When Manny puts his mind to something, it's just unbelievable to watch. He's that talented. In 2013, he was the best defensive player I've ever seen in my life. If he's locked in, he can change the game with his glove. For sure, I've seen it. The challenge is his locked-in-ness, and that's well-documented."

Tags: Cubs Baseball
,
David Ross
,
,
,
Willson Contreras
,
Brandon Kintzler
,
Yu Darvish
,
Jose Quintana
,
,
Kyle Hendricks
,
,
Joe Maddon
,
Theo Epstein
,
Brian Butterfield