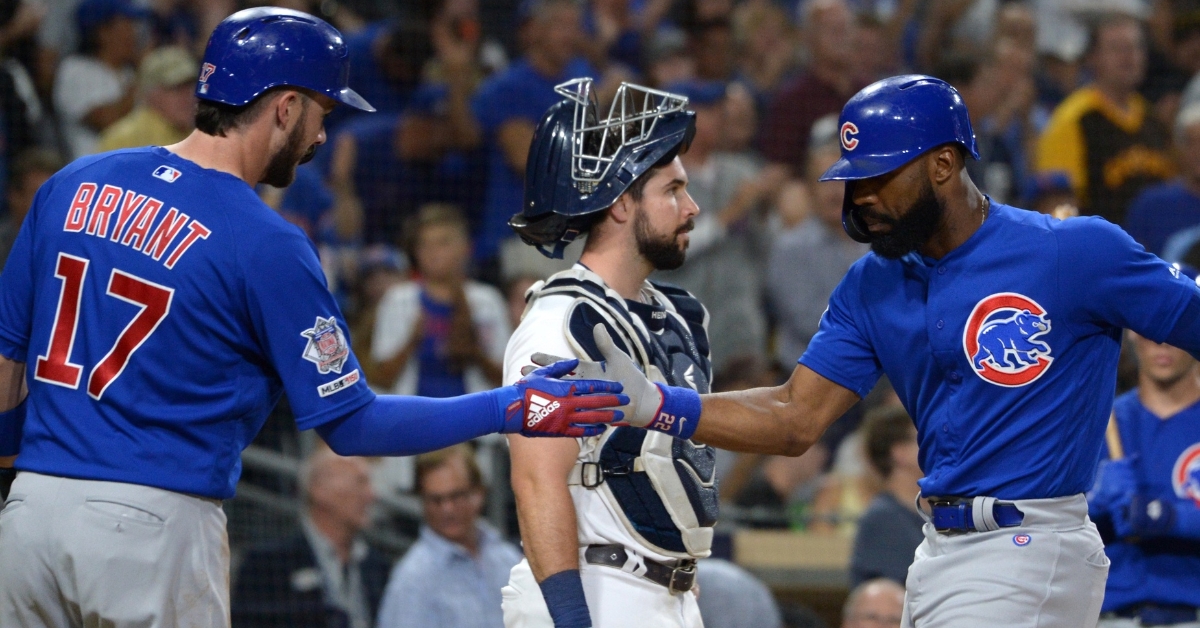 | | |
| --- | --- |
| Cubs News and Notes: 9/11, Injury updates, Schwarber raking, Yelich out for season, more | |
---
First and foremost, I'd like to take a moment to remember the 2,977 victims who lost their lives in the terrorist attacks on September 11, 2001, as well as the police officers and first responders and other civilians who subsequently died as the result of exposure to the debris. #NeverForget
Next Game: Wednesday: LHP Cole Hamels (7-6, 3.95 ERA) vs RHP Chris Paddack (8-7, 3.54 ERA). Game information: 9:10 PM CDT; Televised on ESPN, ABC-7, ESPN (out of market only).
Tuesday's Game Recap:
After obliterating the Padres on Monday night, Jose Quintana took the hill to square off against RHP Ronald Bolaños. Nico Hoerner would also see his second start as the Cubs' shortstop.
The Cubs would get the early lead again, as Jason Heyward belted home run #20 over the left-field wall with Kris Bryant (walk) on base. Cubs up 2-0 in the second.
J-Hey's 20th home run of the year! #EverybodyIn pic.twitter.com/2s6HIZK3N2

— Chicago Cubs (@Cubs) September 11, 2019
The Friars would get those runs back, and then some, in the bottom of the second, after Q got himself into a jam that he couldn't get out of. Padres lead 5-2 after two. Quintana wouldn't get much help from his defense, as Ben Zobrist made another terrible throw (error), causing one of the runs to score. The Padres would add another one in the third, making it 3-2. This certainly wasn't shaping up to be Q's night.
J-Hey and Nico Hoerner would draw back-to-back, one-out walks in the fourth, and at that point, Maddon pulled Q for a pinch hitter (Ian Happ). A wild pitch would send both runners ahead 90 feet. Happ's lineout to left would have Heyward tagging, but he was ruled out at the plate. Joe Maddon would challenge and win, keeping the Cubs alive. The inning would end on Zo's strikeout. Cubs trail 6-3.
Tyler Chatwood would take over the mound in the fourth, and retire the side in order while striking out two.
The Cubs would get themselves back in it in the fifth when KB homered with two gone and Anthony Rizzo on base (Rizz reached on a force-play). Cubs trail 6-5.
#KBoom!@KrisBryant_23 brings the #Cubs within a run! #EverybodyIn pic.twitter.com/po88U9YNWv

— Chicago Cubs (@Cubs) September 11, 2019
Chatwood was perfect for three innings (0 hits, 0 runs, 0 walks, four strikeouts), but Maddon would pinch-hit for him, then send Brandon Kintzler to the mound. The Padres would tack on another pair — 8-5 Padres after seven.
After Rizzo reached on a single to the left in the eighth, Kris Bryant would do it again! Cubs trail 8-7.
.@KrisBryant_23's 2nd two-run blast of the game!#EverybodyIn pic.twitter.com/dXdKIUSQmb

— Chicago Cubs (@Cubs) September 11, 2019
The Cubs wouldn't stop there. Jason Heyward went deep in the same inning, to tie it at 8-8 with his second dinger of the night.
It's a two-homer game for Jason Heyward,
and
we
are
tied!#EverybodyIn pic.twitter.com/NRx5zNu1xB

— Chicago Cubs (@Cubs) September 11, 2019
Steve Cishek would blow the opportunity for a win in the tenth, getting himself into a jam, then walking home the winning run. Padres walk-it-off (quite literally) by a final of 9-8.
CUBS NEWS AND NOTES
Cubs/Padres Probable Pitchers: Thursday: RHP Yu Darvish (5-6, 4.12 ERA) vs RHP Dinelson Lamet (2-4, 3.95 ERA). Game information: 2:40 PM CDT; Televised on NBC Sports Chicago.
Cubs/Pirates Probable Pitchers: Friday: LHP Jon Lester (12-10, 4.51 ERA) vs Pirates TBD. Game information: 3:05 PM CDT; Televised on NBC Sports Chicago and MLB Network (out of market only). Saturday: RHP Kyle Hendricks (10-9, 3.33 ERA) vs RHP Trevor Williams (7-6, 5.21 ERA). Game information: 1:20 PM CDT; Televised on NBC Sports Chicago and MLB Network (out of market only). Sunday: LHP Jose Quintana (13-8, 4.00 ERA) vs RHP Mitch Keller (1-3, 8.18ERA). Game information: 1:20 PM CDT; Televised on WGN and SAP WGN.
Injury Update: There's nothing further on Javier Baez, but after yesterday's diagnosis and prognosis, it's unlikely that we'll hear anything more, anytime soon. The Cubs say that Craig Kimbrel is unlikely to be activated Thursday as initially expected, but they deny any setback and say that he is "progressing." Addison Russell remains under concussion protocols.
Maddon on Russell: pic.twitter.com/GWPTgxAbtY

— Mark Gonzales (@MDGonzales) September 11, 2019
Schwarbs is raking: Since August 2 (33 games), Kyle Schwarber has 11 homers, 28 RBI, a .367 OBP, and a 1.033 OPS. Bam-Bam's 29 home runs since 5/23, are the 4th most in the NL during that span (Pete Alonso 31, Eugenio Suarez 31, Josh Donaldson 30). Schwarbs is also now tied with Javier Baez for the most opposite-field homers in MLB with 14.
Castellanos' cruising: Between his time with Detroit and now the Cubs, Nicholas Castellanos has 25 home runs in 2019, just one short of his career-high 26 in 2017. Castellanos now has 14 HRs in 150 ABs with the Cubs (averaging a homer in 1 out of every 10.7 AB), while in the Motor City this year, Nick managed only 11 homers in 403 at-bats (equal to 1 for every 36.6 AB). Since joining the Cubs on August 1, Castellanos' 52 hits are tied with Anthony Rendon for the most in the National League.
Nico's already in the books: With his outstanding debut performance on Monday night, Nico Hoerner became only the second Cub since 1920 to debut with at least three hits and four RBI. (Hoerner went 3 for five on Monday, with a triple and two singles). Hoerner also became only the sixth Cubs' player since 1985 to make his big-league debut within two seasons from the time that he was drafted.
Chicago gets some help: The Rox outlasted the Cardinals by a score of 2-1, which, if nothing else, would keep the Cubs from backsliding again. In the wildcard race, the Cubs got a little help from the Mets, who beat Arizona 3-2, and from the Twins, who downed the Nationals 5-0.
Errors for everyone: Ben Zobrist's throwing error last night was the 100th error for the Cubs this season- far too many. Javier Baez and Kris Bryant lead the team with 15 each, David Bote has 14, and Willson Contreras has 10.
Bad news for the Crew: The Brewers suffered a devastating blow last night, as Christian Yelich is now out for the remainder of the season with a fractured patella (kneecap). The team tweeted out the news, following the conclusion of the Milwaukee/Miami game.
Christian Yelich left tonight's game with a fractured right knee cap. He will miss the remainder of the season.

— Milwaukee Brewers (@Brewers) September 11, 2019
Yelich fouled a ball off of his right knee in the top of the first and was immediately removed from the game. He did, however, walk off the field under his own power.
Christian Yelich injury. pic.twitter.com/VHzuJCsAwG

— taco money (@taco_money_) September 11, 2019
This could have serious implications for the Cubs as well, as Chicago was certainly depending on Milwaukee to beat St. Louis in any or all of the games in this weekend's Brewers/Cards matchup. Time is Chicago's enemy at this point, and some help from Milwaukee could have gone a long way.
Pirates Eliminated: Last night, Pittsburgh became the first team in the NL Central to become officially eliminated. Entering play last night with an elimination number of one, Pittsburgh became their own worst enemy, losing to the Giants.
Bizarre stat: I'm not sure who first noticed this stat, but it is a strange coincidence. Giants' manager Bruce Bochy has been managing since 1995 and 2019 will be his last year before retiring. As of last night, Bochy's career record stood at 1995-2019.
Baseball Quotes: "When I pick up the ball, and it feels nice and light and small, I know I'm going to have a good day. But if I picked it up and it's big and heavy, I know I'm liable to get into a little trouble." -Bob Feller
In order to excel, you must be completely dedicated to your chosen sport. You must also be prepared to work hard and be willing to accept constructive criticism.

Without one-hundred percent dedication, you won't be able to do this. -Willie Mays pic.twitter.com/7jDtqyUrv7

— Baseball Quotes (@BaseballQuotes1) September 9, 2019
Cubs Birthdays: Celebrating yesterday, were ex-Cubs Kameron Loe (38), Chad Hermansen (42), Joe Kraemer (55), and posthumously, George "High Pockets" Kelly (124), Marty Krug (131), Blaine "Kid" Durbin (133), and Mike Lynch (144).
THIS WEEK'S NL CENTRAL SCHEDULE:
(Wins in green, losses in red)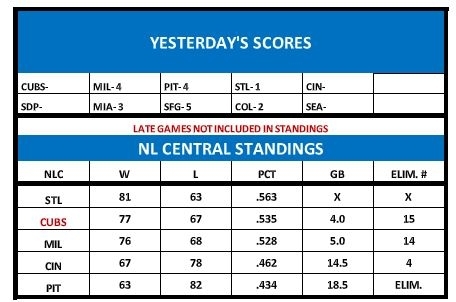 Tags: Cubs Baseball
,
Cole Hamels
,
Jose Quintana
,
Jason Heyward
,
,
Ben Zobrist
,
,
Tyler Chatwood
,
Anthony Rizzo
,
Brandon Kintzler
,
Steve Cishek
,
Yu Darvish
,
,
Kyle Hendricks
,
,
Addison Russell
,
Kyle Schwarber
,
David Bote
,
Willson Contreras
,
Joe Maddon