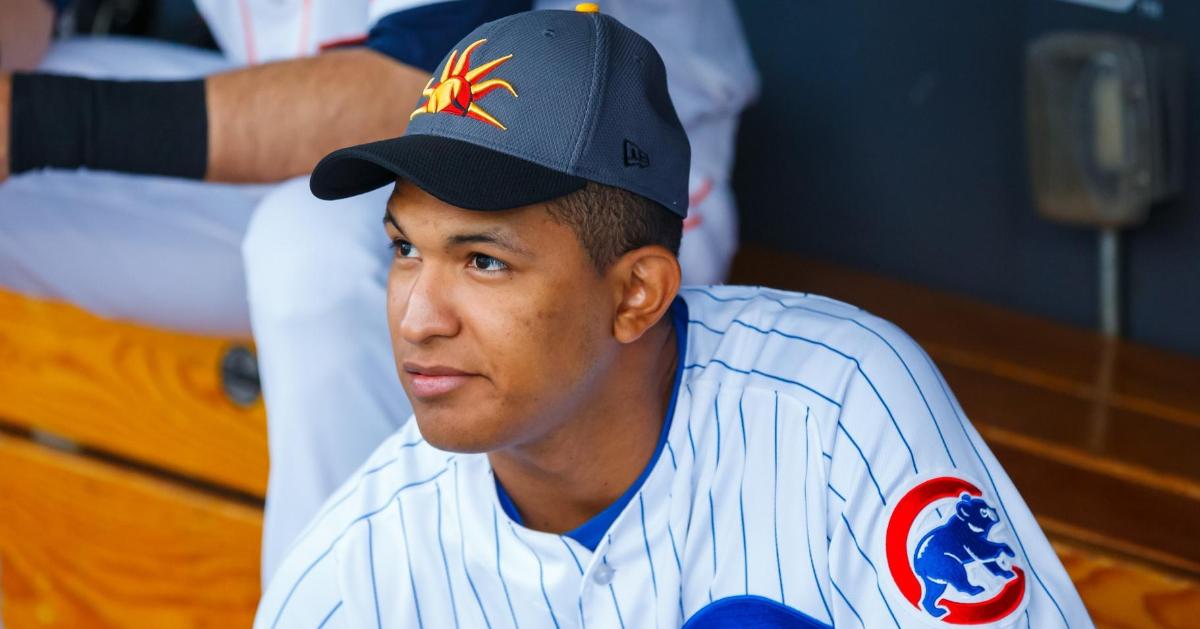 | | |
| --- | --- |
| Cubs News and Notes: Alzolay's debut, Kimbrel impressive, Extraterrestrial home runs, more | |
---
Next Game: Today, 1:20 PM CDT: Mets @ Cubs LHP Jason Vargas (3-3, 3.74 ERA) vs RHP Yu Darvish (2-3, 4.65 ERA).
CUBS NEWS AND NOTES:
Thursday's Game Recap:
The Cubs rebounded nicely after Tuesday night's loss to the Sox, delivering a beat-down to them on Wednesday. Due to the Brewers being swept by the Padres, the Cubs went to bed last night, leading the division by a half game, as they prepared to open a four-game set at home vs. a struggling Mets team.
With the Professor on the IL, Joe Maddon elected to give Tyler Chatwood his second start of the year, while the Mets turned to their newest acquisition, righty, Walker Lockett, who was making his MLB debut as a Met. Chatwood sparkled in a 6.0 scoreless inning start against the D-Backs, back on April 21, and was undoubtedly eager to retake the mound last night.
The Mets would take a 1-0 lead in the second, then tack on another pair in the third, via a two-run homer, but that was all they'd get for a while.
When the Cubs came to bat in the third, they let it fly (literally and figuratively), sending ten men to the plate and netting a half-dozen runs in the process. The Cubs went 4 for 5 in the third with runners in scoring position, and believe it or not; there was not one homer in the inning. I'm not exactly sure you'd call what they did "station-to-station" hitting, at least not unless the stations were anywhere from 180-270 feet apart, as the Cubs' baserunners weren't settling for just one base at a time.
Six runs were more than enough for the Cubs to win last night, but apparently, Javier Baez never got the memo, as he added a seventh run with a solo shot in the seventh to make the score 7-3.
Chatwood got knocked around a little (3-R/2 ER in 4.0 IP), but the damage could've been worse if not for his signature, double-play groundball pitches. All told, Chatwood would allow six hits and just one walk, while striking out one.
The new kid in the clubhouse is the one who stole the show last night, as Adbert Alzolay came in and cleaned the house for nearly half the game. Earning the W, Alzolay went 4.0 innings, and gave up one hit (a homer in the 9th), 1 ER, two walks, and fanned five. Steve Cishek would earn the save, as the
Cubs manhandled the Mets by a final of 7-4.

Cubs/Mets Probable Pitchers: Saturday: Zack Wheeler (5-4, 4.87 ERA) vs LHP Jose Quintana (4-6, 3.87 ERA). Sunday: RHP Jacob deGrom (3-6, 3.38 ERA) vs LHP Cole Hamels (6-4, 2.98 ERA).
Adbert Alzolay: Hear from the Cubs' #4 prospect following his MLB debut last night:
Adbert Alzolay: "the best thing that's happened to me" pic.twitter.com/ex18dCdFlx

— Mark Gonzales (@MDGonzales) June 21, 2019
Craig Kimbrel: Imagine the joy have of having a closer available in the pen… not just a guy who's available to give up three runs in the 9th and blow a save in tonight's game, but rather a bonafide closer. Hang in there, Cubs' fans- he's a coming.
He's getting close. He did some light work today and then pitching tomorrow here in Iowa. #Cubs #Kimbrel #MLB @ Des Moines, Iowa https://t.co/8zUHMb7Qvz

— Luke Stuckmeyer (@LukeStuckmeyer) June 20, 2019
Taylor Davis on Kimbrel: After getting the opportunity to catch Craig Kimbrel during his first appearance in Iowa this week, Taylor Davis says, "The guy's arguably one of the best of all time. The stuff is incredible. It was the heaviest fastball I've ever caught. I don't know how much rust could possibly be on there. This guy is built like platinum."
Gotta love Jon: Despite an ugly start to Wednesday's Cubs/Sox game (which saw Jon Lester give up a homerun on the first pitch), Big-Jon remained his normal, humorous, sarcastic self in a post-game interview:
Jon Lester had the interview room laughing after tonight's win. Here were a few of his one-liners... pic.twitter.com/NpzNzEC0Ho

— Jordan Bastian (@MLBastian) June 20, 2019
Maddon/Lester on home runs "I don't know what I'm witnessing, but the way the ball is coming off the bat right now is extraterrestrial. It's like an E.T. kind of a thing going on out there. It's crazy."
When Jon Lester was asked about the "conspiracy theory" surrounding all the homers this year, he replied, "It is what it is. Every pitcher in the big leagues has to pitch with it. You can comment on it all you want, but it just sounds like an excuse. I don't make excuses. Gotta make better pitches."
Willson Contreras: Following a two-homer night on Wednesday, Contreras reflected on his career in a post-game interview: "It makes me proud to look back and see how far I have come."
I think I can speak for most of the fans here, Willy, they're pretty proud as well. Keep it up, Buddy.
.@WContreras40's consistency is paying off, and last night's #Crosstown showing was an example of it. Just ask @JLester34 and @CubsJoeMadd: pic.twitter.com/hiS7kzT6eV

— Cubs Talk (@NBCSCubs) June 20, 2019
Drew Smyly: Former Cubs' pitcher Drew Smyly was released by the Rangers on Thursday. Smyly was dealt to Texas last year, as part of a multi-faceted deal that made it possible to for the Cubs to keep Cole Hamels in Chicago this year. Smyly missed all of last year, healing from Tommy John Surgery, and would have likely pitched in Chicago this year, had Hamels left the Cubs. Not sure this is the lefty that the Cubs will roll the dice on, but he does have at least some history with the team.
Almora meet-n-greet: For those around the Arlington Heights area, Albert Almora Jr. is scheduled for an autograph session on Friday. (Details below)
You can meet @albertalmora TOMORROW at the Northpoint Shopping Mall @Xfinity store in Arlington Heights.

He'll be there at 6pm signing autographs and taking pictures! pic.twitter.com/naqPbZBGs5

— Cubs Talk (@NBCSCubs) June 20, 2019
Max Scherzer: It's not often that I drop in news from around the league anymore, but I had to give props to Nationals' ace, Max Scherzer- this guy is a warhorse. In case you missed it, Scherzer was taking batting practice on Tuesday and ended up busting his nose. He was practicing bunts, when a pitch caught the top of his bat, then flew back and blasted him in the face. The immediate speculation was that he'd miss 1-2 starts, but not Mad-Max- broken nose, black-eye be damned. He went right out the next day and took his scheduled start: 7.0 shutout innings and ten strikeouts.
I'm not sure how many of you may have experienced the joy of breaking your nose but let me tell you- it's not fun. You can't breathe right, and every time you bend over, the pressure in your face makes it throb so bad, you'd like to cry. Gotta sneeze? Better figure out how to stop it, or you'll wish you were dead, and God-forbid you bump it somehow. Don't panic- it usually stops hurting in about 4-6 weeks. Now, imagine the exertion that a pitcher uses- I can't see how Scherzer could have made this start. Kudos, Max- heal soon.
Goodnight pic.twitter.com/59iZSNeoHL

— Chris Kinard (@ChrisKinard) June 20, 2019
Latest from the Summer Stove:
Cody Allen: After being released by the Angels on Tuesday, reliever Cody Allen is reportedly drawing interest from 11 different teams already. No word on who's looking, but I'd be shocked to see the Cubs name on that list.
Royals: KC has released closer, Drew Storen, after a series of bad starts. Storen was making a post-Tommy John comeback, after signing with the Royals in February, but a few bad outings have caused his demise.
NL CENTRAL SCHEDULE (June 16 – June 22, 2019)
(Wins are in green, losses in red)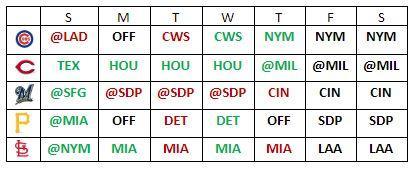 NL CENTRAL SCOREBOARD/STANDINGS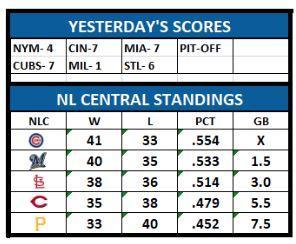 Tags: Cubs Baseball
,
Adbert Alzolay
,
Yu Darvish
,
Tyler Chatwood
,
,
Steve Cishek
,
Jose Quintana
,
Cole Hamels
,
Taylor Davis
,
,
Willson Contreras
,
Albert Almora Jr
,
Joe Maddon