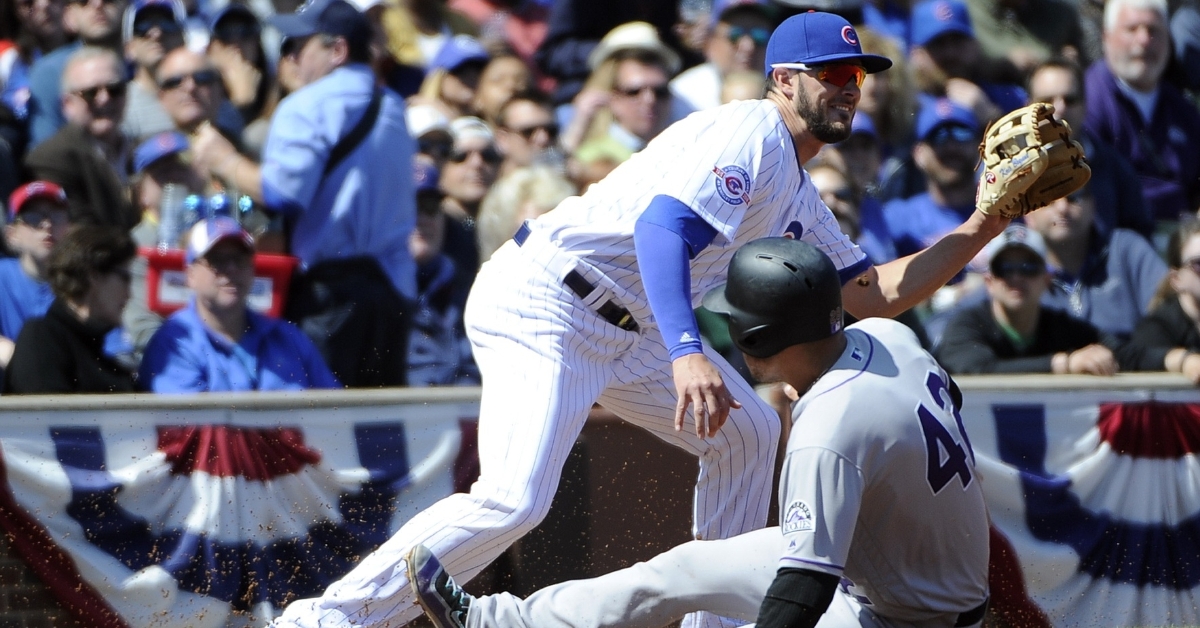 | | |
| --- | --- |
| Cubs News and Notes: Bryant loses grievance and Cubs reportedly low-ball KB, Arenado, more | |
---
CUBS NEWS AND NOTES
Next Game: Next Game: 24 days – Saturday, February 22, 2020: Athletics vs Cubs (Sloan Park)
Opening Day: 58 days – Thursday, March 26, 2020: Cubs vs Brewers (Miller Park)
Bryant's grievance: The arbitrator in Kris Bryant's grievance has rendered a decision. Bryant does not win free agency after this year. According to Jeff Passan, "Chicago Cubs third baseman Kris Bryant has lost his grievance against the team seeking an extra year of service, sources familiar with the ruling tell ESPN."
Arenado a Cub? Yesterday on ESPN 1000, Jeff Passan stated, "Nolan Arenado would love to come play for the Chicago Cubs. He would love it."
As per a report from Jesse Rogers, the two teams have discussed a trade involving a Bryant for Arenado swap. For the full story click here, and later today, please don't forget to check out my commentary with thoughts on Bryant's grievance decision, the timing of it all and the possibilities of a trade – including for Arenado.
All eyes are now on Kris Bryant's future with the #Cubs after a long-awaited service time grievance ruling was rendered.

Will he stay or go?https://t.co/do5g5K9xgP via @MLBBruceLevine pic.twitter.com/3LNL2dMcRb

— 670 The Score (@670TheScore) January 29, 2020
Undercutting Bryant: According to an article by Tim Stebbins (NBC Sports Chicago), the Cubs' extension offers to Bryant have been "below market value."
Quoting David Kaplan in the article, the Cubs have offered extensions, but they haven't been "anywhere close to what other top third baseman in baseball have recently signed for."
Hold onto your hats: According to MLB insider Hector Gomes, the Reds are on the verge of signing Pedro Strop. Cincinnati seems to be grabbing all sorts of former NL Central stars. In addition to Strop (if he signs), they also have Castellanos and Mike Moustakas now.
Cubs twitter losing its shit in 3...2...1... https://t.co/I53z6SConC

— Brad Robinson (@bradrobinson8) January 30, 2020
The DH Debate: As rumors continue to swirl about the National League preparing to adopt the DH, the debate between fans has become heated. When the rule was implemented for the AL in 1973, the idea was to promote more offensive action, thus drawing more attendance, but it really hasn't worked.
The American league trailed the National League for attendance in 2019 and did the same during other years since its inception. In addition to looking at 2019 and 2019 stats, I randomly chose to look at the 2003 stats (no reason other than that was the year my son was born) to see what kind of difference the DH makes.
Because I'm passionate about math and statistics (and a glutton for punishment), I decided to crunch a few numbers. Of the three years I looked at, 2003 had the greatest difference of average runs scored (41). I multiplied the 15 AL teams by their average of 788 runs (11,820), then did the same for the NL (11,205). The difference works out to be just 615 runs over a total of 4,860 games played that year (regular season only). In simpler terms, it equates to all of twelve-one-hundredths of one run per game!
Barnette retires: Former Cub reliever Tony Barnette has announced his retirement after an astounding 3.5 years in MLB (career minor leaguer). Barnette stormed away from the I-Cubs last year, having a fit about being passed up for a promotion. The Cubs put him on the restricted list, and he finished the season that way. No room for babies in MLB. Adios.
If you cheered for me, thank you. If you ever tried to balance on that back leg and try to throw like me, thank you. I'm telling y'all it works. If you ever looked me up, passed a message of support(I heard them), or… https://t.co/lNNmbQKVcT

— Tony Barnette (@HeyBarn) January 28, 2020
Cubs' Birthdays: Celebrating yesterday, were ex-Cubs Álex Ávila (33), Kevin Roberson (52), Jim Tyrone (71), Hy Cohen (89), and posthumously, Hank Edwards (101), Bill Voiselle (101), and Bill Krieg (161).
Baseball Quotes: "If what you did yesterday still seems important, then you haven't don't enough today." -Aaron Judge
75-year-old Luke Appling hits a HR vs. Warren Spahn at the "First Annual Cracker Jack Old Timers Baseball Classic" in Washington, D.C.! (July 1982) #Inspiration #MLB #History pic.twitter.com/tKGDnw4b34

— Baseball by BSmile (@BSmile) January 7, 2020
MLB News and Notes:
Brewers: Per MLB Trade Rumors: Newly acquired Brewers infielder Luis Urias has undergone surgery to repair a fractured left hamate bone, Robert Murray reports. He's expected to miss six to eight weeks, which seems to jeopardize his spring training and the beginning of the regular season.
Pirates: Pittsburgh has hired Steve Sanders (former Blue Jays scouting director) to replace ousted GM Neal Huntington.
Reds: The Reds' offense will be insanely good this year, but they'll be starting the season with limited action from Eugenio Suarez. The Reds' slugger underwent shoulder surgery this winter to remove loose cartilage. Heis expected to be ready for the beginning of the season.
Knock three times: If you guys thought I'm insane with number crunching, you have to see this. A fan actually broke down the Astros' trashcan bangs. The biggest 2017 offender? Marwin Gonzalez.
Tony Kemp forever. https://t.co/ij35ICEiUa

— Tim Stebbins (@tim_stebbins) January 30, 2020
Giants: SF has agreed to terms with former White Sox 2B Yolmer Sanchez.
Orioles: Baltimore has added pitcher Wade LeBlanc; minor league deal.