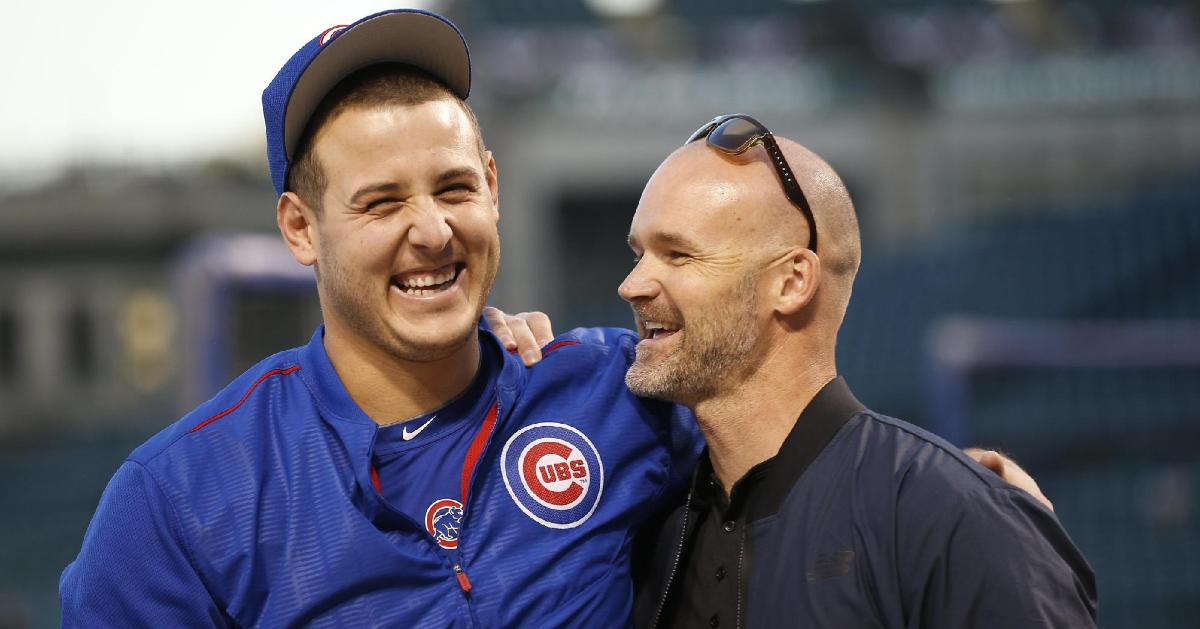 | | |
| --- | --- |
| Cubs News and Notes: Catching up with Anthony Rizzo, Fan sues Cubs, Latest on MiLB, more | |
---
| | | |
| --- | --- | --- |
| Thursday, April 30, 2020, 12:11 PM | | |
CUBS NEWS AND NOTES
No Baseball: Day 36.
Rizzo on SportsCenter: Anthony Rizzo hooked up with gang on ESPN's SportsCenter to discuss everything from how he's stayed busy during the pandemic/lockdown to David Ross. Rizz also took the time to voice his opinions on various MLB contingency plans for 2020.
Rizz says the Cubs and MLBPA have been good at keeping the players updated and says as long as their safety remains the #1 priority, he's down with playing under any plan that MLB decides to implement.
To keep his swing in form, Rizz has been relying on a neighbor's batting cage.
Players seem ready to go; all we need now is the green light from MLB and the CDC. Let's do this.
Lawsuit: The Cubs and MLB have been named in a lawsuit stemming from a complaint from a fan who was hit with a foul ball.
Laiah Zuniga (age 28) was sitting in the sixth row at Wrigley Field on August 27, 2018 (Cubs vs. Mets), when she got smoked with a line drive foul in the fifth inning.
According to ESPN, "The complaint says Zuniga, who was chatting with a friend at the time she was struck, suffered permanent injuries to her' eyesight, smell, taste, and teeth.'" She also allegedly suffered a spider fracture under both eyes and suffers recurring bloody noses.
Tracy Brammeier, the plaintiff's attorney, said, "Major League Baseball and the Cubs were aware that severe injuries from foul balls could happen to its fans sitting in rows near the field because it had happened many times before. Just late last year, the MLB announced that all 30 teams would extend netting from foul pole to foul pole this year, but it's too late for Laiah."
As per the complaint which was filed in Chicago, the same law firm is also representing a Chicago man who was blinded in one eye after he got smacked by a foul at Wrigley in 2017.
Look, I'm all for safety, but in the case of Zuniga, she admits to chatting with a friend when the incident occurred. If people are going to attend MLB games – or any professionals sport, for that matter – they need to be paying attention. I'm all for chatting with whomever I attend games with, and there's nothing better than BS'ing with the fans who surround you in the seats at the Friendly Confines, but I am always mindful of when the next pitch is being delivered.
The average exit velocity at the MLB level is only 68 mph, but that includes every ball that's touched by a bat. Those slow rollers and weak pop-ups carry no threat, but then you have a guy named Aaron Judge (Yankees) who had one homer with an exit velocity at 119.4 mph.
Newsflash: Baseballs leaving bats at speed of that nature can (and will) hurt you if you don't pay attention.
Tickets bear disclaimers about being the risk of sitting in the stands, but apparently, they're only as good as the paper they're printed on. There is an abundance of these suits being filed, prompting baseball to mandate foul pole to foul pole netting to be installed at all stadiums. Still lingering ominously, is the suit that will likely be filed against MLB, the Astros, and the Cubs, resulting from Albert Almora Jr.'s line drive foul which struck a child in the stands at Minute Maid Park.
Latest MiLB Rumor: As rumors continue to swirl about the future of MiLB, the latest gossip says that the minor leaguers won't play in 2020. Several were spreading information contained in the following tweet, but I have firsthand information that this will not be the case.
BREAKING: Multiple agents receiving messaging today that there will NOT be a minor league season, rather, an MLB expanded roster and a developmental league playing out of ST facilities.

Huge.

— Joe (@JoeDoyleMiLB) April 29, 2020
I received an email this morning from Jeff Lantz, Senior Director of Communications for Minor League Baseball, which included the following press release from MiLB.
Minor League Baseball Statement
"St. Petersburg, FL, April 29, 2020 — Minor League Baseball™ (MiLB™) today issued the following statement regarding reports that the 2020 season has been canceled due to the coronavirus:
"The report circulating tonight that the 2020 Minor League Baseball season has been canceled is false. Minor League Baseball has confirmed with Major League Baseball that no such statement was made. No decision has been made as to when it will be safe to begin the 2020 season."
It has been confirmed that MiLB has consented to undergo contraction; however, their current deal with MLB will last through the 2020 season.
Well, it seems unanimous to us. We all want Smokies Baseball back! #JoinTheFun #WeWantBaseball #SmokiesBaseball pic.twitter.com/xf5GHbDiB6

— Tennessee Smokies (@smokiesbaseball) April 30, 2020
Cubs' Birthdays: Celebrating yesterday, were ex-Cubs Billy Petrick (36) and posthumously, Fernando "Freddy" Rodríguez (96) and Frank Hankinson (164).
Baseball Quotes: "Baseball is a drama with an endless run and an ever-changing cast." - Joe Garagiola in Baseball Is A Funny Game
The other day they asked me about mandatory drug testing. I said I believed in drug testing a long time ago. All through the sixties I tested everything. -Bill Lee pic.twitter.com/qnxRnU6hDY

— Baseball Quotes (@BaseballQuotes1) April 19, 2020