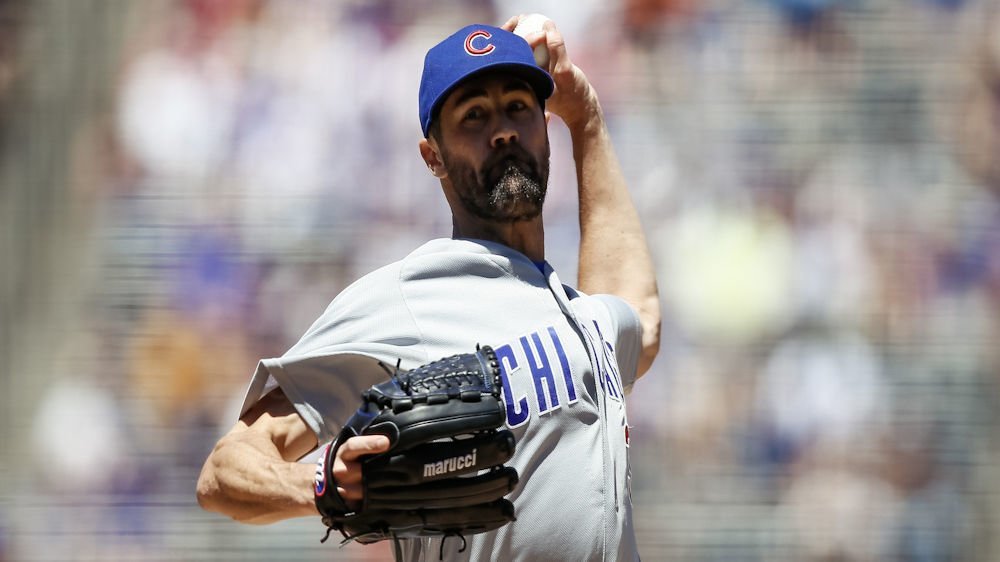 | | |
| --- | --- |
| Cubs News and Notes: Cole Hamels injured, Cargo likely gone, epic fan catch, more | |
---
Next Game: Today, 3:10 PM CDT: Cubs @ Reds LHP Jose Quintana (4-7, 4.50 ERA) vs RHP Luis Castillo (7-2, 2.56 ERA).
CUBS NEWS AND NOTES:
The Cubs loss to Cincinnati last night was nothing compared to the other thing the Cubs lost- Cole Hamels. After just an inning, Hamels returned to the mound to begin warming up for the second, but after taking only two warmup tosses, he walked off the mound, straight through the dugout and into the clubhouse. Hamels said he felt something on a pitch to Gennett in the first. Hamels then threw two more to get out of the inning and thought it was just a cramp, but when he went to warm up in the second, he knew it was worse. The Cubs are reporting that Hollywood suffered a left oblique strain and was immediately placed on the 10-day IL, with an MRI scheduled for today.
Down 1-0 after the first, Mike Montgomery took over for Hamels to start the second and the results were nothing short of disastrous. By the time Monty finished his night after just 2.1 innings, the Cubs were down 6-0. The Cubs' bullpen game also featured Brad Brach (2.1 innings), Kyle Ryan (1.1 innings) and Steve Cishek, who pitched the ninth.
The Cubs wouldn't get on the board until the seventh when Jason Heyward hit a two-run blast (420 feet) with Javier Baez on base. Addison Russell would also triple in the inning, then score on Albert Almora Jr.'s sac-fly, to end the Cubs scoring for the night.

J-Hey gets us on the board with his 12th home run of the year. pic.twitter.com/tPqIO0BEuH

— Chicago Cubs (@Cubs) June 29, 2019
Cubs/Reds Probable Pitchers Sunday: LHP Jon Lester (7-5, 3.83 ERA) vs RHP Anthony DeSclafani (4-4, 4.70 ERA).
Cole Hamels: "It was grabbing again, so I knew that's not always good and you could injure yourself a lot more by trying to play through it. I came back probably a week earlier than I should've," Hamels said of his 2017 injury. "I don't think it's going to be as bad, but I know after experiencing it once, and seeing what type of results I was continuing to put up, that's not going to be any sort of good scenario to repeat that."
You can read more in Jesse Roger's article.
Hamels on injury pic.twitter.com/aAzAFOaSGR

— Mark Gonzales (@MDGonzales) June 29, 2019
Maddon on Hamels: Listen to Joe Maddon discuss Hamels injury:
Maddon on Hamels' injury pic.twitter.com/A7TQITTJ2s

— Mark Gonzales (@MDGonzales) June 29, 2019
More Maddon on Hamels: pic.twitter.com/x3Gb6Hwwsi

— Mark Gonzales (@MDGonzales) June 29, 2019
Montgomery on his performance: "Mentally, you be ready the best you can, but at the end of the day I just didn't make the pitches."
Montgomery on Friday's struggles pic.twitter.com/H3g2i0jAvU

— Mark Gonzales (@MDGonzales) June 29, 2019
Meet your All-Stars: Seems like we did this last year (no complaints here), but Javier Baez and Willson Contreras have been named starters for the 2019 NL All-Stars. This year's game will be held on Tuesday, July 9th at Cleveland's Progressive Field.
Adbert Alzolay will start against the Pirates on Monday, and beyond him, they're just about out of starters. Rumors say that the Cubs may DFA Carlos Gonzalez to make room for two extra arms, the Cubs will be short-handed, but there's been no real speculation yet, as to which players they may be.
CarGo to be DFA: According to Jesse Rogers, teammates could be seen shaking Carlos Gonzalez's hand and hugging him after the Cubs loss on Friday night, almost a clear indication that he will be designated for assignment this morning. In 49 plate appearances as a Cub, CarGo had slashed only .175/.306/.300, making his statistically worse than how he'd performed in Cleveland to begin the season.
Maddon on Montgomery: During Montgomery's disastrous appearance on Friday, Montgomery allowed a pair of stolen bases (including one by Joey Votto, who isn't precisely a speed-demon). Joe Maddon says, "He does get caught up in it sometimes, and he does have to do a better job with runners on base, no question. We've talked to him about that."
Kimbrel addresses media: Following his first outing as a Cub, Craig Kimbrel addressed the media.
Hat's off to you: It's not uncommon for a player to tip his cap following an excellent play, but this fan tipped his cap while making the play…
Legendary foul ball catch by this @Cubs fan ???? #SCtop10 pic.twitter.com/NOOCM8rHKP

— SportsCenter (@SportsCenter) June 29, 2019
Baseball Quotes: "A man has to have goals - for a day, for a lifetime - and that was mine, to have people say, 'There goes Ted Williams, the greatest hitter who ever lived.' -Ted Williams
Cub Birthdays: Celebrating yesterday, were ex-Cubs Ron Mahay (48), Matt Karchner (52), Mark Grace (55), Chris Speier (69), and Hal Breeden (75).
NL CENTRAL SCHEDULE (June 23 – June 29, 2019)
(Wins are in green, losses in red)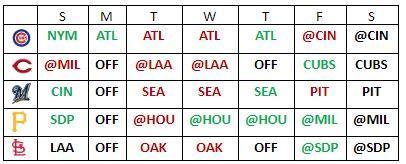 NL CENTRAL SCOREBOARD/STANDINGS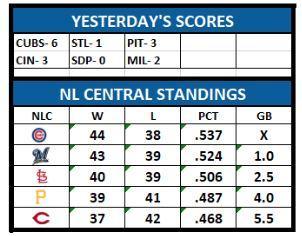 Tags: Cubs Baseball
,
Jose Quintana
,
Cole Hamels
,
Mike Montgomery
,
Kyle Ryan
,
Steve Cishek
,
Jason Heyward
,
,
Addison Russell
,
Albert Almora Jr
,
,
Willson Contreras
,
Tyler Chatwood
,
Kyle Hendricks
,
Adbert Alzolay
,
Joe Maddon