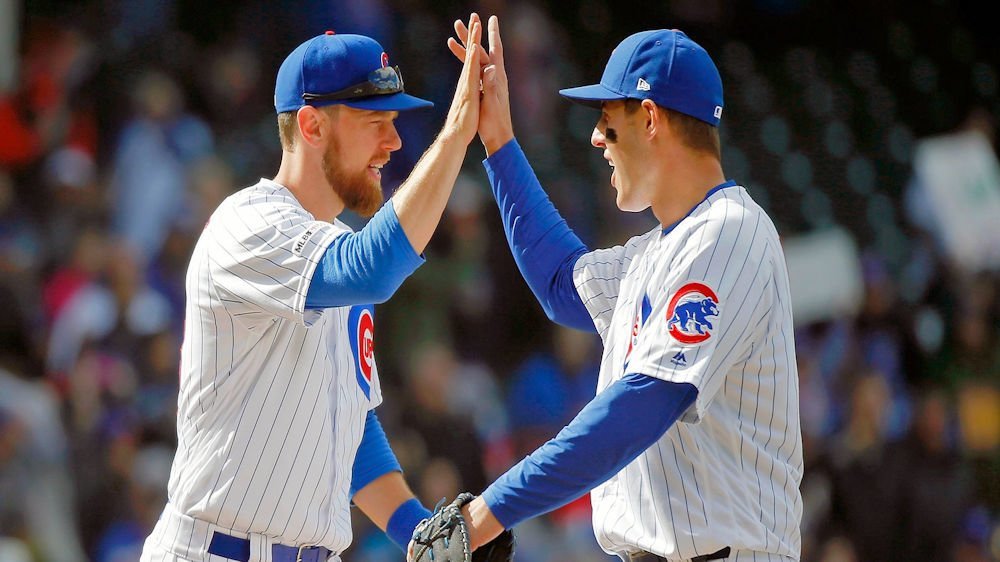 | | |
| --- | --- |
| Cubs News and Notes: Cubs lose heartbreaker, Ben Zobrist in camp, Vegas projections, more | |
---
CUBS NEWS AND NOTES
Next Game: Today: 2:05 PM: Cubs at Reds.
Opening Day: 22 Days- Thursday, March 26, 2020: Cubs vs. Brewers (Miller Park).
Tuesday's Recap: After splitting games with the Angels (Cubs won 9-4) and the A's (Cubs lost 5-2), Chicago – now 5-6 this spring – headed to Talking Stick yesterday to face the Rockies. Jose Quintana made his spring debut, squaring off against RHP Ashton Goudeau, who's posted an 0-1 record and a 2.25 ERA this spring.
The Cubs started with a bang, as Happ sent a leadoff homer to give the Cubs a quick lead. That would fade fast, as Q got pelted for three in the first, but the Cubs rebounded quickly. The offense refused to shut down, with just about everyone hitting all afternoon.
Second home run of the spring for Ian Happ. pic.twitter.com/8LQg8jMB3a

— Marquee Sports Network (@WatchMarquee) March 3, 2020
Willson Contreras tallied some RBIs, and Donnie Dewees would contribute a homer as well, as the Cubs built a 10-6 lead going into the ninth. Despite 17 hits and two homers, it wouldn't be good enough.
.@WContreras40 back up the middle. pic.twitter.com/EDleBcYne6

— Marquee Sports Network (@WatchMarquee) March 3, 2020
Dakota Mekkes pitched the ninth and got clobbered. After a strikeout, Mekkes would hit a man, walk the next one and give up back-to-back singles – tying the game - before being replaced by Scott Effross. Effross would give up a single to the first man he faced, netting the Rockies the winning run.
Final Score : Cubs-10; Rockies-11.
Manuel Rodriguez: David Ross updated the media on Manuel Rodriguez, who left the game the other night after only nine pitches. He's been diagnosed with a Grade-2 biceps strain. There is currently no timetable for his return.
Ben Zobrist: There was some excellent news about Zo yesterday, as he landed in Mesa, joining the Cubs' camp as a "guest instructor." Zo has made no official announcement about his future in baseball, but from things that I'm hearing, he wants to spend more time with his kids.
For anyone wondering, Cubs manager David Ross also made it clear that, no, Ben Zobrist is not in camp for a tryout or anything like that. Just a guest here to put on uniform, observe, chat with players, etc;

— Jordan Bastian (@MLBastian) March 3, 2020
Theo Epstein: Talking about what the July trade season may look like for the Cubs, Epstein said, "In the middle of this season, if we have a legit World Series contender, that is really meaningful. But if we don't, you can't be blind to the realities of the following 18 months."
The reference to "18 months" refers to the Cubs' players who'll gain free agency after the 2021 season. Epstein doesn't seem to want to wait until players have just one year of control left before deciding to trade them if the Cubs don't see extensions being a reality. The scary part of this is Epstein's words about a "legit World Series contender," as the Cubs aren't predicted to be anywhere close this season.
It won't be long before the rumors start to swirl again, especially if the Cubs don't get hot out of the gate. I can't help but think that Kris Bryant's name will be at the top of the list again, and I wouldn't be surprised to hear the names Jose Quintana and Willson Contreras mentioned. Javier Baez's name may be floated, but that almost seems to be the nuclear option. If Albert Almora and Ian Happ Continue to hit, it wouldn't surprise me to see their names pop up, with the likelihood that it could be Almora.
Victor Caratini could become a factor as well, especially with PJ Higgins on board for the year and Josh Phegley as a capable backup. Miguel Amaya doesn't look any better this year than he did last year, and the Cubs are rich in catching prospects. They could choose to package him for a better return.
Oh well, I guess we'll know in about 3-1/2 months.
Vegas projection: During Monday's Cubs/Angels broadcast, The ESPN announcers brought up the latest Vegas projections for the Cubs. The bookmakers have the cubs slated to win 85.5 games this season, finishing somewhere in the upper-middle of the pack in the NL Central, but sixth overall in the National League.
Cubs' Birthdays: Celebrating yesterday, were ex-Cubs (posthumously) Joe Jaeger (125) and Art Bues (132).
Baseball Quotes: ""Baseball is ninety percent mental. The other half is physical." - Yogi Berra
You have to love this. Trevor Bauer, still livid over the sign-stealing scandal, told the Dodgers' batters just what he was throwing on Monday. Bauer figures he'll only alert the batters as to what's coming, that way he won't have to worry if they're stealing signs.
You can't steal signs if the pitcher just tells you what's coming anyway. ????

pic.twitter.com/6cLKhW1zN7

— #TodayInSports (@TodayInSports3) March 3, 2020
MLB News and Notes:
Brewers: Milwaukee and Christian Yelich come to terms on what's being reported as a $200M+ extension.
Superstar outfielder Christian Yelich and the Milwaukee Brewers are deep into discussions on a contract extension expected to run nine or more years and be worth well over $200 million, sources tell ESPN. Both sides believe a deal will get done. First reported: @Ken_Rosenthal.

— Jeff Passan (@JeffPassan) March 3, 2020

Tags: Cubs Baseball
,
Jose Quintana
,
Ian Happ
,
Willson Contreras
,
Dakota Mekkes
,
Scott Effross
,
Manuel Rodriguez
,
David Ross
,
Ben Zobrist
,
Kris Bryant
,
Albert Almora
,
Victor Caratini
,
Miguel Amaya
,
Theo Epstein