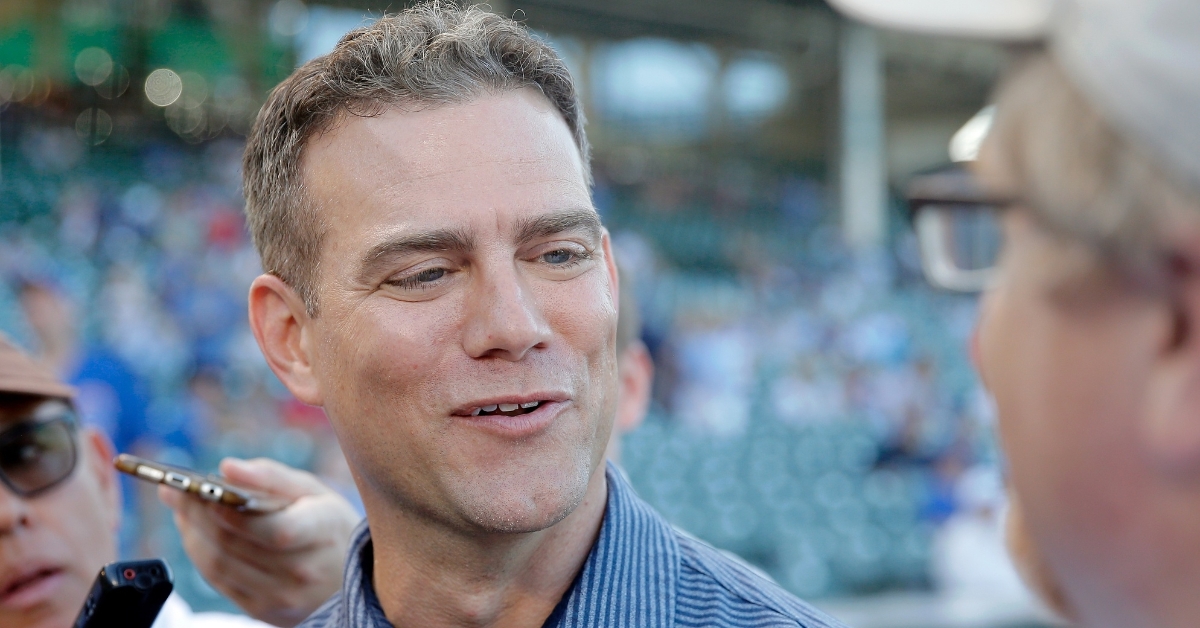 | | |
| --- | --- |
| Cubs News and Notes: Cubs need to move payroll, Happy Winter Meetings, Hot Stove, more | |
---
| | | |
| --- | --- | --- |
| Monday, December 9, 2019, 8:30 AM | | |
Insufficient Funds: According to a report from Ken Rosenthal, "Club officials [from the Cubs] are telling representatives of even low-budget free agents that they need to clear money before engaging in serious negotiations."
Since the 2019 season ended, I've been preaching that the Cubs would be forced to adhere to a strict budget this winter, acquiring almost anybody of note through trades, versus the signing free agents. Here we are.
Last time the Winter Meetings were in San Diego, the Cubs were about to change the course of the org with some big spending. The Winter Meetings return to SD and they're at a critical point again. Big moves? They hope. Big spending? Not likely. https://t.co/V0VfjbDTRf

— Sahadev Sharma (@sahadevsharma) December 8, 2019
Tom Ricketts, himself, commented a month or so ago, that the concept of spending big money on free agents hasn't worked out well for the Cubs in recent years past. While Tyler Chatwood and Yu Darvish have just finally started to earn their salaries (totaling $164M), Jason Heyward's eight-year, $184M mega contract was enough to leave a bad taste in anyone's mouth. In four seasons, Heyward has compiled a slash line of only .252/.327/.383, with a .711
OPS – certainly not very impressive.
President Theo Epstein and his cohorts have been decidedly mum on the Cubs' payroll outlook this offseason, with the trade market looking like the club's likeliest route toward improving a roster that went 84-78 last season. Now, a report is indicating the Cubs are rebuking even "low-budget" free agents due to payroll concerns. -Dylan Chase, MLB Trade Rumors
So, it's now reached the point where Tom's checkbook appears to be glued shut, leaving Theo to manipulate the Cubs' roster needs through trades. While some would fancy the idea of dealing Albert Almora Jr., Kyle Schwarber or Ian Happ, the truth is, they have little trade value. If the Cubs want to produce someone of note, you're unfortunately going to have to accept the reality that a bigger name is going to be leaving the team. Kris Bryant? That remains my guess. Willson Contreras? I'd like to think not, but his name seems to be gaining an awful lot of attention. Anthony Rizzo? Perish the thought; but at least one of those guys is going to be waving goodbye to the Friendly Confines.
As the Winter Meetings unfold over the next 96 hours or so, this feed hopefully will be full of free agent signings. So please humor me for a few moments to honor the person who literally created all of the sweet, sweet hot stove action you so desire.

— Jeff Passan (@JeffPassan) December 8, 2019
Jesse Rogers: Jesse Rogers was on ESPN 1000 yesterday morning, discussing the Cubs and what he perceives their mission to be at the Winter Meetings. According to Jesse, this will be a busy week for the Cubs [and White Sox], with neither team coming away from the Winter Meetings empty-handed. For the Sox, it'll be a free agent signing and for the Cubs, a trade. Rogers says that you can expect to hear the official news as early as Friday (December 13th), but certainly by Monday the 16th.
Five years ago, the Cubs rolled into San Diego for the winter meetings and toasted the Jon Lester deal with a round of shots.

Now they are...trying to shed salary and trade Kris Bryant? Story with @sahadevsharma: https://t.co/hrdJgnRS9p

— Patrick Mooney (@PJ_Mooney) December 8, 2019
Rogers went on to say that he doesn't think KB will be a Cub, come Opening Day, while citing that the Braves could be a trade partner, with Max Fried being mentioned as a return piece.
"If the Winter Meetings were given a movie title ….2018 Winter Meetings: "Slow Burn," … 2019 Winter Meetings: "Fast and Furious." -Scott Boras
MLBTR will be providing 24/7 coverage of the Winter Meetings over the next four days, for all the trades/signing/rumors from San Diego. Stay busy with that refresh button!

— MLB Trade Rumors (@mlbtraderumors) December 9, 2019
Nicholas Castellanos: According to baseball insider Ken Rosenthal, as of right now, it no doesn't look as though the Cubs will be able to afford to re-sign Castellanos. With the amount of payroll shaved, and the likely trade of Kris Bryant pending, it would sure appear as though Theo could make such an acquisition possible if he so desired.
According to Rosenthal, the Cubs' 2020 payroll is currently sitting around $214M - $6M over the $208M threshold, but dealing Bryant would clear an additional (estimated) $18.5M. Epstein needs the consistency of Nick's bat in the lineup, especially if he can't walk away from San Diego with someone like Staring Marté or Kevin Pillar.
Josh Lindblom: The Cubs and Lindblom have had discussions, but it would appear that Chicago is losing momentum in the race.
Cubs Have Had Discussions With Josh Lindblom https://t.co/ghPT7nSMMw pic.twitter.com/zNY3EcgmJe

— MLB Trade Rumors (@mlbtraderumors) December 9, 2019
Cubs' Birthdays Celebrating yesterday, were ex-Cubs Reed Johnson (43) and posthumously, Winfield "Kid" Camp (150).
Baseball Quotes: "I've always played hard. If that's rough and tough, I can't help it. I don't believe there's any such thing as a good loser. I wouldn't sit down and play a game of cards with you right now without wanting to win." -Rogers Hornsby
It isn't hard to be good from time to time in sports. What is tough, is being good every day. -Willie Mays pic.twitter.com/5TkZsokwEI

— Baseball Quotes (@BaseballQuotes1) December 1, 2019
MLB and the Hot Stove
NL Central News:
Brewers: Milwaukee has signed OF Keon Broxton to a minor league deal. Included is an invite to Spring Training.
From the Rest of MLB:
Gerrit Cole: While MLB Network is reporting that the Cole lottery could go above $300M, the Yankees have already reportedly made a $245M offer.
Yankees Have Reportedly Made $245MM Offer To Gerrit Cole https://t.co/fkHtqixBhi

— MLB Trade Rumors (@mlbtraderumors) December 8, 2019
Nationals: Washington has agreed to an MLB deal with former A's reliever, Kyle Finnegan.
White Sox: Rumors of the Sox picking up Marcell Ozuna are starting to gain momentum. Dominican reporter Frank Castillo tweeted Saturday that the White Sox will sign Marcell Ozuna and that they are planning to announce the deal on Monday.
D-Backs: Arizona added bullpen depth yesterday, agreeing to terms with RHP Junior Guerra (pending physical). This is a one-year deal ($2.55M) with an option, but Guerra remains under control for three more years. Guerra was expected to earn $3.5M in arbitration. However, the Brewers decided to non-tender him.
Dodgers: Perhaps anticipating that they may miss out on Gerrit Cole, the Dodgers are now reportedly interested in re-signing LHP Hyun-Jin Ryu.
Marvin Miller and Ted Simmons have been elected to the Baseball Hall of Fame via the Modern Baseball Era Committee. pic.twitter.com/c3fk08stVG

— MLB (@MLB) December 9, 2019

Tags: Cubs Baseball
,
Tyler Chatwood
,
Yu Darvish
,
Jason Heyward
,
Albert Almora Jr
,
Kyle Schwarber
,
,
,
Willson Contreras
,
Anthony Rizzo
,
,
Theo Epstein