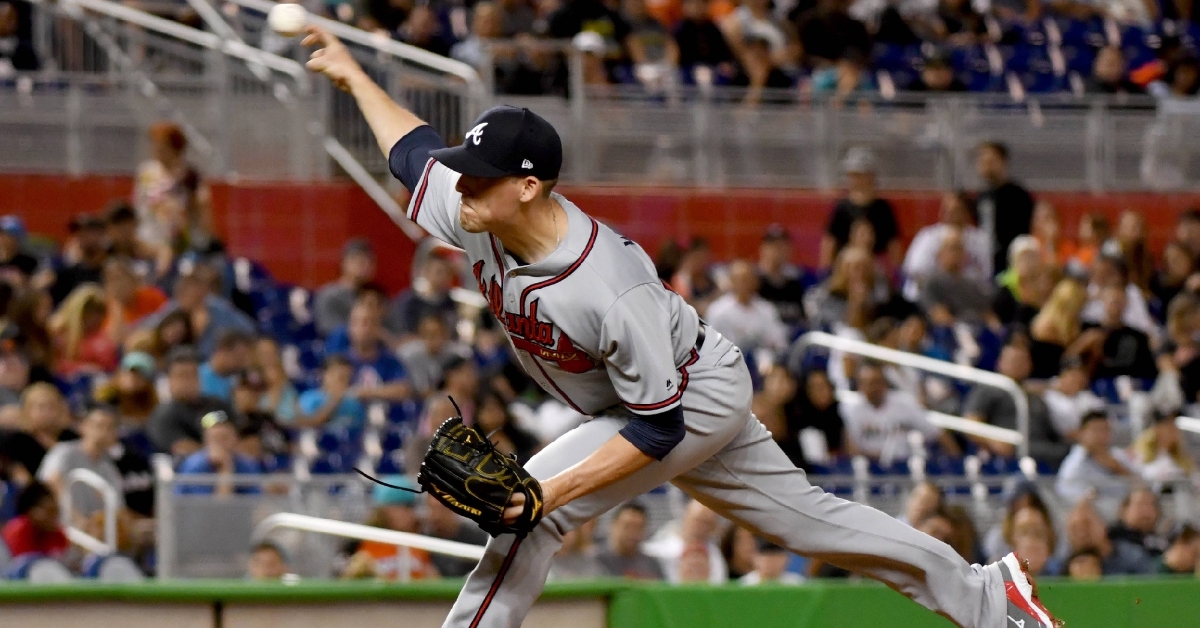 | | |
| --- | --- |
| Cubs News and Notes: Cubs sign righty, Catching market, Brandon Morrow, Hot Stove | |
---
| | | |
| --- | --- | --- |
| Saturday, December 7, 2019, 8:47 AM | | |
CUBS NEWS AND NOTES
Cubs sign righty: The Cubs have signed free agent reliever (righty) Dan Winkler to a one-year (split) contract. Winkler, trying to bounce back from multiple injuries and a horrific 2019, will earn $200k in the minors, or a guaranteed $750k in the majors, with another $750k available in incentives.
Winkler put up some decent numbers in Triple-A last season, and although this is another low-risk deal with the potential for a high return, it seems the Cubs continue to squander precious money on an awful lot of "maybes."
#Cubs reportedly signing former Braves reliever: https://t.co/2YCGAO3vfB pic.twitter.com/M9RAk0xAP5

— CubsHQ.com (@ChicagoCubsHQ) December 6, 2019
Catcher's market: The Twins have now signed free agent catcher Alex Avila, making Willson Contreras that much more valuable in trade. The list of free-agent backstops is plentiful, but age and, in some cases, inexperience leave Willy looking better and better to prospective buyers.
Morrow returning? I'm a little surprised that Brandon Morrow would even enter into the Cubs' dialogue for this offseason, but he has. Chicago is looking to bring Morrow back on a minor league deal, with a decision expected by the end of this month.
The Chicago Cubs working with relief specialist Brandon Morrow on coming back. It would be a minor league deal . Most likely end of December conclusion .

— Bruce Levine (@MLBBruceLevine) December 6, 2019
For sale: The Cubs were said to have interest in signing former Astros reliever, Will Harris, but the rumors quickly gave way to the announcement of other signings in Chicago. Based on age, Harris doesn't really fit the motif, but he is an experienced option.
Does Will Harris interest you, Cubs fans?

He's up next in our our #FAFocus series: https://t.co/WIcnSohnrw pic.twitter.com/62wzVWb7Zd

— Cubs Talk (@NBCSCubs) December 6, 2019
Personnel changes: The Cubs have named Jasmine Horan as an amateur scouting analyst and have hired Dan Kantrovitz as VP of scouting.
Horan worked last season in baseball ops for the Yankees, also spent two summers as an intern in the Athletics' analytics dept. Amherst grade with a degree in mathematics and statistics.

— Mark Gonzales (@MDGonzales) December 6, 2019
Easy come, easy go: Just 24 hours ago, it looked as though Addison Russell had an opportunity to be signed by Detroit – today? Not so much.
The Tigers, per source, have no interest in free agent shortstop Addison Russell. Reports to the contrary are unfounded.

— Chris McCosky (@cmccosky) December 6, 2019
Cubs' History: D you know when the first night game at Wrigley was played? Hint: it was long before the Cubs and Phillies clashed on August 8, 1988.
In a real-life League of their Own game, the All-American Girls Professional Baseball League played an All-Star game at night on July 1, 1943.
New @SABRGames story: On July 1, 1943, the @AAGPBL played an all-star game — a wartime benefit — under the lights at Wrigley Field, the first-ever night game at the @Cubs' Friendly Confines: https://t.co/Il0gF3TJZA #SABR pic.twitter.com/QluK2kifOU

— SABR (@sabr) December 6, 2019
CD Pelham: I had a brief conversation the other day on social media with one of the Cubs' new relievers – CD Pelham. Despite an ugly season last year, Pelham says that he looks forward to being part of the Cubs and looks forward to a solid season.
Cubs' Birthdays Celebrating yesterday were ex-Cubs Larry Bowa (74), Tommy Brown (92), and posthumously, Stan Hack (110), Tony Lazzeri (116), and Harry Wolverton (146).
Baseball Quotes: "One of the fellows called me Cyclone, but finally shortened it to 'Cy' and it's been that ever since." -Cy Young on how he got his nickname.
Mickey Mantle hits his final HR to beat Willie Mays in the first episode of "Home Run Derby" (1960) Mickey won $2,000, Willie won $1,000! #MLB #History pic.twitter.com/PoB1RKZ2DN

— Baseball by BSmile (@BSmile) November 9, 2019
MLB and the Hot Stove
NL Central News:
Brewers: One less opportunity for the Crew to hang onto to some of last year's rotation, as Texas has now signed former Milwaukee starter, Jordan Lyles, to a two-year deal worth $16M.
The Rangers have built a rotation of mid-level investments, a strategy that is getting thumbs-up from rival execs.
1. Mike Minor
2. Lance Lynn
3. Kyle Gibson
r. Jordan Lyles
With Kolby Allard at the No. 5.

— Buster Olney (@Buster_ESPN) December 7, 2019
Pirates: The Bucs have made it official – Starling Marté is on the trading block, with the Pirates seeking a coveted catching prospect in return. It would be highly unlikely for Theo to deal either Willson Contreras or Victor Caratini to a division rival, but Cubs' catching prospect, Miguel Amaya, could be an option.
Starling Marte is said to be available but there's no evidence trade talk has gained much traction yet. Word is that the Pirates covet a top catching prospect in trades.

— Jon Heyman (@JonHeyman) December 6, 2019
From the Rest of MLB:
Nationals: Washington owner, Mark Lerner, says the Nationals can probably only afford to re-sign one of their two top free agents Rendon, Strasburg). Scott Boras – never one to be quiet – offered his opinion, which is likely to do nothing other than annoying Nats' fans when only one – if one – of the two superstars gets re-signed.
"The Nationals are experiencing a revenue festival in 2020, and World Series momentum has blossomed, millions in DC.
"The franchise value has increased by nearly $2 billion since their purchase. The Nationals made an extra $30 million winning the World Series. Attendance will increase by more than four to five hundred thousand. TV ratings and advertising rates all skyrocketed.
"Everyone in DC knows special cherry trees create revenue bloom." – Scott Boras' response to Lerner
The Nats have, however, reached a deal with Howie Kendrick (love that guy). Kendrick re-signed for one year at $6.25M (guaranteed); there is also a mutual option for 2021.
Padres: Tommy Pham is heading for San Diego after being dealt to the Friars on Friday. The Padres also acquired INF/RHP Jake Cornerworth in the deal that sent OF Hunter Renfroe, INF Xavier Edwards and a PTBNL to Tampa,
The New York Yankees have made signing right-hander Gerrit Cole their top priority and have ownership-level approval to offer him a record deal, sources tell ESPN. News story on the coming bidding war on Cole and the huge contract he's going to command: https://t.co/4dt1mE4xle

— Jeff Passan (@JeffPassan) December 6, 2019
Mets: Former Cub reliever, Brad Brach has re-signed with the Mets. This is a one-year deal worth $850k, with an option for 2021.
Free-agent RHP Brad Brach signs with #Mets, one year, $850K with a player option for $1.25M in 2021, sources tell The Athletic. Brach still owed $500K by #Cubs for 2020, so actually will earn total of $1.35M next season.

— Ken Rosenthal (@Ken_Rosenthal) December 6, 2019
Phillies: Philly is now among the teams focused on acquiring Anthony Rendon.
White Sox: The Sox have claimed RHP Tayron Guerrero off waivers from the Marlins.
A's: Oakland is among the teams interested in signing free-agent reliever Sergio Romo. Multiple clubs are interested, and a decision from Romo is expected by the end of the winter meetings.