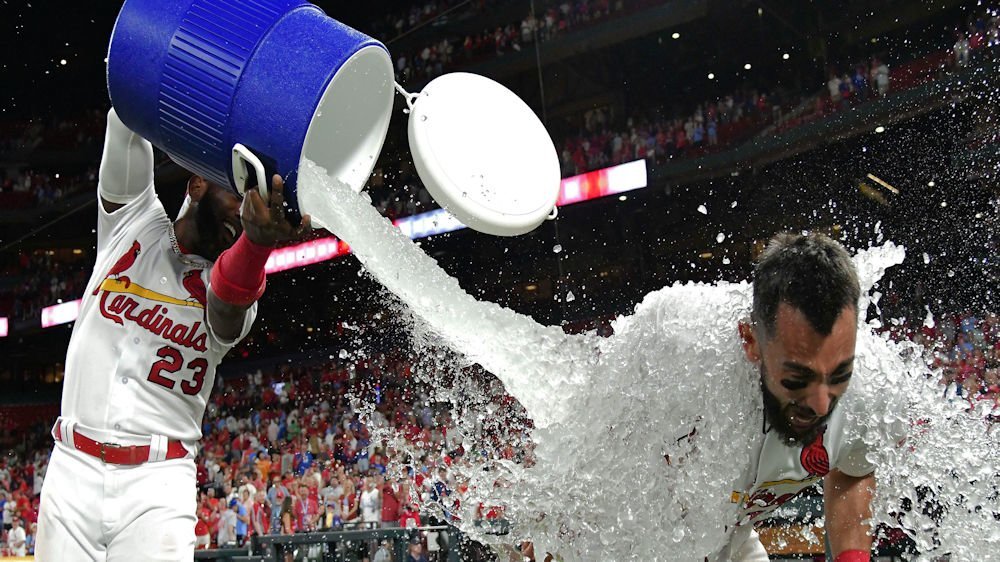 | | |
| --- | --- |
| Cubs News and Notes: Cubs toppled by Cards, Questionable call, Cubs HR rampage, more | |
---
Next Game: Friday, 7:15 PM CDT: Cubs @ Cardinals. LHP Jose Quintana (4-3, 3.73 ERA) vs RHP Jack Flaherty (4-3, 3.77 ERA).
CUBS NEWS AND NOTES:
Friday's Game Recap: After a much needed and well deserved day off on Thursday, the Cubs set their sights on snapping slumps and starting to reconstruct their lead n the NL Central. It didn't happen.
The Cardinals jumped out to a 1-0 lead in the first, but the Cubs battled back in the second to tie it. Neither team would score for the next seven innings, sending the game into the tenth.
The Cubs failed to score on a couple of occasions with runners in scoring position throughout the game, but in the 10th inning, the home plate umpire, Laz Diaz, made one of the most egregious calls I have ever seen in my life. Rather than for Maples to be awarded a strikeout on his 3-2 pitch to Bader, Diaz called the pitch a ball, which resulted in a walk. The Cards already had Kolten Wong on second base, but rather than to have 2-out with a man on second, the Cubs then faced a 1-out, with runners on first and second situation. Maples walked the next man to load them, and Carpenter hit a fly ball to an almost empty left field to win it.

Cubs/Cards Probable Pitchers: Sunday, 1:15 PM: LHP Cole Hamels (4-1, 4.02 ERA) vs RHP Adam Wainwright (4-4, 4.82 ERA).
Good outing by Darvish: Joe Maddon says that Yu Darvish could be the best pitcher in the NL if he could improve his command. Darvish pitched well last night after walking the first two that he faced starting the game. Final line: 6.0 IP, 1 ER, three walks, 6 K. Darvish's ERA has now improved to 5.01 (down from 5.40).
Yu Darvish, Filthy 95mph Front Door Two Seamer. ??

And fist pump. pic.twitter.com/vGVprWFxc9

— Rob Friedman (@PitchingNinja) June 1, 2019
Another poor umpiring effort: The umpiring gets worse and worse by the game. Joe Maddon says that Laz Diaz's blown call in the tenth changed the tempo of the game, ultimately costing the Cubs a loss. Maddon was reportedly very polite, but very critical about the call, saying, "You can't miss that call in that situation." See for yourself:
Wow doesnt get much better than this @MLBUA @Cubs Dillon Maples first 2 pitches in the EXACT same spot, 1 called ball.. 1 called strike

Same at bat... pitch 6 called ball, clearly a strike... should have been a strike out

Absolutely ridiculous right?! @thekapman @ESPNChiCubs pic.twitter.com/VdDAftDP4w

— ?? (@cityPeteeee) June 1, 2019
More Maddon (on Maples): Maddon on the blown strike-3 call "Here's a guy ascending to the major leagues as a relief pitcher, doing a wonderful job, DOES his job, and doesn't get rewarded for it. That's what kind of pisses me off, quite frankly." "We were not good offensively, granted. But to have pitches like that taken away in a crucial moment, now my guy has to go home feeling bad about himself, which I don't like whatsoever. And it wasn't a borderline pitch. It was a strike."
"You cannot miss that pitch in that situation." -Joe Maddon on the missed strike call in the 10th.

Postgame Live is streaming here: https://t.co/1k5Qbp979y pic.twitter.com/GqpHisVIRi

— Cubs Talk (@NBCSCubs) June 1, 2019
Closing time? According to 670 The Score's Bruce Levine, the Cubs have been eyeing White Sox closer, Alex Colome. "As the White Sox hosted the Royals for a three-game series earlier this week, the Cubs, Phillies, Nationals, Mets, Diamondbacks, and Yankees had scouts in attendance watching," Levine said. "What they saw was Colome at his best, as he won and saved games Tuesday in the White Sox's sweep and then followed up with another save in his team's victory Wednesday evening."
Colome is currently boasting a .159 ERA with 11 saves in 11 chances this season and is controllable through the end of next season. Interestingly enough, it was recently reported that the Cubs "could save $9M, if Ben Zobrist was to retire, and Colome is earning $7.3M this year. Coincidence?
The Professor: How are these for numbers? Kyle Hendricks finished May: 4-0, 1.81 ERA, 0.74 WHIP, an opponent batting average of just .177 and a .492 opponent OPS in a total of six starts. Hendricks marks the first MLB pitcher since Clayton Kershaw (2016) with four starts lasting 8.0 or more innings, and one earned run or fewer in a month.
On a rampage: It's not even June 1st yet, and the following Cubs' players have already surpassed their home run totals from last year: Kris Bryant, Jason-Heyward, Willson Contreras, Albert Almora (and former Cub) Tommy La Stella, who has already surpassed his career total.
Homers galore: Going into last night, the Cubs have a total of 23 homers in the in last eight games, hitting at least 2 in each of those games. The streak eight consecutive multi-HR games tie the franchise mark set 6/25-7/2 '61. The last team to hit two or more homers in 9 straight games is St. Louis (8/9-19/2016).
Draft Time: Hard to believe that it's been a year since the Cubs drafted shortstop, Nico Hoerner, and outfielder, Cole Roederer- but it has. Monday is the day for the 2019 June Draft, and it will be interesting to see who the Cubs will pursue. According to Jon Heyman (MLB Network), "the crop is about average overall," but contains "two very special players." The first, a catcher from Oregon State, named Adley Rutschman, the second, a shortstop from Texas Prep, named Bobby Witt Jr. MLB Network will carry the draft live.
Cub Birthdays: Celebrating yesterday, were ex-Cubs Kenny Lofton (52) and posthumously, Bill Foxen (140).
NL CENTRAL SCHEDULE (May 26 – June 1, 2019)
(Wins are in green, losses in red)

NL CENTRAL SCOREBOARD/STANDINGS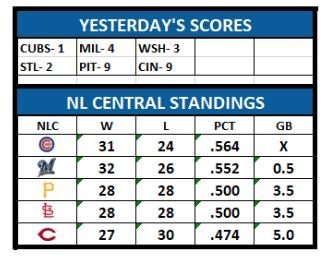 Upgrade Your Account
Unlock premium boards and exclusive features (e.g. ad-free) by upgrading your account today.
Upgrade Now

Tags: Cubs Baseball
,
Jose Quintana
,
Cole Hamels
,
Yu Darvish
,
Ben Zobrist
,
Kyle Hendricks
,
,
Willson Contreras
,
Tommy La Stella
,
Cole Roederer
,
Joe Maddon