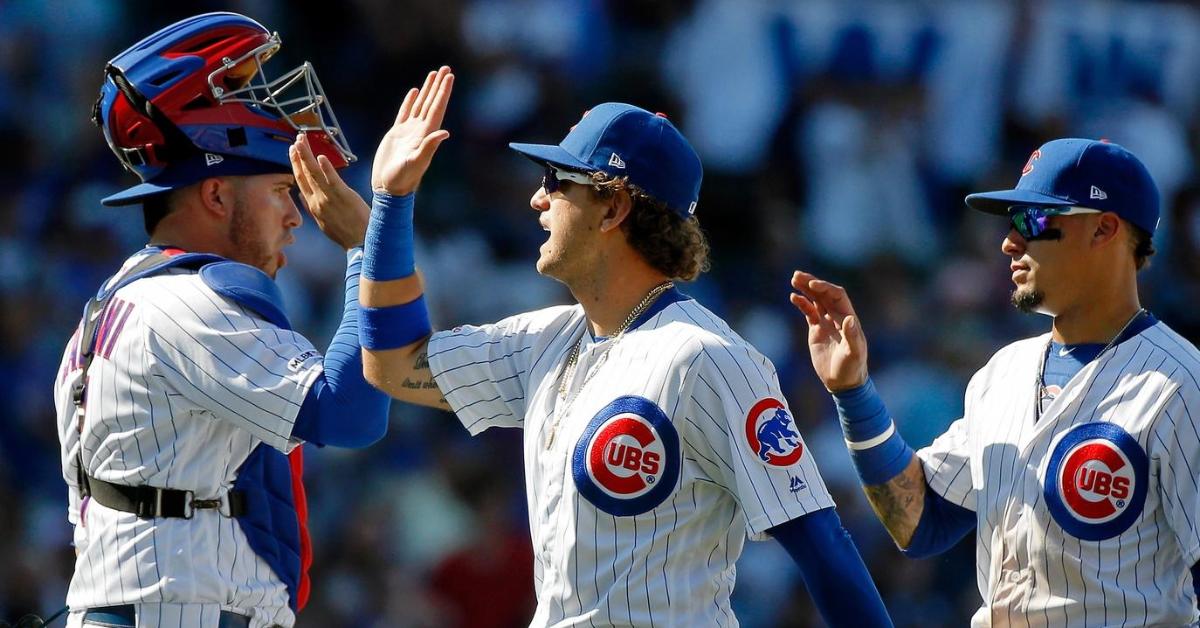 | | |
| --- | --- |
| Cubs News and Notes: Fly the W, Contreras injured, Zo's comeback, Morrow's plan, more | |
---
| | | |
| --- | --- | --- |
| Sunday, August 4, 2019, 7:33 AM | | |
Next Game: Today 1:20 PM: 1:20 PM (WGN, TBS, TBS out of market, SAP WGN) RHP Yu Darvish (3-5, 4.46 ERA) vs RHP Adrian Houser (4-4, 3.99 ERA).
Saturday's game recap:
It was good to see the Cubs be able to beat the Brewers on Friday, but this seems to accentuate the problems they have with winning on the road. The best they can do at this point is grab the wins what they can at Wrigley, then start praying like hell when they hop the next plane.
Yesterday, it was veteran lefty, Cole Hamels (making his first start after returning from a month-long IL stint), vs. lefty, Gio Gonzalez. I predicted the Cubs would take two out of three this series, and this was the game that concerned me, predominantly due to Hamels' recent injury and the effectiveness that Gonzalez has had on Chicago- I was glad to be wrong.
Javier Baez would singlehandedly put the Cubs on the board in the second, first by tripling, then by scoring on a wild pitch when Albert Almora Jr. was at the plate.
.@javy23baez triples leading off the 2nd and scores on a wild pitch!#EverybodyIn pic.twitter.com/Va0baGd0RG

— Chicago Cubs (@Cubs) August 3, 2019
Although the Cubs only netted one run through the first two frames, hard-contact resonated through the batting order, with line-drives being hit in any and every direction.
Another loud out for Nick Castellanos -- 106.4 mph exit velo on a line drive to CF

— Tim Stebbins (@tim_stebbins) August 3, 2019
Newbie, David Phelps, would allow the Brewers to tie it at 1-1 in the sixth, stripping Cole Hamels of a win after a solid return outing that netted five scoreless innings.
The Cubs would regain the lead in the seventh on Albert Almora Jr.'s homer to left, but not before Willson Contreras injured himself (hamstring) leaving the batter's box on a flyout to left.
Gone in a hurry. #EverybodyIn pic.twitter.com/YAnwiE4YQy

— Chicago Cubs (@Cubs) August 3, 2019
Contreras immediately grabbed his left thigh, just two steps out of the box, hopped and hobbled his way to first, then was slow to return to the dugout, trainer in stride.
Maddon: Contreras will have MRI Monday on his right hamstring. No further information right now.

— Jordan Bastian (@MLBastian) August 3, 2019
With two on and one away in the eighth, Javy would thread the needle with a groundball that found its way between second and short, which scored Castellanos from third and advanced Anthony Rizzo from first to third. Rizz would then score on a sac-fly by Almora to make it 4-1, Cubs.
Craig Kimbrel would notch his ninth save of the season; Rowan Wick would earn his first major-league win. Fly the W on a 4-1 win by the Cubs, who will attempt the sweep Sunday afternoon.
Almora swats go-ahead HR, Hamels throws five scoreless in return from IL.

Recap: https://t.co/z1cPfGmBhX #EverybodyIn pic.twitter.com/IM1Hzs9h87

— Chicago Cubs (@Cubs) August 3, 2019
CUBS NEWS AND NOTES
Cubs/Athletics Probable Pitchers: Monday, 7:05 PM (WGN, SAP WGN, ESPN out of market only, ESPN): RHP Kyle Hendricks (8-8, 3.07 ERA) vs RHP Chris Bassitt (7-5, 3.84 ERA). Tuesday, 7:05 PM (NBC Sports Chicago, MLB Network- out of market only): LHP Jon Lester (9-7, 3.86 ERA) vs LHP Brett Anderson (9-7, 4.04 ERA). Wednesday, 1:20 PM: LHP Jose Quintana (9-7, 4.40 ERA) vs RHP Homer Bailey (9-7, 5.20 ERA).
A "jeopardizing" ceremonial pitch: Even those who don't watch Jeopardy learned the name James Holzhauer a few months back, as James plowed his way through match after match, raking in insane paydays. The native Chicagoan tossed the first pitch at Wrigley yesterday.
What is a ceremonial first pitch?

Thanks for joining us at Wrigley Field, @James_Holzhauer! pic.twitter.com/lCMXjb5QeK

— Chicago Cubs (@Cubs) August 3, 2019
Holzhauer, a professional sports gambler, aspires to working for the Cubs in a front office capacity of some sort, one day.
Catching conundrum: I'm already seeing people questioning the Martin Maldonado for Tony Kemp trade, but funny how none of that surfaced until Contreras injured himself yesterday. Bear in mind; these are some of the same people who complained about what a terrible acquisition that Maldonado was in the first place.
Maddon wouldn't tip his hand, but expect Cubs to add a catcher Sunday. For now, Contreras injury described as a hamstring strain. Info/timetable details likely to come Monday.

— Jordan Bastian (@MLBastian) August 3, 2019
Taylor Davis will most likely earn another bus ticket to Wrigley, and if the Cubs wanted to shake things up, they'd call Miguel Amaya (though I doubt it). Victor Caratini is strong enough to be the Cubs everyday catcher now, and he'll go into "beast mode" as he has in the past, when necessary. Don't panic, the catching situation will be fine, and if all else fails, they always have Kyle Schwarber.
Morrow's plan: It sounds a little weird to say it this way, but "former" Cubs' closer, Brandon Morrow, says he is going to return. When asked about his timeline, Morrow replied, "I guess not more than a month away from being back."
"I faced hitters just last week, so I'm pretty built up. I've thrown the last two days and should be back on the mound early next week."
In my estimation, this is all a little too late. The Cubs have now been without Morrow for around 13 months, had struggled without a regular closer for a year and have now turned over the role to Craig Kimbrel. I don't see Morrow making an impact at all this season.
Zo's comeback: On Friday, Ben Zobrist made his first appearance in a baseball uniform since May 6th, as he began his attempt to return to the Cubs. Starting with Single-A South Bend, Ben went 0 for 3 with a walk on Friday. Zo did strikeout once but put the ball in play during his other at-bats, both resulting in flyouts.
Roster Moves: Before yesterday's game, the Cubs designated RHP Brad Brach for assignment, to clear a roster spot for Cole Hamels.
Most logical move for Cubs to make. Rowan Wick has earned his spot on 25-man roster, and carrying 14 pitchers wouldn't have made sense. https://t.co/OyCKTzhmJj

— Tim Stebbins (@tim_stebbins) August 3, 2019
Spared in this roster shift, was righty, Rowan Wick, a pitcher that many felt would be optioned when Cole Hamels returned form the IL.
Maddon was asked if Rowan Wick's recent performance played a role in the team's decision on Brach:

"Of course. What Rowan's doing right now causes us to rethink a lot of this stuff."

— Jordan Bastian (@MLBastian) August 3, 2019
Maddon also had high praise for Brach. The manager said it was perplexing that the righty had a high ERA (6.13) given his peripherals. That includes a 0.68 HR/9 this season.

"None of it makes sense. It just doesn't."

Said he hopes Brach gets a shot with another team soon.

— Jordan Bastian (@MLBastian) August 3, 2019
Almora shining: It's hard for Joe Maddon to justify using Ian Happ primarily at CF when Albert Almora Jr. turns in performances of this caliber:
3for3, 2RBI...the go-ahead homer & clutch sac fly for @albertalmora who also gave us his thoughts on Contreras & Hamels????????#Cubs W https://t.co/uJGl3Z8bFe

— Kelly Crull (@Kelly_Crull) August 3, 2019
Baseball Quotes: "Eighty percent of the people who hear your troubles don't care, and the other twenty percent are glad you're having them." -Tommy Lasorda
If you're going to play at all, you're out to win. Baseball, board games, playing Jeopardy, I hate to lose. -Derek Jeter pic.twitter.com/TtDFMX0sQW

— Baseball Quotes (@BaseballQuotes1) July 30, 2019
href="https://t.co/2TexHPXtr8">pic.twitter.com/2TexHPXtr8

— Cut4 (@Cut4) August 3, 2019
Cubs Birthdays: Celebrating yesterday, were ex-Cubs Félix Sánchez (38), Roosevelt Brown (44), and posthumously, Rod Beck (51), Jim Hegan (99), Al Kaiser (133), and Frank "Silver" Flint (164).
THIS WEEK'S NL CENTRAL SCEHEDULE:
(Wins in green, losses in red)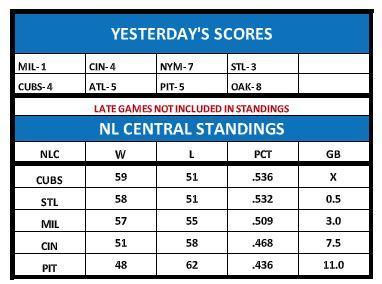 Tags: Cubs Baseball
,
Yu Darvish
,
Cole Hamels
,
,
Albert Almora Jr
,
Willson Contreras
,
Anthony Rizzo
,
Rowan Wick
,
Kyle Hendricks
,
,
Brett Anderson
,
Jose Quintana
,
Taylor Davis
,
Miguel Amaya
,
Victor Caratini
,
Kyle Schwarber
,
Brandon Morrow
,
Ben Zobrist
,
,
Joe Maddon