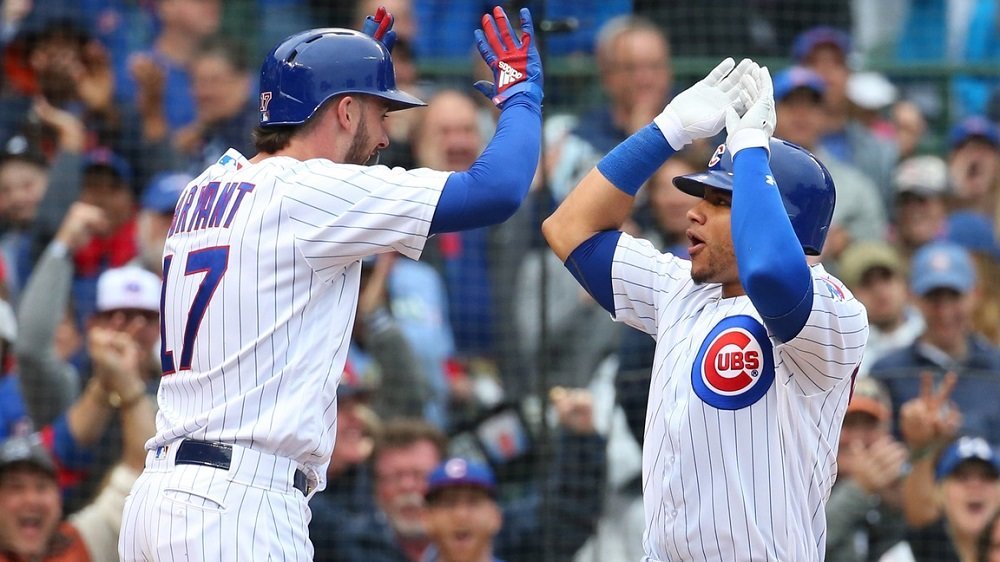 | | |
| --- | --- |
| Cubs News and Notes: Impending trades, Third base market, Contreras rocks, Hot Stove, more | |
---
| | | |
| --- | --- | --- |
| Sunday, January 5, 2020, 8:37 AM | | |
CUBS NEWS AND NOTES
Next Game: Next Game: 48 days – Saturday, February 22, 2020: Athletics vs Cubs (Sloan Park)
Opening Day: 81 days – Thursday, March 26, 2020: Cubs vs. Brewers (Miller Park)
Impending trades? ESPN 100 posted a poll on Saturday, asking which of the following Cubs' players (Willson Contreras, Kris Bryant, Kyle Schwarber) would not be on the roster, come Opening Day. There was a fourth option – all three stay on the roster – which is what about half of the votes predicted early in the poll.
When #MLB regular season starts, which player will NOT be on the #Cubs?

— ESPN 1000 (@ESPN1000) January 4, 2020
Third base watch: For as slow as the Cubs' offseason has been (again), Kris Bryant is stealing the show – and he isn't even doing anything. Are the Cubs going to trade him? That question has fans nearly as divided as any political topic. I'll be happy when a resolution finally comes, and yes, I still believe a trade will occur. A change of noteworthy news would be nice, but at this point, Bryant is very topical and each day seems to bring new twists and turns with regard to what the Cubs may (or may not) look like for years to come.
According to Ken Rosenthal, trade talks between the Cubs and Nationals regarding Kris Bryant "have gone nowhere." It seems Theo Epstein has his mind set on who he'd want in return, and The Nationals are being equally stubborn on who they will and won't give up in trade.
Talks Between Nationals, Cubs On Kris Bryant Have 'Gone Nowhere' https://t.co/noBftUiRTO pic.twitter.com/AujFlVBctr

— MLB Trade Rumors (@mlbtraderumors) January 4, 2020
I still say that either the Nationals or Atlanta will eventually budge, as Josh Donaldson can only sign with one team. Nolan Arenado may be a factor, but there's still a few teams out there with interest in KB and I have little doubt that the Cubs will find a suitor.
"Bryant's name has frequented rumors this winter, with the Braves, Nationals, Phillies and Rangers being linked to him at one point or another. A trade has never been a foregone conclusion, as the Cubs aren't going to move the star third baseman for anything less than what they deem to be fair value." -Tim Stebbins, NBC Sports Chicago
Washington has re-signed a one-year, MLB deal with infielder Asdrubal Cabrera. The pact is worth $2.5M, with another $500k available in incentives. With Cabrera's ability to play first, second and third, it may throw a kink in the Nats interest in KB, especially after they just signed former Cub, Starlin Castro, the other day. According to MLB Trade Rumors, the Nats are still considered finalists for Josh Donaldson, so you'd have to figure that Bryant is still in play for them as well.
After is first couple of seasons with the Cubs, I was convinced that Castro would be a 3,000-hit guy. He still very well may be. https://t.co/JIMqenTed4

— Dave Wischnowsky (@wischlist) January 4, 2020
The plan is for Castro to play second, opening the possibility of a Carter Kieboom trade, but I'd be hard-pressed to see the reigning World Series champs settle on 34-year-old Cabrera to fill their hot corner needs. Cabrera finished 2019 with the Nationals, posting an amazing .323/.404/.565 slash line, but those number far exceed his career slash line of .268/.331/.425.
#Twins reportedly fading in Donaldson racehttps://t.co/TsoeWLitsk pic.twitter.com/pDiIsOhzPf

— MLB Trade Rumors (@mlbtraderumors) January 5, 2020
My friend and colleague, Anthony Pasquale, doesn't think the Cubs will move Bryant, and the two of us are due to discuss Bryant's future later this week on Anthony's podcast, "Cubs Corner." Stay tuned.
Javier Baez: Lost in all the talk of a Kris Bryant trade, the Cubs have still not announced any progress in their goal to sign Javy to a long-term extension this winter. Baez could (and should) be the next leader for this team, especially with Anthony Rizzo's contract starting to wind down. Rizzo wants to remain in Chicago, but so do Bryant, Baez, Castellanos and others, and I just don't see there being enough money to go around.
Willson Contreras: What kind of music does Willson Contreras enjoy? I'll admit, I was certainly surprised.
Bohemian Rhapsody ??????

— Willson Contreras (@WContreras40) January 4, 2020
Cubs' Birthdays: Celebrating yesterday, were ex-Cubs Ted Lilly (44); and posthumously, Alex Metzler (117) and Al Bridwell (136).
Baseball Quotes: "You're going to struggle. You're going to do well. You can't really let the past or the day before - whether you had a good day or bad day - dictate the next day." -Andrew Benintendi
There are just too many pitchers nowadays. Four starting pitchers and one relief man ought to be enough. -Cy Young pic.twitter.com/9bHm9eooao

— Baseball Quotes (@BaseballQuotes1) January 3, 2020
MLB and the Hot Stove
And if you missed it tonight, you can hear it tomorrow night at 6pm ET/3pm PT https://t.co/s1ObcvTQ3v

— MLB Network Radio on SiriusXM (@MLBNetworkRadio) January 5, 2020
Yankees: The Yankees have hired performance coach Eric Cressey to oversee their strength and conditioning and training departments. Cressey works with Max Scherzer, Corey Kluber and others.
"A group of minor leaguers suing Major League Baseball over alleged illegally low wages scored a victory in court Friday."https://t.co/tkNqSwRhDH

— 12up (@12upSport) January 5, 2020
Tigers: Detroit has signed RHP Alex Wilson to a minor league deal. This will include an invite to Spring Training.
Nationals: Newly signed reliever, Will Harris, talks about what it was like to be a reliever wading through the free agent pool.
What's the process like for a relief pitcher in free agency?

Will Harris: "It was kind of just a waiting game."@Nationals | #Nationals pic.twitter.com/1zknuqFZok

— MLB Network Radio on SiriusXM (@MLBNetworkRadio) January 4, 2020
Padres: Take another reliever off the board, as the Padres have agreed to re-sign reliever, Craig Stammen.
Correction on Stammen terms: Two years, $9M guaranteed, third year is a $4M option or $1M buyout. Potential total value: $12M over three years, $13.5M over three if he reaches every incentive.

— Ken Rosenthal (@Ken_Rosenthal) January 4, 2020
White Sox: Congratulations to Sox pitcher, Michael Kopech, and his long time girlfriend, Venessa Morgan, who tied the knot this weekend.
?? SQUAD pic.twitter.com/a2nEdA0Gvb

— Baseball Quotes (@BaseballQuotes1) January 5, 2020