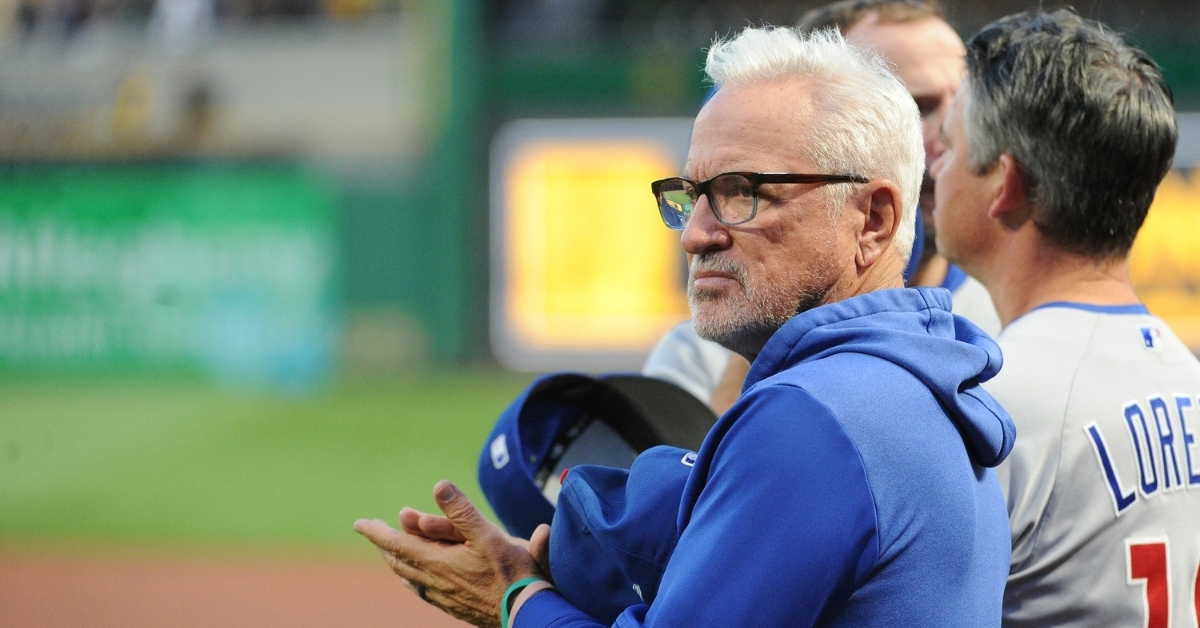 | | |
| --- | --- |
| Cubs News and Notes: It's officially over, Maddon 'optimistic,' Theo Epstein staying, more | |
---
Next Game: Thursday: LHP Jose Quintana (13-8, 4.55 ERA) vs RHP Joe Musgrove (10-12, 4.49 ERA). Game information: 6:05 PM CDT; Televised on NBC Sports Chicago and MLB Network (out of market only).
Wednesday's Game Recap:
Just when you thought the Cubs would breeze into Pittsburgh and take three easy games from the Pirates, they lost again on Tuesday, continuing their losing skid which stood at seven as they entered play last night. For the Cubs, it was Jon Lester vs. righty, Dario Agrazal for the Bucs. Unfortunately, it didn't matter what the Cubs would do last night, as the Brewers were up 6-0, first-inning lead over the Reds when the Cubs' game started.
The Cubs would cash in on Willson Contreras' second-inning triple, when Ian Happ singled to the right, giving the Cubs a 1-0 lead.
As Maddon says, "Wash and repeat," as the Pirates would tag Lester for two runs in the fourth. Cub trail 2-1.
Ian Happ's solo shot in the seventh would tie it at two. I'm not sure why, but the Cubs weren't posting any videos last night.
The Cubs' bullpen would do what they've done best all year, giving up a pair to Pittsburgh in the bottom of the eighth. Cubs trail 4-2 with three outs to go.
The Cubs' offense failed to do anything in the ninth, making this their eighth straight loss. Milwaukee beat the Reds, so the Cubs postseason hopes are now officially over. All I can say is that these next four games can't end fast enough, and I'm sure the team feels the same. It's completely inconceivable how a team this good, can be this bad.
CUBS NEWS AND NOTES
Cubs/Cards Probable Pitchers: Friday: Cubs TBD vs RHP Dakota Hudson (16-7, 3.45 ERA). Game information: 7:15 PM CDT; Televised on WGN. Saturday:
RHP Yu Darvish (6-8, 3.98 ERA) vs RHP Miles Mikolas (9-14, 4.16 ERA). Game information: 6:15 PM CDT; Televised on FOX. Sunday: Kyle Hendricks (11-10, 3.51 ERA) vs Adam Wainwright (14-9, 3.98 ERA). Game information: 2:15 PM CDT; Televised on ABC-7.
Hendricks on Tuesday's loss: "I didn't expect this to be happening. We weren't prepared for this at all. It's just unfortunate this group couldn't come together and get the job done." Maddon commented on Hendricks, who had a no-hitter intact through five innings, saying, "I really thought he had a shot at a seven- or eight-inning no-hitter. Then it just went away, brother, it just went away. It's a frustrating game."
Theo leaving? Alex Spier of the Boston Globe did some interesting prognosticating on Tuesday, in an article which lays out his case for Theo's return to Boston. Theo's had better years as the Cubs' commander in chief, but as far as I can tell, the idea of Theo going back to Boston is nothing more than a pipe dream for Spier and (presumably) some other Bostonians. Epstein quickly dispelled the rumors during a pregame interview in Pittsburgh.
"There's nothing to that story. I'm here. We have a lot we need to work on to get back to the level we're accustomed to. I'm invested in that."
Could the Cubs sign Gerrit? The cubs reportedly have interest in Houston's righty, but it could be a problem (like always) when it comes to deal with Scott Boras, who just happens to be Gerrit Cole's agent. The Cubs desperately need the services of a guy like Cole who's posted an 18-5 record (2.61 ERA) in 31 starts this season, with a WHIP of 0.908, and 302 strikeouts, for 200.1 innings pitched. Let's see that works out to 13.6 strikeouts per nine innings, which is 2.1 Ks per nine better than Yu Darvish.
The movement on Gerrit Cole's 14 Ks is RIDICULOUS. ?? pic.twitter.com/JfTsMAdrYk

— MLB (@MLB) September 25, 2019
What are the odds? At this point, it's been widely accepted that Joe Maddon will not manage the Cubs next season- but who will? The odds, as per online sportsbook Bovada, have Mark Loretta as the favorite, while Maddon himself holds the number two spot.
Odds to be the @Cubs manager for the first game of the 2020 MLB regular season (Bovada):

Mark Loretta +140
Joe Maddon +225
David Ross +450
Joe Girardi +550
Mark Derosa +750
John Farrell +1500
Sandy Alomar Jr +1500

— Odds Shark (@OddsShark) September 24, 2019
Hendricks on the Cubs' failed season: "That's the next thought. I haven't really had a lot of time to think about that yet. But, yeah, I'm sure a lot of us in here will have some things said to each other to figure out the next steps going forward to prevent anything like this from happening again."
Maddon on his future in Chicago: "We'll make that [decision] over the next couple days and move it on from there. But I'm very pragmatic. I'm very optimistic. I'll just leave it with that. I'm very optimistic right now."
I know many share Joe's optimism, but somehow, I don't see this one working out. It's been a great run, Joe, but it ended much too soon, and definitely time for a change.
A plethora of possibilities: As Ken Rosenthal writes, Joe Maddon has a lot of options if (when) he leaves the clubs, including his former Los Angeles Angels, who might be willing to part ways with Brad Ausmus, if Joe was available again. Maddon has a ton of other choices, presumably including the Mets, Phillies, Marlins, Royals, Giants and more, but Maddon has spent a total of 31 years with the Angels, so that option should pique his interest.
Count the #Angels among the teams that could pursue Joe Maddon if the #Cubs do not bring him back. Story: https://t.co/RoFJhS11Cn

— Ken Rosenthal (@Ken_Rosenthal) September 25, 2019
Baseball Quotes: "Baseball is a game where a curve is an optical illusion, a screwball can be a pitch or a person, stealing is legal and you can spit anywhere you like except in the umpire's eye or on the ball." -Jim Murray
When you're in a slump, it's almost as if you look out at the field and it's one big glove. -Vance Law pic.twitter.com/Z6pFRTJAET

— Baseball Quotes (@BaseballQuotes1) September 24, 2019
Cubs' Birthdays: Celebrating yesterday, were ex-Cubs John Weathers (50), Tony Womack (50), Ed Putman (67); and posthumously, Perce "Pat" Malone (117), Dave Robertson (130), and Dick Harley (147). And of course, this guy-
Wishing a happy 28th birthday to Kyle Ryan! #EverybodyIn pic.twitter.com/S3QKdiod36

— Chicago Cubs (@Cubs) September 25, 2019
THIS WEEK'S NL CENTRAL SCHEDULE:
(Wins in green, losses in red)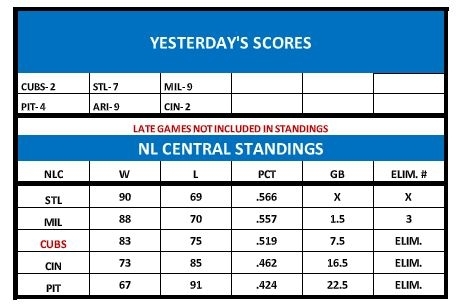 Tags: Cubs Baseball
,
Jose Quintana
,
,
Willson Contreras
,
,
Yu Darvish
,
Kyle Hendricks
,
David Ross
,
Kyle Ryan
,
Joe Maddon
,
Mark Loretta