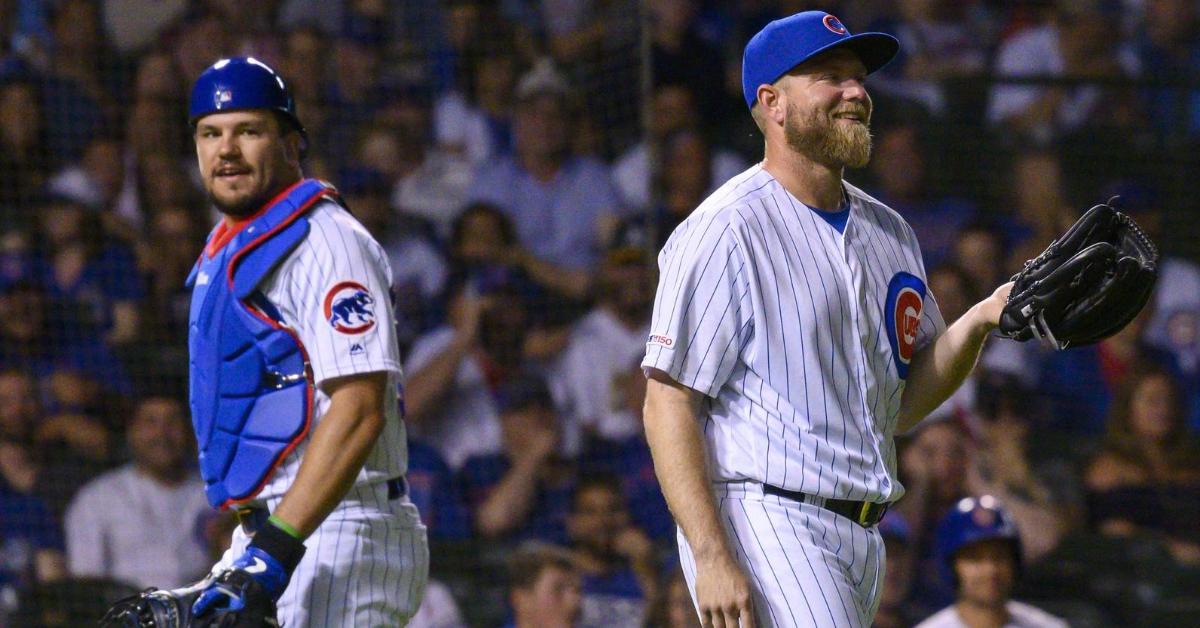 | | |
| --- | --- |
| Cubs News and Notes: Lester rocked, Zobrist's comeback, Wisdom from Ross, more | |
---
| | | |
| --- | --- | --- |
| Wednesday, August 7, 2019, 8:48 AM | | |
Next Game: Today: LHP Jose Quintana (9-7, 4.40 ERA) vs RHP Homer Bailey (9-7, 5.20 ERA). Game time 1:20 PM; NBC Sports Chicago.
Tuesday night's game recap:
While the Cubs pulled off the win on Monday night, things got way too close in the latter innings, something which will undoubtedly continue to haunt the Cubs as time wears on- especially with Craig Kimbrel on the IL and Brandon Kintzler now nursing a pectoral injury.
Last night it was Jon Lester vs. Brett Anderson, as the Cubs attempted to continue to pound away at their competition in the Friendly Confines. Make hay while the sun is shining, boys, your flight for Cincinnati leaves O'Hare later this evening.
After a 43-pitch, eight-run, second inning for Lester, the Cubs finally got a turn to bat. In the inning, Albert Almora Jr. was shaken after going back-first into the centerfield wall, on what resulted in a triple, and Victor Caratini injured his wrist (left) while attempting to tag a runner out at the plate (runner was safe). Meanwhile (if you can believe this), Joe Maddon had nobody warming in the pen.
By the time the lunacy finally ended for Lester after just four innings, the Cubs were down 11-0 and Lester had given up ten hits, three walks and a pair of homers. I've seen Maddon hang pitchers out to dry (he's done it twice to Jose Quintana this year), but this was rough- bullpen injuries or not.
Joe Maddon then decided to go to Duane Underwood, Jr., and wouldn't you know- he fanned six-straight.
Here's @dlunderwood94 striking out six straight batters. pic.twitter.com/L84FGT9SXB

— Chicago Cubs (@Cubs) August 7, 2019
The Cubs did finally manage to get on the board in the sixth, though it would do little more than save the embarrassment of a shutout. Nick Castellanos doubled, then Kris Bryant hit a two-run blast. Cubs down 11-2.
The Cubs would string together another pair of runs in the bottom of the ninth. Victor Caratini's double-backed David Bote's walk. Kyle Schwarber would single, scoring both men on base, but that's as far as it would it go.
Cubs lose pitifully, by a score of 11-4.

CUBS NEWS AND NOTES
Cubs/Reds Probable Pitchers: Thursday: LHP Cole Hamels (6-3, 2.84 ERA) vs LHP Alex Wood (1-0, 3.18 ERA). Game time 6:10 PM CDT; NBC Sports Chicago. Friday: RHP Yu Darvish (4-5, 4.36 ERA) vs RHP Trevor Bauer (9-8, 3.85 ERA). Game time 6:10 PM CDT; NBC Sports Chicago. Saturday: RHP Kyle Hendricks (8-8, 3.06 ERA) vs RHP Sonny Gray (6-6, 3.25 ERA). Game time 6:10 PM CDT; WGN. Sunday: LHP Jon Lester (9-8, 4.46 ERA) vs RHP Luis Castillo (11-4, 2.63 ERA) Game time 1:20 PM CDT; NBC Sports Chicago.
Untimely injuries? The single-worst thing that could happen to the Cubs right now, would be to see Brandon Kintzler join half the bullpen on the IL- but (drum roll, please) it happened. Kintzler appeared to grab his right pectoral muscle after a pitch on Monday night, and that's all she wrote.
Brandon Kintzler goes on IL. Strop activated

— Jesse Rogers (@ESPNChiCubs) August 6, 2019
Cubs' Notes- 8/6/19: Going into last night, Jon Lester was 6-2, with a 2.95 ERA in 11 home starts; but 3-5, with a 4.81 ERA in 10 road starts. The Cubs are 9-2 in his 11 home starts, including six consecutive wins. The Cubs pitching staff has now thrown 1,000 innings this season, with the rotation accounting for 631 2/3 innings, the 4th highest total in the N.L. Bullpen's 368 1/3 innings is the 3rd fewest in N.L.
Castellanos having fun: Nick Castellanos seems to be the epitome of "lead by example," as the entire Cubs offense (including a beleaguered Ian Happ) has come to life under Nick's watch. Castellanos views what they're doing as feeding off of each other in a game of "backyard, pickup-baseball." This guy has (so far) been everything that Chicago has needed for their offense and then some.
Castellanos on "backyard, pickup baseball" pic.twitter.com/ERcW3gDjey

— Mark Gonzales (@MDGonzales) August 6, 2019
Cubs interested in catcher: In the fallout of the injury to Willson Contreras, the Cubs are now reportedly showing interest in Angels' backstop, Jonathan Lucroy, who is set to be released by Los Angeles. Lucroy may not be a choice, so much as a lack of options, but Chicago will be in the direst straits if something should happen to Victor Caratini over the next month.
Even though Lucroy, now 33, has struggled this year, earning himself a -0.9 WAR, his offensive numbers (.242/.310/.371) haven't been nearly as bad as those of short-lived, Cubs' catcher, Martin Maldonado.
When asked about trading Martin Maldonado after just acquiring him, Jed Hoyer says, "Candidly, a lot of it came down to player happiness. It's hard to keep three guys happy. ... We weren't entirely confident it wouldn't impact all three guys in a negative way."
Cubs sign reliever: According to Milwaukee Brewers beat writer Robert Murray of The Athletic, the Chicago Cubs agreed to sign former Brewers reliever Alex Wilson to a minor-league deal, pending a physical. Wilson, 32, is currently in his seventh professional season and was released by the Brewers over the weekend.
ICYMI: #Cubs reportedly agree to sign former Brewers reliever to minor-league deal: https://t.co/qlGVWAOY37

— CubsHQ (@ChicagoCubsHQ) August 6, 2019
Ross's Wisdom: David Ross had an impact on just about everyone in the Cubs' clubhouse, and Javier Baez was no exception. Javy just celebrated the fifth anniversary of his debut on Monday and reflected on some of the things that Ross taught him.
Baez on wisdom from David Ross pic.twitter.com/9PqrKoSLtw

— Mark Gonzales (@MDGonzales) August 6, 2019
Players' Weekend: Here they are- the list of nicknames to appear on the Cubs' jerseys for "Players' Weekend." I am, however, petitioning Theo Epstein to have Steve Cishek's nickname changed from "Speedpass" to "Speed Bump."
Here are your 2019 Cubs Players' Weekend nicknames, according to MLB's online shop.

Note: Some players aren't currently on the team's active roster. pic.twitter.com/WYoh3c5Iu2

— Tim Stebbins (@tim_stebbins) August 6, 2019
Changing Series: As Ben Zobrist continues to work on his late-season comeback, the Cubs have ordered a change of scenery. Ben will be migrating south from South Bend and will be joining the Myrtle Beach Pelicans.
.@Cubs have announced that 2016 World Series MVP Ben Zobrist will be assigned to the Pelicans from August 8-August 10. Full info: https://t.co/E1qVnIx7dF



Tickets ??
Thur, Aug. 8: https://t.co/7kd7xgJgnf
Fri, Aug. 9: https://t.co/KMMtgND1km
Sat, Aug. 10: https://t.co/1iMNI7efGS pic.twitter.com/pfYiDdsws7

— Myrtle Beach Pelicans (@Pelicanbaseball) August 6, 2019
2019 Post-Season Schedule: MLB has released it's 2019 playoff schedule. Below is an abridged version; for the full playoff schedule (including TV times), please click here.
Wild Card: October 1 (National League) and October 2 (American League).
Division Series: Thursday, October 3 through Thursday, October 10 (if necessary). The NLDS will be televised on TBS; the ALDS will be televised on FS1 or MLB Network.
League Championship Series: Friday, October 11 through Sunday, October 20 (if necessary). The NLCS will be televised on TBS; the ALCS will be televised on FS1 or FOX.
World Series: Tuesday, October 22 through Wednesday, October 30 (if necessary). Televised on FOX.
Magic Number: It's amazing how much winning changes this thing…
Just play all of the rest of the games at Wrigley and be done with it

Game 113 @Cubs magic numbers:

STL: 49
MIL: 46
CIN: 44
PIT: 38#EverybodyIn

— CUBS MAGIC NUMBER (@CubsNumber) August 6, 2019
Baseball Quotes: "Baseball is a lot like life. It's a day-to-day existence, full of ups and downs. You make the most of your opportunities in baseball as you do in life." -Ernie Harwell
Hey Dad... wanna have a catch? pic.twitter.com/u6e29N4dsz

— Baseball Quotes (@BaseballQuotes1) August 6, 2019
Cubs Birthdays: Celebrating yesterday, were ex-Cubs Justin Germano (37), Luis Vizcaíno (45), Ron Davis (64), Ray Culp (78), Wayne Schurr (82), and posthumously, Jim Dunegan (72), Joe Schäffernoth (82), Dave Gerard (83), Bobby Sturgeon (100), Clarence "Jack" Wallace (129), and Sam Mertes (147).
THIS WEEK'S NL CENTRAL SCEHEDULE:
(Wins in green, losses in red)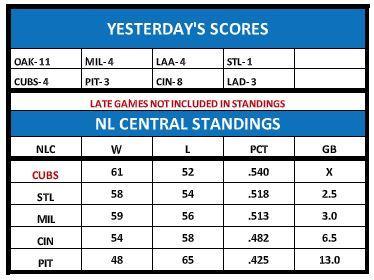 Tags: Cubs Baseball
,
Jose Quintana
,
Brandon Kintzler
,
,
Brett Anderson
,
Albert Almora Jr
,
Victor Caratini
,
Duane Underwood
,
,
David Bote
,
Kyle Schwarber
,
Cole Hamels
,
Yu Darvish
,
Kyle Hendricks
,
,
Willson Contreras
,
David Ross
,
,
Steve Cishek
,
Ben Zobrist
,
Joe Maddon
,
Theo Epstein