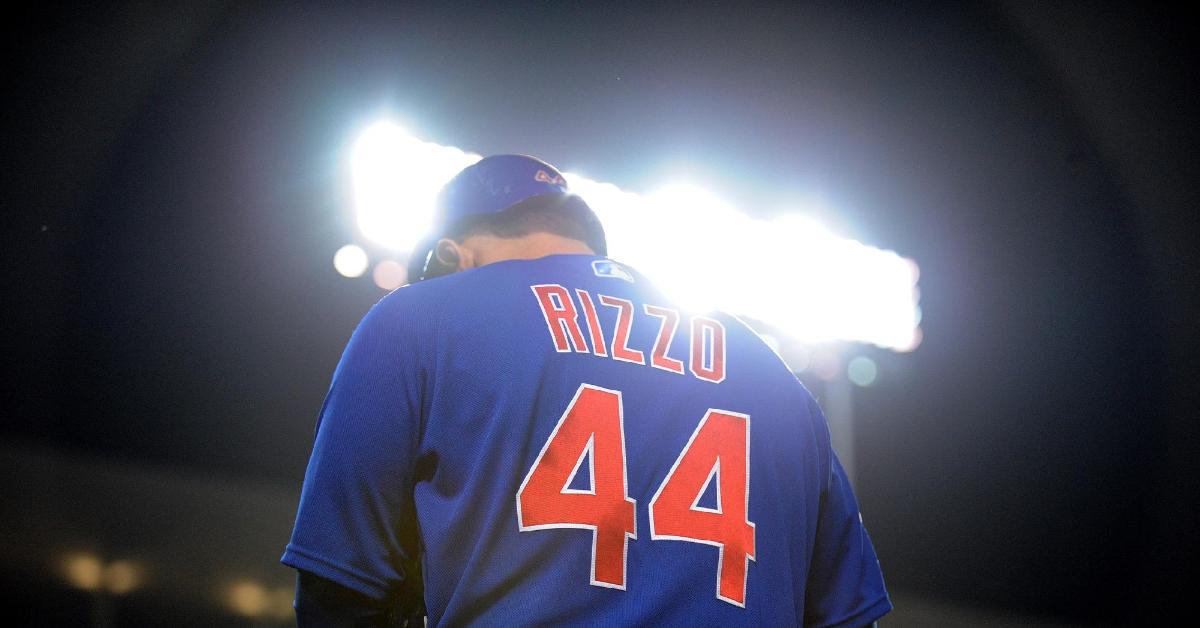 | | |
| --- | --- |
| Cubs News and Notes: Rizzo mentioned on trade rumors, Hamels to Braves, Hot Stove | |
---
It would appear as though the Maytag repairman has fixed the broken hot stove. Names – and brand names, at that - are flying off the shelves, and we haven't even reached the Winter Meetings yet. I don't think we'll be waiting until February for guys like Strasburg to sign, and I guarantee it won't be June before Anthony Rendon gets picked up. Buckle your seat belts; this plane is about to fly.
Rizzo on the trading block? Theo said there'd be no untouchables this winter, but then again, he said that last year. Even with names like Kris Bryant and Willson Contreras being floated heavily, Anthony Rizzo would certainly still be safe – wouldn't he?
Not according to MLB Trade Rumors.
The possibility of a trade involving first baseman Anthony Rizzo has looked out of the question to this point. Still, even the franchise favorite might not be off-limits, according to Passan, who names third baseman/outfielder Kris Bryant and catcher Willson Contreras as other possible chips for Chicago. -Connor Byrne, MLB Trade Rumors
Passan says that although the Cubs aren't openly shopping their unofficial captain, Rizzo could factor into a trade, should the right deal come along. Unlike his buddy, Kris Bryant, Rizzo's remaining controllability is clear, thanks to another two years of team-friendly extensions. KB should have two years of team control left, but due to his grievance, interested shoppers have no guarantees, making them somewhat skittish about entering into a costly deal with Chicago.
Although Willson Contreras' name frequently appears in trade talks, he is currently considered one of the premier catchers in the league, and the Cubs may wait to move him, despite all of the rumblings. Granted, Victor Caratini waits in the wings, but Caratini could be inserted into the first baseman's role, should the Cubs choose to deal Rizzo.
I'd be shocked to see the Cubs deal Rizzo this winter, but I suppose it all depends on just how big of a Hail Mary Theo wants to throw.
Hamels to the Braves: Just a day after Cole Hamels eluded that the White Sox showed considerable interest in him, the Atlanta Braves snatched the former Cubs' lefty, signing him to a one-year/$18M deal. Before making his decision, reports say that Hamels had up to a half-dozen teams to choose from.
Gah! Forgot about Travis d'Arnaud, too. Make that $98.75M for seven players, with d'Arnaud's deal for two years as well. https://t.co/wVusuIjUcv

— Jeff Passan (@JeffPassan) December 4, 2019
Nicholas Castellanos: If the Cubs want Nick back on the squad, they'd better get busy. The Giants are now reportedly showing a substantial interest in Castellanos, presumably to help fill the void left when the team non-tendered Jonathan Pillar earlier this week.
The Giants may have a little extra knowledge about Castellanos, as Giants' GM Scott Harris served as the Cubs' assistant GM last season. The D-Backs are also interested.
The Marcell Ozuna and Nicholas Castellanos markets have a lot of overlap, not surprisingly. The #Rangers and #WhiteSox are among the teams with interest in both players, sources confirm. @MLBNetwork @MLB

— Jon Morosi (@jonmorosi) December 4, 2019
Center field blues: Since 1951, the Cubs rank 25th in WAR for center fielders; none of the five teams ranked below them existed before 1977.
"If you look at the landscape of center fielders in the game, it's not exactly a position with great surplus or an overabundance of options out there. You just have to be realistic. If you spend all your time waiting for that next guy who solves all your problems to be there, you might pass on some good options where you could put things together with a platoon or use a player that you already have with a more attainable player from outside the organization. But it's a really important position. Especially with the makeup of our roster, center field, and leadoff are areas we need to focus on." -Theo Epstein on the Cubs' search for a centerfielder
Just added to the 2020 concert lineup at Wrigley Field: Maroon 5 and Def Leppard & Mötley Crüe! https://t.co/fkIRnakbZW pic.twitter.com/hMbAGRDiTD

— Chicago Cubs (@Cubs) December 5, 2019
David Kaplan: Talking about the Winter Meetings which officially start Monday, David Kaplan says, I think there's going to be action. I do believe the Commissioner has encouraged deal-making."
Cubs' Birthdays Celebrating yesterday were ex-Cubs Jerome Williams (38), Lee Smith (62), and posthumously, Harvey Kuenn (89) and Jim Moroney (136).
Happy birthday to #Cubs Hall of Famer, Lee Smith! pic.twitter.com/vNefUFbR0m

— Chicago Cubs (@Cubs) December 4, 2019
Baseball Quotes: "I'm not satisfied. I'm never satisfied. You have to keep grinding and keep working hard to succeed." -Adam Jones
Tommy Lasorda talks about pitching against the New York Yankees, and Mickey Mantle

pic.twitter.com/2wYzbaoR6x

— Baseball Quotes (@BaseballQuotes1) December 4, 2019
MLB and the Hot Stove
Zack Wheeler: The race for Wheeler is over, with the Phillies winning. Yesterday, Wheeler latched onto a five-year deal worth over $118M ($23.6M AAV). Look for MadBum to go next, with the Reds and White Sox showing interest – both of whom missed out on Wheeler.
Right-hander Zack Wheeler and the Philadelphia Phillies are in agreement on a five-year deal worth more than $100 million, sources tell ESPN.

— Jeff Passan (@JeffPassan) December 4, 2019
The White Sox offered Wheeler more money (five-yrs/$120M), but because Wheeler's wife is from NJ, the choice to go to Philly was based partially on proximity. #BecauseSheSaidSo
White Sox: After being non-tendered, the Sox have re-signed RHP Ryan Burr and LHP Caleb Frare to minor league deals; each gets an invite to Spring Training.
The Sox seem to be tied to just about every big name out there – Gerrit Cole, Zack Wheeler, Nicholas Castellanos and more. They won't get them all, but they sure seem determined to add at least one more big name.
#WhiteSox are considering Joc yet again https://t.co/LTBCzluiYL pic.twitter.com/G9zpdH3wNS

— MLB Trade Rumors (@mlbtraderumors) December 4, 2019
Yankees: According to reports, the Yanks had a "very nice" meeting with Gerrit Cole on Tuesday and reportedly selling him on being a Yankee and winning. While no dollar amount was discussed, they've assured Cole that "the dollars will be there." The Yankees think that Cole would thrive in NY, but also believe that he may prefer Los Angeles.
The team met with Stephen Strasburg yesterday.
On a bigger front, Angels have met with hometown star Gerrit Cole, who is surely their top target. Other known teams in on Cole: NYY, TEX, PHI, LAD

— Jon Heyman (@JonHeyman) December 4, 2019
Dodgers: Los Angeles is showing interest in both Stephen Strasburg and Anthony Rendon.
#Angels have acquired RHP Dylan Bundy from the #Orioles, sources tell The Athletic. Triple A RHP Isaac Mattson in deal, heading to Baltimore.

— Ken Rosenthal (@Ken_Rosenthal) December 4, 2019
Red Sox: Boston has re-signed infielder Marco Hernandez and LHP Josh Osich; both were non-tendered by the team before Monday's deadline. Both will be on the 40-man roster but have now signed restructured contracts that favor the team.
Blue Jays: In addition to already signing Chase Anderson, the Jays are showing interest in a second starter this winter; the Pirates' Josh Lindblom.
Blue Jays are among teams in on Hyun-Jin Ryu. Second place Cy Young finisher has been a bit under the radar so far.

— Jon Heyman (@JonHeyman) December 5, 2019
Marlins: The Miami Marlins will be installing a synthetic grass surface at Marlins Park, in partnership with Shaw Sports Turf. The club is also adjusting the outfield dimensions in center field and right-center field, moving the fences in towards the home plate.
Indians: The Tribe has re-signed RHP James Hoyt to an MLB roster spot; Hoyt had been non-tendered.
Mariners: Seattle has signed RHP Justin Grimm to a MiLB deal; invite to Spring Training is included. The Mariners have also previously signed former Cub, Carl Edwards Jr., to a major league deal.
Outfielder Kim Jae-Hwan, 31, has been posted by the Doosan Bears of the Korean Baseball Organization. Averaged 39 homers from 2016 to '18 before dropping to 15 last season. Joins fellow countrymen, left-hander Kim Kwang-Hyun, 31, who recently was posted by the SK Wyverns.

— Ken Rosenthal (@Ken_Rosenthal) December 5, 2019
Marlins: Miami is looking for outfielders who are willing to sign one and two-year deal. On their list are Nick Castellanos, Yasiel Puig, and Avisail Garcia.