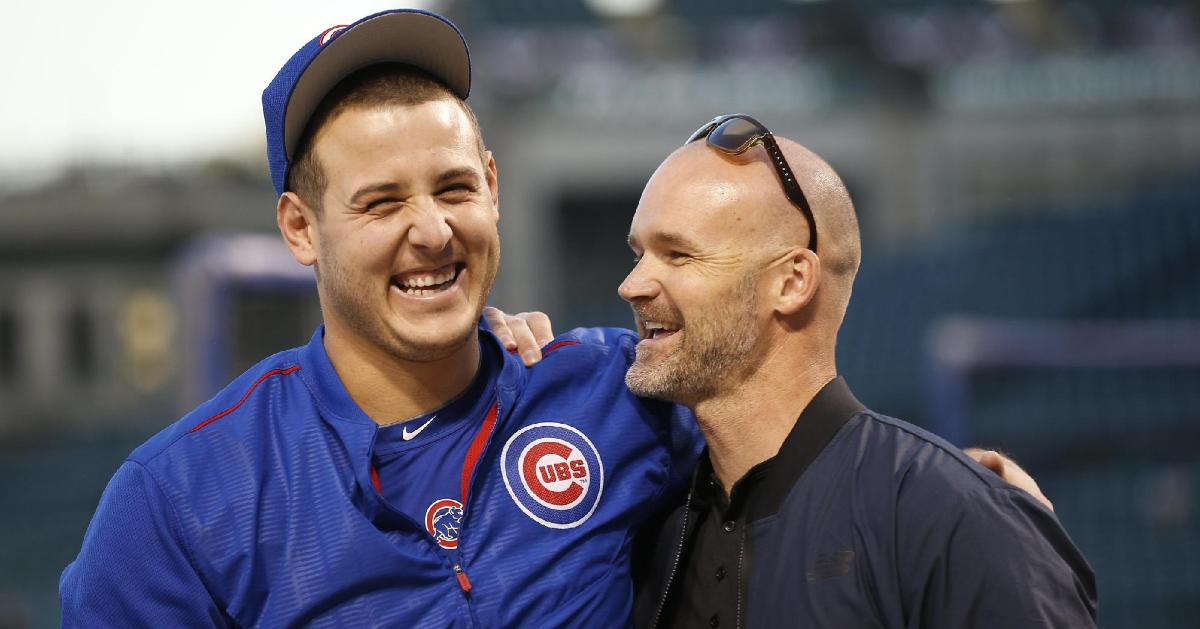 | | |
| --- | --- |
| Cubs News and Notes: Rizzo won't be extended soon, Castellanos' market, KB, Hot Stove | |
---
CUBS NEWS AND NOTES
Anthony Rizzo: Rizzo's agent, Mark Pollack, opened the day by announcing that Anthony Rizzo will not be extended this offseason.
The Cubs have informed us that they will not be offering Anthony an extension at this time. Anthony has let his desire to be a Cub for life known to the organization. Although we do not know what the future holds, a deal to make that happen will not be addressed now." -agent, Mark Pollack
Some news here: The Cubs are NOT talking about an extension this offseason with this popular player. It means he very well could walk in 2 years. Story here: https://t.co/upCOxC3c6B

— Jesse Rogers (@ESPNChiCubs) December 11, 2019
The thing that boggles my mind is that Rizzo still has two years left with the Cubs, so why make this an issue now? Pollack couldn't have made that statement without Rizzo's seal of approval, and it doesn't take a rocket scientist to figure out that this was not going to be approved right now. Think of it this way: Your boss says times are tight. Do you ask for a raise? Even if you're brazen enough to do so, it's hardly advisable to announce your rejection to the entire organization, their customers, and to your coworkers. Something about this just doesn't sit right with me.
At this point, I'm expecting the Cubs next announcement to be about cancelling Christmas. pic.twitter.com/s4GFC4ZNW4

— Michael Cerami (@Michael_Cerami) December 11, 2019
"Yea, you know, I think we've always kept those conversations in-house. We've had conversations with lots of our guys over a five-year period, and it's always best to keep it quiet. I think, in this case, Rizzo's agent decided to talk about it, and we did have some conceptual talks about what an extension would look like, and I think that, candidly, we were pretty far apart in length and so he decided to come out and say that. But we love Rizz, you know? I hope he's a Cubs forever. There's nothing that's been done that's going to stop future conversations, but we did have some conceptual conversations that obviously wasn't a match at this time. But this is a moment in time. It doesn't mean there's not going to be a match at some point in the future." -Jed Hoyer
Castellanos, KB, and Texas: When it comes to re-signing Castellanos, things are looking more and more complicated for the Cubs. After trading outfielder Nomar Mazara to the White Sox yesterday, the Rangers have now had the Rangers check in on Nick Castellanos.
Finding a third baseman has been a top priority for Texas, once leading me to believe that Kris Bryant could be traded to them, but they seem to have little to offer in return. The Rangers won't even come close in the Rendon or Donaldson lotteries, so the next best thing for them would be to find a guy to deliver offensive power while playing the outfield.
Hypothetical Bryant Trades: Tim Stebbins at NBC Sports Chicago put together three hypothetical trades between the Cubs and Nationals for Kris Bryant. The most appealing of which would be Scenario No. 3: Nationals acquire: 3B Kris Bryant and LF Kyle Schwarber; Cubs acquire: OF Adam Eaton, RHP Joe Ross, and RHP Jackson Rutledge.
Talking with someone close to #Cubs, sounds like 2 pitching prospects and a bat would get it done for Bryant. They're assuming he loses grievance & has 2 yrs left before free agency). #Braves match up better than other potential suitors if they're willing to part with prospects.

— David O'Brien (@DOBrienATL) December 11, 2019
Then, there's this from Denver:
Rockies are willing to listen to trade inquiries on superstar 3B Nolan Arenado (and anyone else); they've gotten many calls on him since trade deadline. Would shake up monster 3B market (Rendon, Donaldson, Bryant) but no one sees as likely yet. Has full no-trade so up to him.

— Jon Heyman (@JonHeyman) December 11, 2019
Bryant will cheaper than Arenado will, and with both Atlanta and Washington interested, he may even move before Donaldson or Rendon.
Cubs' Birthdays Celebrating today, were ex-Cubs Gene Hiser (71) and posthumously, Andy Varga (89), Bill Nicholson (105), Fred Toney (131), and Art Wilson (134).
Baseball Quotes: "My pitching philosophy is simple. I believe in getting the ball over the plate and not walking a lot of men." -Bob Gibson
Nobody who's given his best has ever regretted it. -Derek Jeter pic.twitter.com/1vQdinOJwl

— Baseball Quotes (@BaseballQuotes1) December 11, 2019
MLB and the Hot Stove
NL Central News:
Brewers: Now that they've missed out on landing Didi Gregorius, the Brewers say that they may consider trying to re-sign Eric Thames, as they're dangerously shorthanded at first base, as well. Nothing like knowing that you're the team's "other choice."
Cardinals: The Cards may have salvaged Adam Wainwright, but it would appear that Michael Wacha is a goner. The Mets have signed him to a one-year deal.
If Michael Wacha is indeed heading out of the NL Central, I want to thank him for the memories! pic.twitter.com/K15YGfZaEZ

— Corey Freedman (@CFCubsRelated) December 11, 2019
From the Rest of MLB:
Boras: Scott Boras is on a roll this winter, already inking $633M in contracts and he's not even close to being done.
Boras offseason scorecard:

Cole: $324M.
Strasburg: $245M
Moustakas: $64M.



Total: $633M.

Still to come: Rendon, Ryu, Castellanos, Keuchel.

— Ken Rosenthal (@Ken_Rosenthal) December 11, 2019
Congratulations to Gerrit Cole on
his record nine-year $324 million
deal with the Yankees!

I also once signed a huge nine-year
contract...... it was for a brand new
2006 2-wheel drive Mercury Mariner.

— Tim Dillard (@DimTillard) December 11, 2019
Rockies: The Rox are shopping for backstops and have contacted the camps of Robinson Chirinos, Austin Romine, and Matt Wieters, with Chirinos being the desired target.
Dodgers: Also now turning to a second choice is Los Angeles, who missed out on Gerrit Cole. The Dodgers say that they're now focusing attention at Madison Bumgarner.
Yankees: Now that they've inked Gerrit Cole to the second-largest deal in professional sports history, the Yanks have turned their sights on re-signing free agent Brett Gardner. Gardner has spent his entire 12-year career with NY, so a reunion would be fitting.
Scott Oberg's three-year, $13M extension with the #Rockies, first reported by @BNightengale, contains escalators that could increase the three-year total to $15M and the four-year total - if a club option is exercised - to $26M.

— Ken Rosenthal (@Ken_Rosenthal) December 11, 2019
Twins: Minnesota has signed RHP Michael Pineda to a two-year deal.
Dodgers: It seems Los Angeles can't get a break this winter (poor babies). First, they lost out on signing Cole, and now they say they are "pessimistic" about their chances to land Anthony Rendon.
If Michael Wacha is indeed heading out of the NL Central, I want to thank him for the memories! pic.twitter.com/K15YGfZaEZ

— Corey Freedman (@CFCubsRelated) December 11, 2019
Angels: Third baseman Anthony Rendon has signed with the Halos on a seven-year, $245 million contract.

Upgrade Your Account
Unlock premium boards and exclusive features (e.g. ad-free) by upgrading your account today.
Upgrade Now