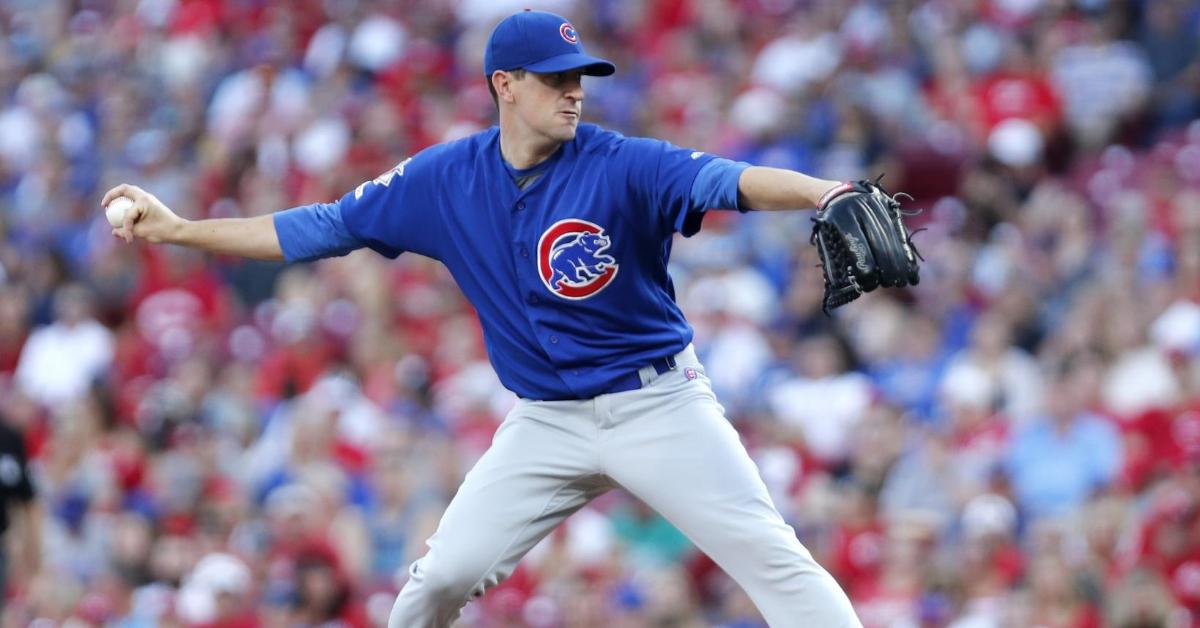 | | |
| --- | --- |
| Cubs News and Notes: Road woes continue, injury updates, Field of Nightmares, standings | |
---
Next Game: Today: LHP Jon Lester (9-8, 4.46 ERA) vs RHP Luis Castillo (11-4, 2.63 ERA) Game time 1:20 PM CDT; NBC Sports Chicago.
Saturday night's Game Recap:
The Cubs suffered a little bit of a setback on Friday, as Yu Darvish couldn't seem to find his groove. Trevor Bauer, except for a homerun ball given up to Nick Castellanos in the first inning, was solid all night (7.0 innings) and the Cubs couldn't recover.
One beautiful thing about baseball- every day gives you another chance, and yesterday, Kyle Hendricks got a shot at beating the Reds and Sonny Gray, as the Cubs attempted to continue their mission to win a road series. It wouldn't happen yesterday- not even close.
Cincinnati started pummeling Kyle Hendricks in the first, and the abuse would continue relentlessly throughout the game. When they weren't scoring, they were hitting- 18 of those total. Hendricks lasted only 2.2 innings, by which time he'd given up a total of 12 hits, seven runs, and three homers. Enter
Dillon Maples and Alec Mills, who combined to allow only three runs. This. Was. Ugly. Period.
It took the Cubs until the fifth (with two-away) to achieve their first hit, then it took until the ninth to finally get rid of the goose-egg on the scoreboard. Thanks, Kyle Schwarber.
(Note: This game was so bad, that the Cubs didn't even post the video of the Schwar-bomb on their Twitter feed- fortunately, we found it for you…).
Kyle Schwarber homers (27) on a fly ball to center off Sal Romano
Exit Velocity 107 MPH
Distance 406 FT
Launch Angle 29.45#EverybodyIn vs #BornToBaseball pic.twitter.com/z44VmTZwtx

— Strand Sport Stats (@StrandStats) August 11, 2019
I'd predicted that the Cubs would straighten up their road act and take this series 3-1, but we know that can't happen now. The scary part is that I thought today would be the game they lost. Oops.

CUBS NEWS AND NOTES
Cubs/Phillies Probable Pitchers: Tuesday: LHP Jose Quintana (10-7, 4.23 ERA) vs LHP Jason Vargas (6-6, 4.09 ERA). Game time 6:05 PM CDT; NBC Sports Chicago, MLB Network (out of market only). Wednesday: LHP Cole Hamels (6-3, 3.09 ERA) vs RHP Aaron Nola (10-3, 3.67 ERA). Game time 6:05 PM; NBC Sports Chicago, ESPN, ESPN (out of market only). Thursday: RHP Yu Darvish (4-6, 4.43 ERA) vs. RHP Drew Smyly (2-6, 6.96 ERA). Game time 6:05 PM CDT; WGN, MLB Network (out of market only).
Injury update: Yesterday, the Cubs placed Steve Cishek on the IL (hip inflammation) and recalled Dillon Maples. Craig Kimbrel (knee) is to rejoin the team in Philly but won't be an immediate activation. He's progressing, though. Brandon Kintzler (pectoral) threw a bullpen session today. I received an email on Friday, from someone very close to Kintlzer, saying that Brandon is fully expected to be back in the bullpen once his ten days were up. At this point, that would be a blessing.
Chi-town sidewinder hits the shelf https://t.co/jEAJ6m3mMn pic.twitter.com/3o4WOfcktT

— MLB Trade Rumors (@mlbtraderumors) August 11, 2019
Changing times: The Cubs bullpen has undergone some radical changes since opening day. Trades, injuries, and demotions have changed the landscape dramatically.
Cubs Opening Day bullpen:

Strop
Chatwood
Montgomery (traded)
Edwards (traded)


Brach (released)
Kintzler (IL)
Cishek (IL)
Rosario (AAA)

— Jordan Bastian (@MLBastian) August 10, 2019
Although the trade deadline has passed, teams can still pick up players (as the Cubs did with Jonathan Lucroy). What Theo Epstein may do remains to be seen, but there'll be plenty of names to choose from.
Many contending teams need pen help. The trade deadline is over but there are many accomplished relievers free or about to be: Greg Holland, David Hernandez, Tony Sipp, Cody Allen, Trevor Rosenthal, Bud Norris. Also some might see Matt Harvey as a potential reliever.

— Jon Heyman (@JonHeyman) August 10, 2019
Aristides Aquino: Look, I'm all about the Cubs winning, but if you are a fan of the game- a real fan of baseball and not just a Cubs fan- then you have to tip your hat to Aquino. This kid had three home runs by the fourth inning last night, and to be quite honest- I was a little pissed that Alec Mills wasn't allowed to pitch to him.
There's no way Alec Mills throws Aristides Aquino a strike here, right?

— Tim Stebbins (@tim_stebbins) August 11, 2019
Aquino has only played in a total of eight major league games, so to pull off the hat trick, was truly impressive. It wasn't like the Cubs were going to win last night- so let the kid have his moment. Mills walked him on four straight, low and outside pitches- that weren't anywhere near the zone. If Joe Maddon didn't want Aquino pitched to, he should have just had the ump issue him a free pass. For the record, I'd have been equally as mad, had this been Robel Garcia, in a game with the Cubs blowing out the Reds.
Alec Mills getting loud boos from Cincinnati crowd as he avoids the strike zone against Aristides Aquino in the 6th. A four-pitch walk.

— Jordan Bastian (@MLBastian) August 11, 2019
You can dispute my take on the matter, but the bottom line is that the Cubs should be able to pitch to any guy they face, and when they're that scared to face a kid with like 32 minutes of major league experience, either the kid is THAT damned good, or the Cubs pitching has gotten that damned bad. End of rant.
Cubs manager Joe Maddon, on Aristides Aquino:

"Is that him or is it Eric Davis? I don't know. Right? It's the same number. He used to do that kind of stuff."

— Jordan Bastian (@MLBastian) August 11, 2019
Field of Nightmares? Yu Darvish and I apparently share something in common; we both have a neighbor from hell. For those that don't know- Darvish's neighbor is suing him for "decreased property value and emotional distress, as the Darvish's fence "obstructs the neighbor's view of Lake Michigan" (the trial- at least the last I'd heard- was set for sometime later this month).
While Darvish is getting sued by his neighbor over installing a fence, I ended up having to have a Sherriff's Deputy come out yesterday, so that I could cut my lawn.
After a dispute arose about the property line (this all stemmed from me asking them to please blow their 80 tons of grass clippings into their own yard), the neighbor decided he was going to come out and painted the "alleged" property line in my grass. This eventually resulted in the Sheriff's Department coming out and telling the guy that his property was actually 70 feet narrower than what he thought it was, as the city owns an 80-foot right of way, for part of our street that was never extended as once planned (literally 100 years ago). Ten feet of that is in my yard, the remaining 70 feet in his. He was NOT a happy camper. The funny part is, I tried telling him that before he defied me to have the deputy come out.
By the time it was over, he was left to figure out where to place a swing set, a garden, a grapevine, a dumpster and a hog-pen (we live in the sticks), as all of those happen to be placed on city property. Yu? Can you please get me the number to your fence installer? I have some work for him.
Baseball Quotes: "I think about baseball when I wake up in the morning. I think about it all day, and I dream about it at night. The only time I don't think about it is when I'm playing it." -Carl Yastrzemski
Baseball is 90 percent mental and the other half is physical. -Yogi Berra pic.twitter.com/LmDCZ12FqF

— Baseball Quotes (@BaseballQuotes1) August 10, 2019
Cubs Birthdays: Celebrating yesterday, were ex-Cubs Jimmy McMath (70), Bob Porterfield (96), Elmer Jacobs (127), and Larry Corcoran (160). (all posthumously).
And I suppose we have to give an honorable "Happy Birthday" to this guy…
Happy Birthday, Cubbie! Join us as Cubbie and his mascot friends celebrate at the ballpark Sunday!

??>>https://t.co/kPiTaZDqHP pic.twitter.com/DH1eqBwMBD

— Iowa Cubs (@IowaCubs) August 9, 2019
THIS WEEK'S NL CENTRAL SCHEDULE:
(Wins in green, losses in red)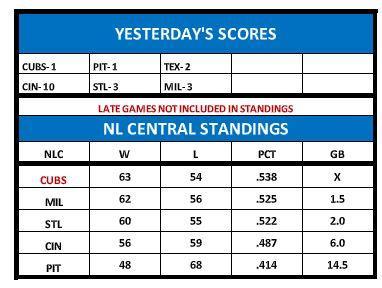 Upgrade Your Account
Unlock premium boards and exclusive features (e.g. ad-free) by upgrading your account today.
Upgrade Now

Tags: Cubs Baseball
,
Kyle Hendricks
,
,
Yu Darvish
,
Dillon Maples
,
,
Kyle Schwarber
,
Jose Quintana
,
Cole Hamels
,
Steve Cishek
,
Brandon Kintzler
,
Robel Garcia
,
Joe Maddon
,
Theo Epstein