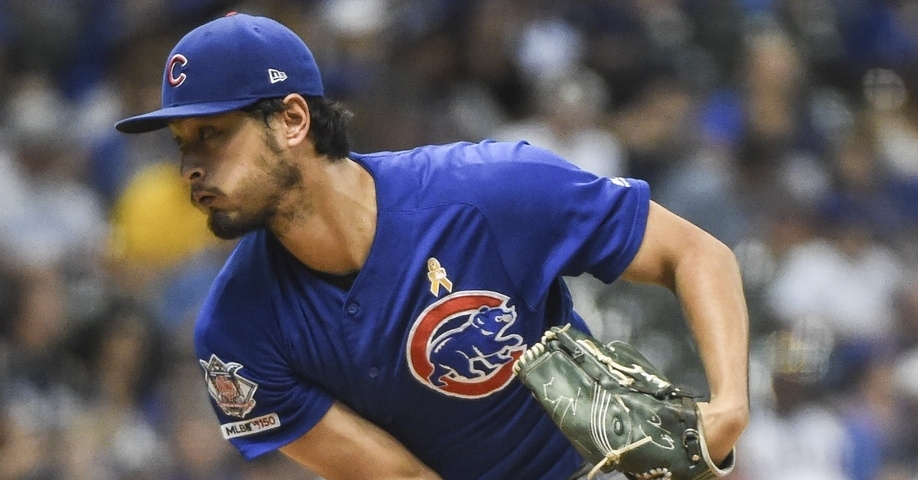 | | |
| --- | --- |
| Cubs News and Notes: Yu Darvish strikes again, trading Cubbies, Hot Stove, more | |
---
CUBS NEWS AND NOTES
Darvish vs. Yelich: As the battle continues between Yu Darvish and Christian Yelich, Yu scores the next point. In case you missed it, the original salvo, Darvish was talking about sign stealing on social media, when he recalled a strange incident with Christian Yelich shifting his eyes toward the Brewers bullpen in Milwaukee. Yu never (outwardly) accused Yelich of gathering intel about Darvish's signs, but Yeli took it to heart, telling Darvish that he should "Be better than that." Next, taking this jab, "Nobody needs help facing you."
Be better than this. Nobody needs help facing you https://t.co/DlUDwjJn4X

— Christian Yelich (@ChristianYelich) November 15, 2019
Is stealing catcher's signs in baseball with electronic video technology more unethical than a runner on 2nd stealing catcher's signals?

— ESPN 1000 (@ESPN1000) November 16, 2019
Then yesterday, this from Darvish – who's becoming quite the gritty and sarcastic individual (and I love it).
Yesterday, the Japanese media accidentally used my picture in a news report about a hit and run incident where I was apparently the victim of the hit and run.
Ah..now that I think about it, I certainly was a victim of a hit and run yesterday.

November 16, 2019
This undoubtedly beats Kris Bryant and Yadier Molina griping about whether or not St. Louis is boring. (it is, by the way). To make things even better, Josh Donaldson decided to add a little humor to the argument:
?? I could use some help off him whatcha got?

— Josh Donaldson (@BringerOfRain20) November 15, 2019
ESPN 1000 Poll: ESPN asked about whether or not fans would be OK with Theo Epstein trading away star players to be able to retool in 2020. Good to see that fans are finally starting to get it.
Are you OK with Theo Epstein trading away star players to re-tool for 2020?

— ESPN 1000 (@ESPN1000) November 16, 2019
Welcome aboard: Former Angels' pitcher and Arkansas Razorbacks coach, Doug Willey, has joined the Cubs' pitching coach department.
Excited to get going with the @Cubs! So thankful for this opportunity to continue to do what I love and to continue learning. I am incredibly grateful for the people in my life who have helped me get to this point in my career! Go Cubbies! ?? #FlyTheW #ChicagoCubs

— Doug Willey (@Doug_Willey) November 17, 2019
HAPPy Gilmore: I'm not a huge fan of golf, though I used to shoot right around 80 – that is, for nine holes, but Ian Happ has one of the prettiest damn swings I've ever seen. Now… can he hit a golf ball left-handed?
Right in the mix! Big push for Sunday https://t.co/5t9nht4tJm

— Ian Happ (@ihapp_1) November 17, 2019
Cubs' Birthdays Celebrating yesterday were former Cubs Chris Haney (51) and posthumously, Harry Chiti (87), Garth Mann (104), Clay Bryant (108), Charles "Tuffy" Stewart (129), Rollie Zeider (136), and Joe Quest (167).
Baseball Quotes: "Speed is a great asset, but it's greater when it's combined with quickness - and there's a big difference. -Ty Cobb
I'm not perfect. Nobody's perfect. But I love baseball and I love to play hard.

I don't like to play slow or softly. I like to play hard. Always. Hustle goes a long way. -Adrian Beltre pic.twitter.com/LNjmcH5pyo

— Baseball Quotes (@BaseballQuotes1) November 15, 2019
MLB and the Hot Stove
From the Rest of MLB:
Condolences: Vera Clemente, wife of former baseball great, Roberto Clemente has died; she was 78.
Forever grateful to Vera Clemente for advancing the great humanitarian legacy of her family. Rest In Peace. #MLB @Pirates @baseballhall pic.twitter.com/TPQDZKMvD8

— Mike Teevan (@MRTeevs) November 17, 2019
We are deeply saddened to learn of the passing of Vera Clemente, the widow of the great Roberto Clemente and a cherished member of the Pittsburgh Pirates and Major League Baseball family. pic.twitter.com/ol23iJPP70

— Pirates (@Pirates) November 17, 2019
Mets: With about $20M to spare before reaching the luxury tax threshold, Mets' GM Brodie Van Wagenen says Noah Syndergaard isn't going anywhere. Historically, the Mets stay under the salary cap, but Van Wagenen has suggested that they may go over this year if it means keeping Thor aboard.
Twins: RHP Jake Odorizzi has accepted the $17.8M qualifying offer from Minnesota.
Red Sox: Unlike the Mets who may dabble in crossing the luxury tax threshold, the Red Sox need to get back under it, hence their desire to look at trading a starter. David Price, Chris Sale, and Nathan Eovaldi may all be up for grabs, and that's after the team tries to deal Mookie Betts away.
Nationals: According to his own Instagram account, Trea Turner underwent surgery on his index finger yesterday. The injury stemmed from an incident on April 2nd when Turner attempted to lay down a bunt while playing Philly. Turner wasn't having issues at the plate (.298/.353/.497 in 2019), but he felt that his defense was suffering.
Team USA failed to clinch an Olympics bid for next summer's Tokyo Games after a 3-2 extra-innings loss to Mexico in the Premier12 tournament.

The U.S. has two more chances to qualify: win the Americas Qualifying Event in March or the final qualifying event soon after that.

— Jeff Passan (@JeffPassan) November 17, 2019

Upgrade Your Account
Unlock premium boards and exclusive features (e.g. ad-free) by upgrading your account today.
Upgrade Now