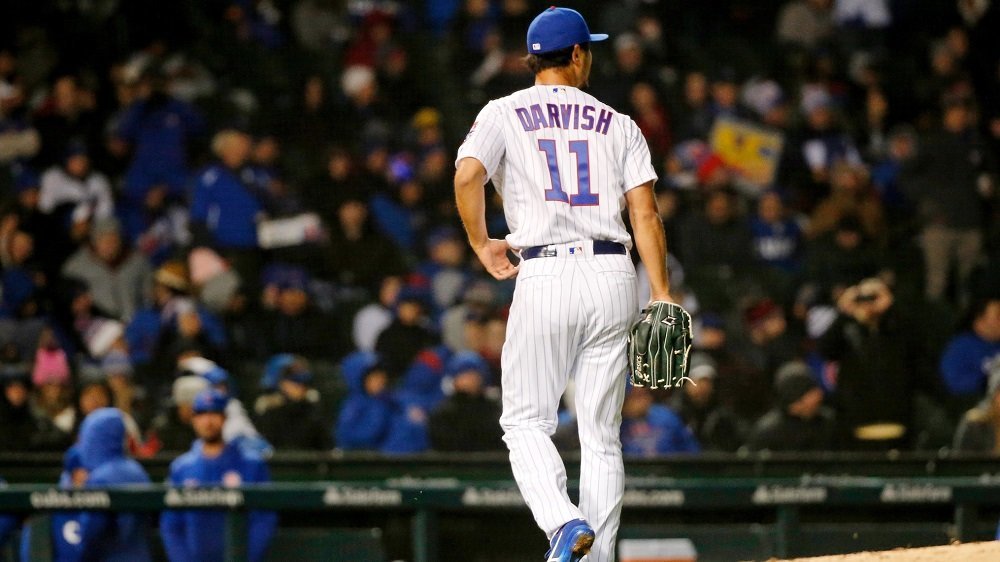 | | |
| --- | --- |
| Cubs News and Notes: Yu's 13 Ks, injury updates, standings, Pirates closer arrested, more | |
---
Next Game: Wednesday: LHP Jon Lester (13-10, 4.59 ERA) vs RHP Tyler Mahle (2-11, 5.11 ERA). Game information: 7:05 PM CDT; Televised on WGN and SAP WGN.
Tuesday's Game Recap:
The Cubs escaped another bad outing by Cole Hamels Monday night, on their way to their fifth consecutive win. Chicago didn't put up near the offensive numbers against the Reds that they did versus Pittsburgh, but at the end of the day, it was still a "W."
Last night it was Yu Darvish vs. Reds' righty, Sonny Gray, as the Cubs continued to try to gain ground on St. Louis, while not losing any ground to Milwaukee.
Darvish got off to a bumpy start, giving up an RBI double to Votto, then a two-run blast by Aquino, all in the first. The Cubs would recover one of those in the bottom half, as Nicholas Castellanos walked, then came around to score on Kyle Schwarber's triple. 3-1 Reds after one.
.@kschwarb12 has a double, triple and two 2-out RBI so far tonight! #EverybodyIn pic.twitter.com/yP9SvwSFIg

— Chicago Cubs (@Cubs) September 18, 2019
The Cubs would get back after it in the third, when Castellanos singled, followed by Bam-Bam, who tripled this time. Reds-3, Schwarber-2.
Despite the Reds getting lucky in the first, Darvish was RAKING, taking 11 of the first 12 outs he recorded, by way of strikeout. By the end of the fourth, he'd struck out every Reds player except Peraza at least once.
Yu Darvish has 11 strikeouts through 4 IP.

12 outs.
11 Ks.

?? pic.twitter.com/X30PmP4EwB

— Chicago Cubs (@Cubs) September 18, 2019
A walk and a pair of singles in the fifth would net the Reds an insurance run. (4-2, Reds). That would be it for the scoring, as the Cubs couldn't push anything else across.
I predicted that Sonny Gray would be the one trouble spot in this series, and while I sort of expected a Cubs loss tonight, it couldn't have come under a worse set of surrounding circumstances. (1) The Brewers beat San Diego, so they're again tied with Chicago for second place in both the division and wild card race. (2) The Cards lost, so this was a missed opportunity for the Cubs to pick up a game in the division. (3) The Nats won, so the Cubs (and Brewers) fall a game back in the NL wild-card race.
CUBS NEWS AND NOTES
Cubs/Cardinals Probable Pitchers: Thursday: RHP Kyle Hendricks (11-9, 3.26 ERA) vs RHP Jack Flaherty (10-8, 3.05 ERA). Game information: 6:15 PM CDT; Televised on FOX. Friday: LHP Jose Quintana (13-8, 4.37 ERA) vs RHP Michael Wacha (6-7, 4.76 ERA). Game information: 6:40 PM CDT; Televised on FOX.
Saturday: LHP Cole Hamels (7-7, 3.92 ERA) vs. RHP Dakota Hudson (16-7, 3.35 ERA). Game information: 1:20 PM CDT; Televised on WGN, SAP WGN, MLB Network (out of market only). Sunday: RHP Yu Darvish (6-7, 4.02 ERA) vs. Miles Mikolas (9-14, 4.29 ERA) Game information: 1:20 PM CDT; Televised on NBC Sports Chicago and TBS (out of market only).
NL Wild Card race: The Cubs now have a wildcard magic number of 23, and a home wildcard magic number of 29; the problem is- the Brewers have the same numbers.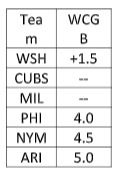 Yu makes franchise history: Darvish recorded eight straight K's last night, which constitutes a franchise record, that not even Kerry Wood accomplished (multiple players had 7-straight).
.@faridyu has set a franchise record with eight consecutive strikeouts! pic.twitter.com/JyABwMbgXK

— Chicago Cubs (@Cubs) September 18, 2019
Unfortunately, Yu also became only the second pitcher in Cubs history to fan 13 strikeouts in an outing, while suffering a loss (Jeff Samardzija was the first in 2013 vs. Braves).
Injury Update: The Cubs have a new injury to report, as Brandon Kintzler is now nursing an oblique issue. Javier Baez is to be re-evaluated later this week. There's been nothing further on either or Anthony Rizzo, and Addison Russell is eligible for activation in just a couple of days.
#Cubs fans...(you can only pick one)
Who would you rather have back healthy?

— Silvy (@WaddleandSilvy) September 17, 2019
Craig Kimbrel is improving, throwing both a bullpen session and a sim-game yesterday afternoon. Kimbrel threw to both Nico Hoerner and Robel Garcia, who took swings from both sides of the plate. In his 16-pitch sim-game, Kimbrel tossed only 2-3 breaking pitches, while focusing on his fastball. Joe Maddon says Kimbrel could be ready for action against St. Louis.
Tommy Hottovy on Kimbrel's simulated game: pic.twitter.com/9hL08L9afn

— Mark Gonzales (@MDGonzales) September 17, 2019
Contreras on playing first: Contreras is definitely a guy who's willing to step up, and last night Maddon asked him to cover first base.
Contreras on playing first base: "I'll be fine." pic.twitter.com/q8o4tRlfcK

— Mark Gonzales (@MDGonzales) September 17, 2019
Hoerner's fanbase: You know Nico Hoerner is making an impression, when a child makes his own Cubs jersey, sporting Hoerner's name. Hard to tell, but I think you may have missed the first "e" in his name, little man.
That's dedication! Nico Mania https://t.co/Ke4LWMPUt8

— Mick Gillispie (@BroadcasterMick) September 17, 2019
Leadoff man: Not many more choices for the leadoff spot this year, but I really think Hoerner would be a good choice…
The Cubs have 18 position players on their roster right now (including the injured guys).



11 of those 18 guys have started in the leadoff spot at some point this season.

The only who haven't? Hoerner, Castellanos, Caratini, Bote, Bryant, Lucroy, Russell

— Tony Andracki (@TonyAndracki23) September 17, 2019
Don't forget to vote: Jon Lester and the Cubs want to remind you that much like the All-Star balloting, every vote counts in Jon's quest to win the coveted Roberto Clemente Award, which honors a player based on being the best overall man, both on and off the field. Jon does a ton for charity, and that alone is worthy of your vote.
Vote @JLester34 for the 2019 Roberto Clemente Award here ?? https://t.co/6pTb7fmVUy pic.twitter.com/BLvaQlDY2A

— Chicago Cubs (@Cubs) September 15, 2019
Dead men tell no tales: Before I get to the next bullet, which is saddening, sickening and infuriating, enjoy a laugh at a reporter's hysterical mistake. This has nothing to do with baseball, but it's too damn funny not to share, and this one deserves to go viral.
This is the kind of journalist I aspire to be someday https://t.co/mPfZ6paJRN

— Tony Andracki (@TonyAndracki23) September 17, 2019
Vazquez allegedly sinks even lower: Remember last week when I reported that Pirates' Closer, Felipe Vazquez, punched out teammate, Kyle Crick, over Crick playing music in the clubhouse? Well, Vazquez has really done it this time.
Pittsburgh Pirates closer Felipe Vazquez has been arrested and charged with one count of computer pornography, solicitation of a child and one count of providing obscene material to minors, according to police in Lee County, Florida.

— Jeff Passan (@JeffPassan) September 17, 2019
I'm not sure what MLB's procedure is for something as horrific as this, although they've already placed Vazquez on administrative leave. If convicted, chances are, Vazquez is done with MLB, as a convicted sex offender is not allowed within 500 feet of children 18 or younger. The Pirates are certainly done with him, as their attendance is already in the tank, and they're not about to stand by a convicted pedophile.
If this isn't sickening enough, things get even uglier…
Disturbing details from Lee County police on the arrest of Pirates closer Felipe Vazquez, who is facing multiple charges. pic.twitter.com/zkHlrMcgEw

— Jeff Passan (@JeffPassan) September 17, 2019
Four additional charges have been filed against Pirates closer Felipe Vazquez, according to police in Pennsylvania. The victim told police that when she was 13 when she met Vazquez while he was in the bullpen at PNC Park, and has communicated with him via social media apps and text messages since.
Baseball Quotes: "The Cubs, we built one of best farm systems - I think for a while there, it was the best farm system in baseball. And that was great. It got a lot of attention. But we didn't want the credit for the farm system. What we wanted was to see if we could do the tricky part, which turned a lauded farm system into a World Series champion." -Theo Epstein
Sometimes I think sportsmanship is a little bit forgotten in place of the individual attention. -Cal Ripken, Jr. pic.twitter.com/Cj7Tcn4pJS

— Baseball Quotes (@BaseballQuotes1) September 17, 2019
Cubs Birthdays: Celebrating yesterday, were ex-Cubs Dan Haren (39), Thad Bosley (63), Jim Woods (80), and posthumously, John "Sheriff" Blake (120), Earl Webb (122), and Frank Schulte (137).
THIS WEEK'S NL CENTRAL SCHEDULE:
(Wins in green, losses in red)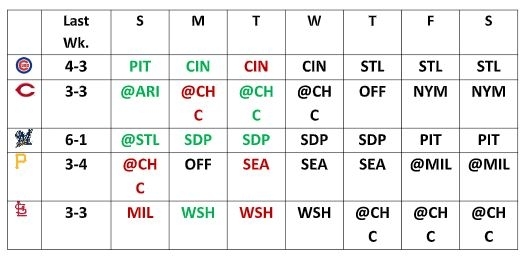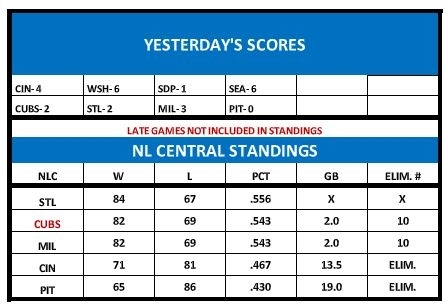 Upgrade Your Account
Unlock premium boards and exclusive features (e.g. ad-free) by upgrading your account today.
Upgrade Now

Tags: Cubs Baseball
,
,
Cole Hamels
,
Yu Darvish
,
Kyle Schwarber
,
Kyle Hendricks
,
Jose Quintana
,
Brandon Kintzler
,
,
Anthony Rizzo
,
Addison Russell
,
Robel Garcia
,
Joe Maddon
,
Theo Epstein