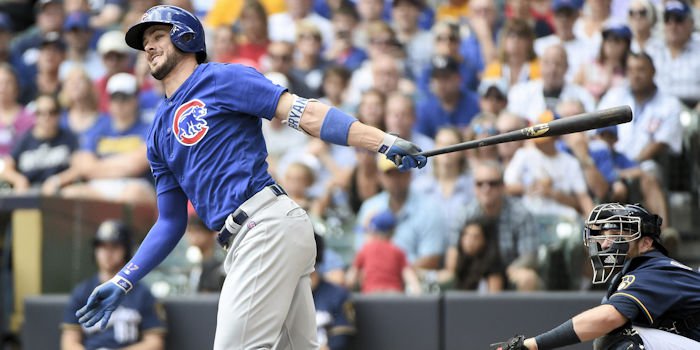 | | |
| --- | --- |
| Cubs Preview and Prediction of upcoming games | |
---
CHICAGO -- The Chicago Cubs will play two series at home against a couple of last place teams. They start things off with a four game set against the Cincinnati Reds. Then they will play host to the AL East bottom dwelling Toronto Blue Jays which will put an end to their inter-league schedule. The Cubs have a remaining strength of schedule of .468 which is the second easiest in all of the National League.
Before we dive deep into the upcoming series, here are the current National League Central standings heading into the week as the Cubs have retaken sole possession of first place.
NL Central standings
W-L GB
CHC 61-55 —
STL 61-57 1.0
MIL 61-59 2.0
PIT 58-60 4.0
CIN 49-69 13.0
Now let's get into the nuts and bolts of each series this weekend:
Monday, August 14th- Thursday, August 17th vs. Cincinnati
Probable Starters
Game 1
CIN Wojciechowski (3-1, 4.23 ERA)
CHC Quintana (6-10, 4.42 ERA)
Game 2
CIN Castillo (2-5, 3.73 ERA)
CHC Hendricks (4-4, 3.70 ERA)
Game 3
CIN Bailey (4-6, 8.31 ERA)
CHC Lackey (10-9, 4.82 ERA)
Game 4
CIN Feldman (7-7, 4.43 ERA)
CHC Lester (8-7, 3.99 ERA)
Friday, August 18th-Sunday 20th vs. Blue Jays
Probable Starters
Game 1
TOR Happ (6-8, 3.63 ERA)
CHC Arrieta (12-8, 3.73 ERA)
Game 2
TOR Tepesch (0-2, 9.00 ERA)
CHC Quintana (6-10, 4.42 ERA)
Game 3
TOR Estrada (5-7, 4.85 ERA)
CHC Hendricks (4-4, 3.70 ERA)
Most Favorable Pitching Matchup of the Week
The most favorable matchup of the week for the Chicago Cubs is Game 2 against the Toronto Blue Jays. This will be Tepesch's 46th start of his career and just the third in the past two years. He comes in with a career ERA of 4.79 and a 4.84 FIP. The Cubs should have the Edge with Quintana on the mound.
Least Favorable Pitching Matchup of the Week
The least favorable matchup of the week will be Game 4 against the Cincinnati Reds when they toss up former Cub Scott Feldman on the mound. Feldman has been the Reds best pitcher all year. He comes in sporting a 4.43 ERA on the year and a 1.34 WHIP. He has faced the Cubs once already this year going seven shutout innings allowing just two hits and striking out seven batters.
Most Favorable Hitting Matchup of the Week
I think the Cubs hitter that is poised to have the biggest week is Anthony Rizzo. It's hard right now to bet against Kris Bryant with his insane OBP over the weekend in Arizona, but Rizzo has some favorable matchups coming his way. He struggled over the weekend with just one hit in the three games but was able to reach base in every contest, so take what you want from that. However, he has posted excellent career stats against three of the pitchers he will face this week. He is a career 6 for ten against Haps and Tepesch. Lifetime he is 6 for 18 against Homer Bailey, a pitcher he is familiar with who has struggled mightily this year. Rizzo has been excellent at home as well as he posts a split of .303/.343/.549 at home. The matchups and splits favor Rizzo this week. I expect him to bounce back after a tough weekend.
Least Favorable Hitting Matchup of the Week
The Cubs hitter who will struggle the most this week is Alex Avila. The new number one behind the plate while Contreras is hurt will return to a familiar team during inter league play. Though this does not bode completely well for the Cubs. With the relative youth of the Reds pitching staff, it's hard to say how the Cubs will do agains the staff but the way they've swung them against Cincinnati in recent years suggests they will do well. It's when we turn out attention to Toronto where we see more stats suggesting outcomes of at bats. Alex Avila lifetime against the three pitchers we will see against Toronto is 1 for 8 with two walks and an RBI.
Opposing Hitter to Look Out For
This one is a slam dunk with Cincinnati comes a bonafide National League MVP candidate year in and year out in Joey Votto. Not only is he one of the best in the business but he has also posted insane numbers against the Cubs staff. His lifetime stats against the Cubs current pitches includes a .340/.459/.619 slash line. Good for a 1.078 OPS with nine homers and 31 RBIs. He's going to be the one who can inflict the most damage on this Cubs squad so look out!
Prediction
The Cubs have an opportunity to pick up a couple of series wins and improve on a one game division lead. I think they will win both of these series and finish the week with a 5-2 record. They have a string of decent pitching matchups and while the ERA's are close on paper the Cubs staff has been on a roll this year and I see Estrada, Feldman and maybe Castillo, just because of unfamiliarity, to give them a bit of trouble. The Cubs have an opportunity to pick up some wins against some easier opponents and they need to have a strong week with the divisional race as tight as it is. Anything less than five wins on the week for the Cubs would be detrimental if this team wants to try to make it back to the postseason.