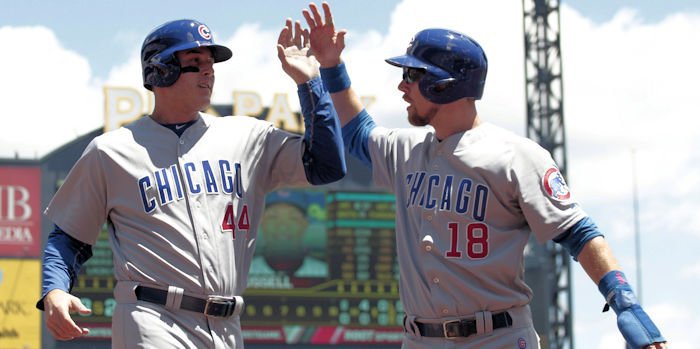 | | |
| --- | --- |
| Cubs Preview and Prediction of upcoming games | |
---
The Chicago Cubs will head on the road this week for a six game road swing where they will take on the Cincinnati Reds for the second straight week at Great American Ballpark before heading to the city of brotherly love where they will take on Odubel Herrera and the Philadelphia Phillies.
NL Central
W-L GB
CHC 66-57 —
MIL 65-60 2.0
STL 63-61 3.5
PIT 60-64 6.5
CIN 53-72 14.0
Tuesday, August 22nd- Thursday, August 24th @ Cincinnati
Probable Starters
Game 1- 6:10 CT
CHC Lackey (10-9, 4.67 ERA)
CIN Bailey (4-6, 8.44 ERA)
Game 2- 6:10 CT
CHC Montgomery (3-6, 3.64 ERA)
CIN TBD
Game 3- 6:10 CT
Arrieta (13-8, 3.63 ERA)
Romano (3-5, 5.32 ERA)
Friday August 25th-Sunday 27th @ Philadelphia
Probable Starters
Game 1- 6:05 CT
CHC Quintana (8-10, 4.27 ERA)
PHI TBD
Game 2- 6:05 CT
CHC Hendricks ( 4-4, 4.37)
PHI TBD
Game 3- 12:35 CT
CHC Lackey (9-10, 4.67 ERA)
PHI TBD
Most Favorable Matchup of the Week
The most favorable matchup of the week for the Chicago Cubs is Game 1 against the Cincinnati Reds. They will see an opponent that they were pretty unfamiliar with in Homer Bailey. It was strange because of injuries the Reds veteran only saw three of the Cubs players before last week. He got roughed up for six runs in 5.2 innings. The Cubs should have success against Homer Bailey again.
Least Favorable Matchup of the week
It will be Game 3 against the Cincinnati Reds when they toss up another pitcher with no history against the Chicago Cubs in Sal Ramano. It's hard to pick pitching matchups when the whole Phillies rotation is up in the air as of right now, so it's hard to pinpoint who is going to start for them. If the Cubs do face Jared Eickhoff in that series, it may be rough going as he has held current Cubs players to a .221 batting average and allowing only five runs.
Most Favorable Matchup of the Week
I think the Cubs hitter that is poised to have the biggest week is Javier Baez. Baez will face two teams that he has relative success against with the Reds and Phillies. His career slash line against Cincinnati is .288/.338/.530 with 4 HR and 13 runs driven in. Against Philadelphia, he improves quite a bit while most of his teammates seem to struggle with the Phillies staff. His career slash line against the Phillies pitchers is .391/.391/.609 with a big fly and three RBIs in just 23 at bats. Javy already has 19 RBI's and a .290 Average in August and expect him to keep the production line rolling this week.
Least Favorable Matchup of the Week
The Cubs hitter who will struggle the most this week is Albert Almora Jr. The mostly used off the bench outfielder will pick up a few starts this week I think as Joe will likely give Jon Jay and others a rest. Last week Almora started three games and had himself a pretty good week with a .500 average and 4 RBI's. However, his career batting average against Cincinnati and Philadelphia are .179 and .333. If Almora does do well, it will be during the Phillies series.
Opposing Hitter to Look Out For
For the second straight week the hitter the Cubs will have to be on the lookout for the most will be Joey Votto. Last week Votto went 7 for 16 with three walks and will look to continue his success against the Cubs. We can only hope the Cubs staff can cool down the Reds first basemen.
Prediction
The Cubs once again have a chance to create separation between them and the Cardinals and Brewers who are nipping at their heels. Fortunately for the Cubs, if they were to lose their division lead they are more than in striking distance for the Wildcard as they are only a game behind Arizona and a game and a half behind the Colorado Rockies. However, I see the red hot Cubs keeping the good times rolling and winning both of these series with a sweep of Philadelphia. I think the Cubs will go 5-1 this week and continue to add to the lead.