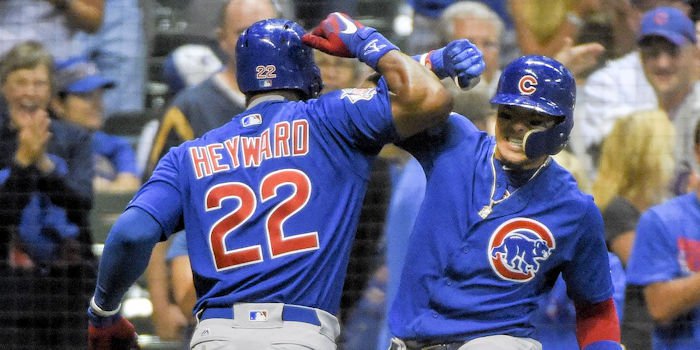 | | |
| --- | --- |
| Cubs Preview and Prediction of upcoming series | |
---
CHICAGO -- The Chicago Cubs got roughed up a bit by the Cincinnati Reds and Philadelphia Phillies this past week going 3-3 and now return home to face the Pittsburgh Pirates and the Atlanta Braves.
Though they didn't have the week they desired they did not lose any ground in the divisional race. The NL Central standings stand as follows heading into this week.
NL Central Standings
W-L GB
CHC 69-60 —
MIL 68-63 2.0
STL 65-65 4.5
PIT 63-68 7.0
CIN 55-76 15.0
Now let's get into the nuts and bolts of each series this week
Monday August 28th - Wednesday, August 30th vs. Pittsburgh
Probable Starters
Game 1- 7:05 CT
PIT- Williams (5-6, 4.40 ERA)
CHC- Montgomery (4-6, 3.43 ERA)
Game 2- 7:05 CT
PIT- Kuhl (6-9, 4.52 ERA)
CHC- Arrieta (13-8, 3.49 ERA)
Game 3- 7:05 CT
PIT- Nova (11-11,3.97 ERA)
CHC- Quintana (8-11, 4.49 ERA)
Thursday August 31st-Sunday, September 2nd vs Atlanta
Probable Starters
Game 1- 7:05 CT
ATL- Newcomb (2-7, 4.36 ERA)
CHC- Hendricks(5-4, 3.45 ERA)
Game 2- 1:20 CT
ATL- Foltynewicz (10-10, 4.84 ERA)
CHC- Lackey (10-10, 4.98 ERA)
Game 3- 1:20 CT
ATL- Sims (2-3, 4.13 ERA)
CHC- Montgomery (4-6, 3.43 ERA)
Game 4- 1:40
ATL- Dickey (8-8, 4.06 ERA)
CHC- Arrieta (13-8, 3.49 ERA)
Most Favorable Matchup of the Week
The most favorable matchup of the week for the Chicago Cubs in Game 2 when they go up against starter Chad Kuhl of the Pittsburgh Pirates. This Cubs battery is whacking Kuhl for a lifetime team slash-line of .421/.502/.772. They have all had large amounts of successes against him and that should continue Tuesday Night.
Least Favorable Matchup of the Week
The least favorable matchup of the week will be on Wednesday when they go up against starter Ivan Nova. The Cubs career slash lines against Nova is a putrid .196/.247/.289. It's the last stat that gets me. The Cubs aren't getting on against Nova but when they do get a hit he has been able to limit the extra base hits against the powerful Cubs lineup. To make matters worse two Cubs have had successes against him with Addison Russell and Wilson Contreras but remain on the disabled list. They both have career .400 averages against him.
Most Favorable Hitter of the Week
I think the Cubs hitter that is poised to have the biggest week is Javier Baez for the second straight week. Last week Javy was the Cubs most productive hitter but it's hard to overcome what Rizzo is doing right now. He still put up a batting average of .348 in six games as he heats up heading into the last month. Javy or El Mago if you will have killed both Pirates and Braves pitching in his career. He has a .324/.347/.588 line against Pittsburgh. Against Atlanta, things get even better to the tune of a .529/.558/1.059. Yes, that last number is impressive which puts his OPS at 1.614 against current Braves pitching. Look out!
Least Favorable Hitter of the Week
The Cubs hitter who will struggle the most this week is Rene Rivera. The newly acquired backup has been struggling in his limited time since coming to Chicago and this week the matchups do not bode well for him if he gets playing time. His slash line against Pirates pitching is just .171/.216/ .371. Against Atlanta, it is just .148/.219/.256. Hopefully in his start or two this week he strikes lightning in a bottle and has a few great games.
Opposing Hitter to Look Out For
Josh Bell will be the opposing hitter set to do the most damage against this Cubs squad. He has had an excellent month of August posting a .354/.434/.573 slash line. He has driven in 20 runs this month and has had career successes against this Cubs staff with a slash line of .354/.448/.646.
Prediction
Once again the Cubs have two series, this time at home, that they should win easily. It's an understatement to say how important it is to grab these series and the Cubs were unable to capitalize of weak opponents last week. Hopefully, they don't do the same but I see some slip up from them. I'm predicting 2 of 3 against Pittsburgh and a split against Atlanta for a 4-3 record on the week. Again hopefully they pick it up and win both series but Atlanta has been a tough draw as of late and held their own over the weekend against the playoff contending Colorado Rockies.

Upgrade Your Account
Unlock premium boards and exclusive features (e.g. ad-free) by upgrading your account today.
Upgrade Now