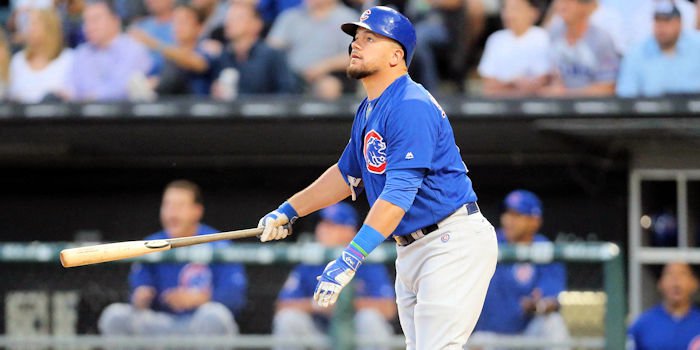 | | |
| --- | --- |
| Cubs Preview and Prediction of upcoming series | |
---
CHICAGO -- What a week for the Cubs, they finished off a week long home stand with an impressive 6-1 record. They will be on the road to start the week before returning home. This is one of, if not the most pivotal week of the year as they will travel to Pittsburgh and then return home to face off with the Brewers. The NL Central standings stand as follows heading into this week.
NL Central Standings
W-L GB
CHC 75-61 —
MIL 72-65 3.5
STL 69-67 6.0
PIT 65-72 10.5
CIN 58-79 17.5
Now let's get into the nuts and bolts of each series this week
Monday September 4th - Thursday September 7th @ Pittsburgh
Probable Starters
Game 1- 3:05 CT
CHC- Arrieta (14-8, 3.36 ERA)
PIT- Kuhl (6-10, 4.54 ERA)
Game 2- 6:05 CT
CHC-Hendricks (6-4, 3.32 ERA)
PIT- Brault (0-0, 5.93 ERA)
Game 3- 6:05 CT
CHC- Quintana (9-11, 4.49 ERA)
PIT- Cole (11-9, 4.11 ERA)
Game 4- 6:05 CT
CHC- Lester (9-7, 4.46 ERA)
PIT- Taillon (7-5, 4.50 ERA)
Friday September 8th-Sunday, September 10th vs Miluwuakee
Probable Starters
Game 1- 7:05 CT
MIL- Suter (2-2, 3.61 ERA)
CHC- Lackey (11-10, 4.47 ERA)
Game 2- 3:05 CT
MIL- Anderson (8-3, 2.96 ERA)
CHC- Arrieta (14-8, 3.36 ERA)
Game 3- 1:20 CT
MIL- Davies (16-7, 3.85 ERA)
CHC-Hendricks (6-4, 3.32 ERA)
Most favorable Cubs pitching matchup of the week
From least favorable matchup to most favorable in the week. That's what happened for Pirates starter Ivan Nova who is this week's favorable matchup of the week. The starter who has had success against the Cubs did not fair to well last week. His outing lasted just three innings where he surrendered five runs, four of them earned in a game where the Cubs took down the Pirates 17-3. Look for the Cubs to do heavy damage again.
Least favorable Cubs pitching matchup of the week
The least favorable matchup of the week will be when the Cubs go up against starter Gerrit Cole of the Pittsburgh Pirates. Cole will be looking to rebound after losing to Cincinnati earlier this week. Cubs hitters are batting a combined .219 against him with a .304 OBP and a .313 SLG. The savvy veteran knows how to attack the Cubs and will try to be spoilers against the North Siders.
Most favorable Cubs hitter of the week
I think the Cubs hitter that is poised to have the biggest week is Kris Bryant. The reigning league MVP will have a few pitching matchups that favor him quite a bit. Against Gerrit Cole, he has a .263 AVG with a .391 OBP. Against Kuhl, he is hitting .273 with a high OBP of .467. It gets better as we head into the weekend, against chase Anderson, Bryant has a .364 AVG and is slugging an insane 1.182. Bryant boasts a slash line of .409/.435/.727 against starter Zach Davies.
Least favorable Cubs hitter of the week
The Cubs hitter who will struggle the most this week is Jason Heyward. It's hard to pick a player to do poorly offensively on this team because they are all swinging it so well. However, against current staff pitchers of the Milwaukee Brewers Heyward is hitting just .209 against them with a .238 OBP and a .351 SLG. Hopefully, J Hey can find his swing against them.
Opposing Hitter to Look Out For
Ryan Braun will be your hitter to look out for Cubs fans. He has a career slash line of .275/.339/.477 against the Cubs. The Brewers will also do battle with the Reds at the beginning of the week. So no doubt Ryan Braun and the rest of the Brewers lineup will be feeling good heading into the big series with the Cubs. Braun has also had success with the long ball against a couple of Cubs starters as he's taken Arrieta deep three times and Lackey deep twice.
Prediction
These upcoming series are a great opportunity for the Cubs to start what could be the knockout blow to Milwaukee's division hopes. They have a chance to gain more distance between them and the Brewers where it's almost impossible for them to come back. With the home crowd behind them, the Cubs should be amped up for this weekend. I predict they will split with the Pirates and then travel back to Wrigley Field and sweep the Milwaukee Brewers to garner a 5-2 record during the week.