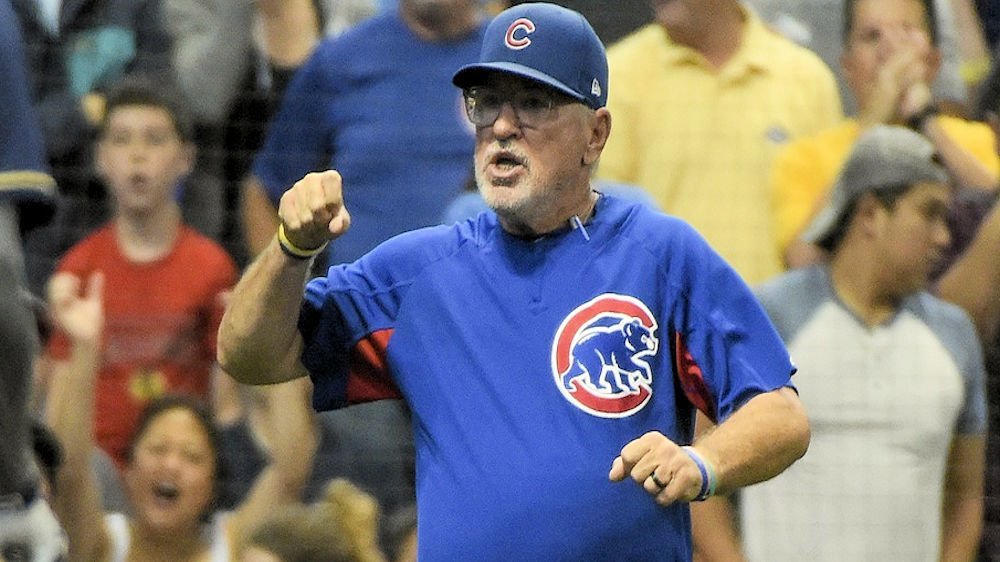 | | |
| --- | --- |
| Cubs Report Card: Coaches and Executives | |
---
With the 2018 season over, I think it's safe to say that most of us at CubsHQ had some differences of opinion, with regard to how the various Cubs' coaches and executives performed this year.
In Part 1 and Part 2, we covered the grades for the Cubs' starting rotation, bullpen, and position players. Now we hand out grades for the different coaches and executives.
Take a look at what we thought, then share your opinions with us on our Facebook and Twitter pages. We hope you enjoy this group effort, and on behalf of all of us at CubsHQ, thanks as always for your continued support.
Joe Maddon - Manager
Ken's Grade: B+ -- I like Joe- a lot- but 152 different batting orders (160 counting pitchers) in 163 games was a bit excessive. I think he misused some guys in key situations (Kintzler for one), costing the team some wins. In the end results matter, and the Cubs went 95-68.
Scott's Grade: B- -- Hard to fault Maddon for the troubles the team had. He can't bat or pitch for them. However, I wonder what he and Davis talked about behind closed doors when the slump began. But the Russell fiasco wasn't one of his better moments.
Dan's Grade: C -- Honestly, he drives me nuts sometimes. I don't understand his constant line-up changes and his selection of who plays where and when. Don't even get me started on his pitching changes. He needs a better 2019.
Tony's Grade: C -- Too many lineup changes didn't help his young ballclub find a groove this season. Took his starters out too early a ton and gassed his bullpen.
CubsHQ's Grade: C+
Brandon Hyde - Bench Coach
Ken's Grade: B+ -- Hyde certainly knows how to run a club, as evidenced by the Twins interest in him for manager. He seemed to step up when Maddon was ejected and ran the team like he knows what he was doing.
Scott's Grade: A -- All indications are that Hyde kept things humming as smoothly as he could in his role as a bridge. The players respected him, and Maddon trusted him.
Dan's Grade: D -- Not sure if he even was there for every game he's so invisible. Why is he not tackling Maddon on some of these moves?
Tony's Grade: B -- I didn't hear much good or bad from him. He coached well when Maddon got kicked out several times during the season.
CubsHQ's Grade: B
Chilli Davis - Hitting Coach
Ken's Grade: D- -- While Chili made a concerted effort to improve the Cubs' offense, he failed miserably for whatever reason. His effort may have deserved an "A", but the results were an "F" all day.
Scott's Trade: F -- I'm one of those that believe he is responsible for a lot of the blame for the slump this year. Imagine having to listen to a coach you don't respect tell you how to swing a bat.
Dan's Grade: F -- This was his grade before he was released.
Tony's Grade: F -- Offensive regression by just about everyone except Javy Baez on the team.
CubsHQ's Grade: F
Jim Hickey - Pitching Coach
Ken's Grade: C- -- I've sensed all year that the pitching staff survived, despite Hickey's presence. I don't think he harmed them, but not sure he did them any good.
Scott's Grade: B+ -- Hickey had a heckuva tough job this year, and just had to play the hand he was dealt, which was often Ace light once Darvish and Chatwood bottomed out.
Dan's Grade: C -- I am underwhelmed with him so far. When he goes to the mound the pitchers don't even look at him and when he leaves all hell breaks loose. Not exactly giving me the warm and fuzzies.
Tony's Grade: C -- He was decent working with some of the injuries that he had to deal with.
CubsHQ's Grade: C
Will Venable -- First Base Coach
Ken's Grade: B+ -- Hard to tell exactly where the responsibility breaks off from the coach and falls on the baserunners when it comes to things like pick-offs and being doubled off. Venable does seem good for morale though.
Scott's Grade: B -- The Cubs weren't exactly a base stealing machine this year. Baez was stellar, but I think after him the drop off was pretty dramatic until Gore showed up.
Dan's Grade: B -- I believe he also coaches the outfielders so I'll grade him up on that, although he did a terrible job with Ian Happ. Schwarber was much improved and Zobrist didn't get hit on the head so I guess he did OK.
Tony's Grade: B -- Did a good job of grabbing player's batting gloves from them.
CubsHQ's Grade: B
Brian Butterfield -- Third Base Coach
Ken's Grade: B+ -- Integral part of getting the signs to batters and baserunners, but seems his "stop signs" are merely a suggestion to most. You may stop Murphy at 3rd, but Javy IS on his way home.
Scott's Grade: A -- I didn't see Butter make too many bad calls at 3rd at all. He missed one or two wave-offs, but overall, he knew his job and did it well.
Dan's Grade: D -- He's like a pylon as a coach since no one seems to pay any attention to what he is telling them. He easily leads the league in guys running through his stop sign. I believe he also coaches the infielders so check out how many errors there this year.
Tony's Grade: C -- Not sure what was going on as everyone was disregarding his 'stop' signals when they were rounding third base.
CubsHQ's Grade: B-
Lester Strode - Bullpen Coach
Ken's Grade: B+ -- Who doesn't like Lester Strode? An easy going guy who makes the bullpen the cool place to be. I'd be curious to know how much Hickey unravels Strode's hard work.
Scott's Grade: B -- Another one that got dealt too many dead man's hands. The arrival of Chavez helped, losing Morrow hurt. Not sure how he handled guys like Edwards and Duensing, Chatwood was a lost cause.
Dan's Grade: A -- The only guy to have lasted through 5 regimes. No one holds a notebook or gives out water bottles better. Why not make him the pitching coach?
Tony's Grade: B: Anyone that has a bullpen dancing group can't be that bad.
CubsHQ's Grade: B+
Theo Epstein -- President of Baseball Operations
Ken's Grade: A -- Theo is the El Mago of the operations center. Darvish and Chatwood went bust, and cost the Cubs a ton of loot, but nice recovery with Chavez & Hamels. Shrewd businessman.
Scott's Grade: B- -- I thought he went too far in on Darvish but redeemed himself with Hamels. He seems to have a hands-off approach to the coaches, which seems important.
Dan's Grade: B -- He swung and missed on a couple of big ones this offseason but overall he has the organization headed in the right direction.
Tony's Grade: C -- This is a 2018 grade only and he had two miserable signings with Yu Darvish and Tyler Chatwood. He rebounded nicely with moves for Hamels and Chavez. However, the Darvish move could be a championship window killer if Darvish doesn't get healthy.
CubsHQ's Grade: B
Jed Hoyer -- General Manager
Ken's Grade: A -- Theo's right-hand man, enough said.
Scott's Grade: B -- Deftly handled the Murphy acquisition in the press but is catching some flak for how he dealt with the Russel fiasco.
Dan's Grade: C -- The most underutilized senior manager in sports. Does he have any decision making authority? Does he just sit in his office and do crossword puzzles all day? Maybe he and Hyde should carpool to the 20 -30 games a year they are at.
Tony's Grade: B -- Not sure what he does on a daily basis but his interviews with the media are always engaging.
CubsHQ's Grade: B
Jason McCleod - Scouting and Player Development
Ken's Grade: A+ -- With names like Bote, Hoerner, and Amaya on his resume, McLeod finds the talent, hones it, then wires it for sound. A seldom recognized cog in the machine.
Scott's Grade: A -- Bote gets him props, Mills showed signs of brilliance early, Taylor Davis was better than the playing time he got I felt. Will be fascinated with his handling of Hoerner.
Dan's Grade: A -- If I'm Jason I'm in Theo's office every day asking why Jed is GM and making all the money when I was the guy who put the team together. Look for him to soon be leaving and getting the recognition he deserves.
Tony's Grade: A -- He is a talented scout and it will be interesting to see how the young prospects pan out in the next few years.
CubsHQ's Grade: A
Check out all of the CubsHQ grades below for the 2018 season:
Part 1 Cubs grades for pitchers
Part 2 Cubs grades for batters