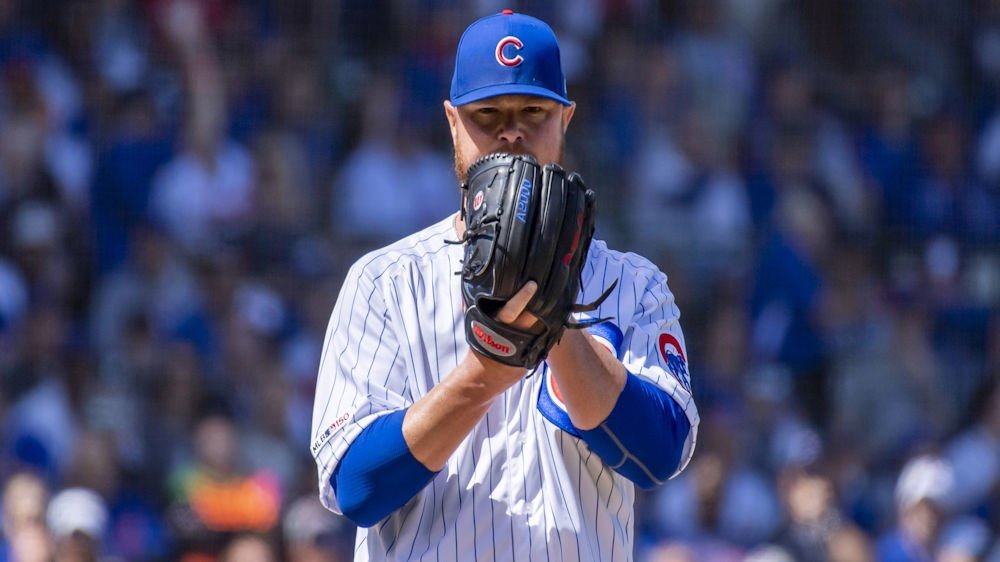 | | |
| --- | --- |
| Cubs Review: Jon Lester, Willson Contreras, and J-Hey | |
---
| | | |
| --- | --- | --- |
| Friday, April 12, 2019, 8:01 PM | | |
The Cubs just wrapped up beating the Angels 5-1 behind eight impressive innings by veteran Cole Hamels.
The win put a bright spot on an otherwise turbulent ride in the first two weeks of the season. Much of the reason for the Cubs early struggles have come from their inability to throw strikes when they need them most. The starting rotation has been inconsistent, and the bullpen has been bad. The Cubs entered the home opener ranked last in the MLB in team ERA, but showed signs for optimism at Wrigley Field, allowing just five runs in 27 innings, including two shutouts.
The bats showed they have woken up from their underwhelming 2018 season by scoring 76 runs through 12 games, good for 3rd in the majors. The offensive numbers are a sight to behold for Cubs fans who doubted they could get back to the dynamic lineup they had once been.
While the season remains very young, the first 15 days of the season have already bought several storylines. There are 150 more games to watch how these storylines play out and develop plenty of new drama. We will be covering these stories (and many others) as the season rolls into the summer and hopefully well into the fall.
Jon Lester is beginning to put together yet another strong season. He has started the season 1-0 with a 2.57 ERA in 3 starts. Some adversity has come early for Jon as he has been placed on the 10-day IL with a hamstring injury. The Cubs do not expect Lester to miss much time and hopefully, he can return before the end of April.
Lester sustained his injury running the bases following a two-out RBI double and then ultimately scoring on a Ben Zobrist single. Lester slid awkwardly into home and left the game in the next inning. Lester is 2 out of 3 with the bat this year with 2 RBIs and two walks. The 35-year-old Lester may come back looking to get his hits into the bleachers-- Guys don't typically get hurt when they trot. Tyler Chatwood is scheduled to start in Lester's place Sunday as the Cubs host the Angels.
Catchers
Willson Contreras has had an excellent start to 2019: .333 with five home runs in only 41 plate appearances. Last season, he had 10 homers the entire season. Contreras may be the key to unlocking the lineups potential; when he was on his game in 2016 and especially the second half of 2017, Contreras was a force. Contreras producing at a high level gives the Cubs lineup plenty of length. He provides a potent bat to follow up Kris Bryant, Anthony Rizzo, and Javy Baez and set things up for Kyle Schwarber, Jason Heyward, et al. Contreras is back to driving the ball to all fields with authority which should please Cubs fans. He has put the ball in the air more and been willing to accept his walks.
There's nothing but trouble at the corner of Willson and Waveland. #EverybodyIn pic.twitter.com/7hGnz7ZNTx

— Chicago Cubs (@Cubs) April 12, 2019
Victor Caratini has backed up Contreras this season and has been putting up huge numbers. In 14 at-bats Caratini is slashing an eye-popping .571/.647/1.000. Caratini suffered a hand injury on Thursday night and was placed on the IL with a broken left hand and could miss up to six weeks. The Cubs hope the hand heals quickly and properly and Caratini can come back to playing at a high level. In the meantime, the Cubs have called up Taylor Davis from Iowa.
The Cubs were looking for Yu Darvish to bounce back this year after a disappointing first year with the club. Darvish is healthy this year, but so far the results have not been there. Darvish has a 7.50 ERA after allowing ten earned runs in 12 innings. His fastball command has been missing in most of his starts, leaving his breaking pitches too easy to take.
For Darvish to be successful, he needs to locate his fastball to get chases on his breaking pitches. Darvish's stuff looked sharp in his last start, but the long ball has plagued him. The Cubs made a massive investment in Darvish and are looking for him to get back to the dominant strikeout pitcher he was earlier in his career. If Darvish can be the guy the Cubs expect, he will give the Cubs an elite rotation.
Jason Heyward
Did someone turn the clock back to 2015? Jason Heyward has been hitting at a level we have not seen from him in a Cubs uniform. Heyward has made consistent hard contact and has begun to show some opposite field power. He has slashed .351/.444/.676 in the young season and connected for four home runs. When the Cubs gave Heyward a contract worth 184 million dollars they were looking for all-star caliber production at the plate. While Heyward has played elite defense and been a strong clubhouse leader, he will need to do more offensively to make the Cubs investment worthwhile.

Tags: Cubs Baseball
,
Cole Hamels
,
,
Ben Zobrist
,
Tyler Chatwood
,
Willson Contreras
,
,
Anthony Rizzo
,
Kyle Schwarber
,
Jason Heyward
,
Victor Caratini
,
Taylor Davis
,
Yu Darvish