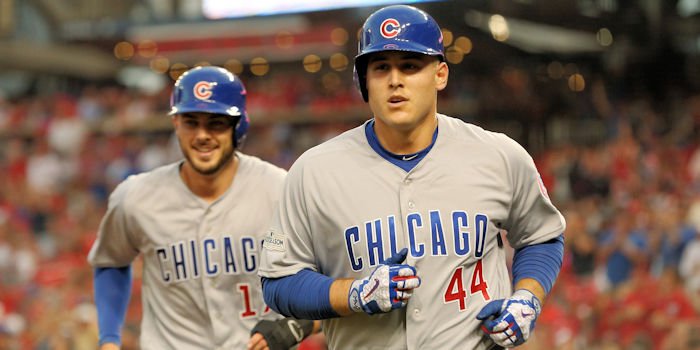 | | |
| --- | --- |
| Cubs announce 2018 Spring Broadcast Schedule | |
---
| | | |
| --- | --- | --- |
| Friday, January 19, 2018, 12:17 PM | | |
CHICAGO – Nearly every Chicago Cubs Spring Training game will be available to Cubs fans via television, radio or internet radio broadcast as the club today announced its 2018 Spring Training broadcast schedule.
In total, a Cubs game will be available every game day of the spring schedule via one or more broadcast mediums, and 34 of the 36 games are scheduled to be available to Cubs fans overall.
The schedule features six games televised by Cubs broadcast partners (four by WGN-TV and two by NBC Sports Chicago), 10 on the 670 The Score Cubs Radio Network and 24 via internet radio broadcast on www.cubs.com. Fans will be able to access the Cubs Webcasts on Cubs.com and MLB.com for free by registering for a log-in account with the website.
670 The Score will air its first game on Sunday, February 24, the club's home opener at Sloan Park, when the Cubs play Texas Rangers. Pat Hughes and Ron Coomer return as the radio voices of the Chicago Cubs. WGN-TV will televise its first game when the Cubs host the Chicago White Sox on February 27. Len Kasper and Jim Deshaies return to call all Cubs TV games. NBC Sports Chicago's first game will occur on Sunday, March 18, when the Cubs play the Cleveland Indians in Las Vegas.
Kasper will again join Mick Gillispie, radio broadcaster for Chicago's Double-A Tennessee affiliate, for most of the cubs.com internet radio broadcasts.
All games start at 1:05 p.m. Arizona time unless otherwise noted. Chicago is one hour ahead of Arizona through Saturday, March 10 before moving to two hours ahead on Sunday, March 11.
Friday, February 23 Milwaukee Brewers Maryvale CUBS.COM
Saturday, February 24 Texas Rangers SLOAN PARK 670 The Score
Sunday, February 25 San Francisco Giants Scottsdale CUBS.COM
Monday, February 26 Seattle Mariners SLOAN PARK CUBS.COM
Tuesday, February 27 Chicago White Sox SLOAN PARK WGN-TV/CUBS.COM
Wednesday, February 28 Oakland Athletics SLOAN PARK CUBS.COM
Thursday, March 1 Colorado Rockies SLOAN PARK CUBS.COM
Friday, March 2 Los Angeles Angels Tempe (1:10 PM) CUBS.COM
Saturday, March 3 Cincinnati Reds SLOAN PARK 670 The Score
Sunday, March 4 Arizona Diamondbacks Scottsdale (1:10 PM) 670 The Score
Monday, March 5 Colorado Rockies Scottsdale (1:10 PM) CUBS.COM
Tuesday, March 6 Los Angeles Dodgers SLOAN PARK CUBS.COM
Wednesday, March 7 Cleveland Indians Goodyear (6:05 PM) WGN-TV/CUBS.COM
Thursday, March 8 San Diego Padres SLOAN PARK CUBS.COM
Friday, March 9 Los Angeles Angels SLOAN PARK CUBS.COM
Saturday, March 10 Chicago White Sox (ss) SLOAN PARK 670 The Score
Los Angeles Dodgers (ss) Glendale (7:05 PM) CUBS.COM
Sunday, March 11 Oakland Athletics Mesa 670 The Score
Monday, March 12 OFF DAY
Tuesday, March 13 San Francisco Giants SLOAN PARK (7:05 PM) 670 The Score
San Diego Padres Peoria (1:10 PM) CUBS.COM
Wednesday, March 14 Kansas City Royals Surprise CUBS.COM
Thursday, March 15 Arizona Diamondbacks SLOAN PARK CUBS.COM
Friday, March 16 Chicago White Sox Glendale CUBS.COM
Saturday, March 17 Cleveland Indians (ss) SLOAN PARK CUBS.COM
Cleveland Indians (ss) Las Vegas (4:05 PM PT) WGN-TV/670 The Score
Sunday, March 18 Kansas City Royals SLOAN PARK
Cleveland Indians Las Vegas (1:05 PM PT) NBCSCH/670 The Score
Monday, March 19 Cincinnati Reds Goodyear (6:05 PM) CUBS.COM
Tuesday, March 20 Off Day
Wednesday, March 21 Texas Rangers Surprise CUBS.COM
Thursday, March 22 San Francisco Giants Scottsdale (7:05 PM) CUBS.COM
Friday, March 23 Milwaukee Brewers SLOAN PARK CUBS.COM
Saturday, March 24 Colorado Rockies (ss) SLOAN PARK (7:05 PM) NBCSCH/670 The Score
Seattle Mariners (ss) Peoria (6:40 PM)
Sunday, March 25 Kansas City Royals Surprise (12:05 PM) WGN-TV/670 The Score
Monday, March 26 Boston Red Sox Fort Myers, FL (6:05 PM ET) CUBS.COM
Tuesday, March 27 Boston Red Sox Fort Myers, FL (1:05 PM ET) CUBS.COM