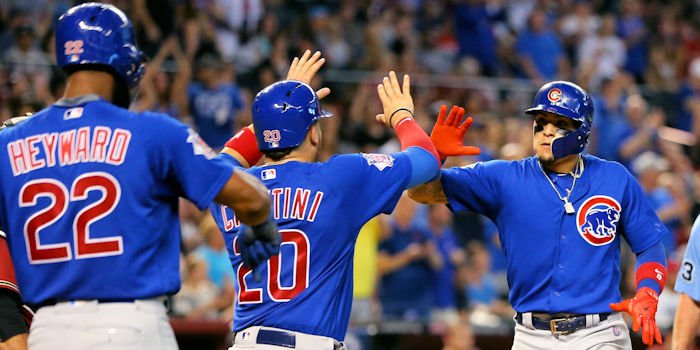 | | |
| --- | --- |
| Cubs announce 2018 Spring Training schedule | |
---
CHICAGO – The Chicago Cubs today announced their 2018 Spring Training schedule, which begins on Friday, February 23 with a game against the Milwaukee Brewers in Maryvale. The Cubs host their Sloan Park opener the following day with a game against the Texas Rangers in Mesa.
The club's 34-game schedule includes 16 games at Sloan Park, 16 Cactus League road games and two games in Las Vegas against the Cleveland Indians on March 17-18. Additional games to close out the spring training slate are expected to be announced at a later time.
The Cubs and White Sox meet three times next spring, including two games at Sloan Park on Tuesday, February 27 and Saturday, March 10. The Cubs play the White Sox in Glendale on Friday, March 16.
Individual game tickets for the 2018 Chicago Cubs home spring training games at Sloan Park will go on sale Saturday, January 6 at 11 a.m. CT at the Sloan Park ticket office, on www.cubs.com or by calling 1-800-THE-CUBS. For season ticket and group ticket information please visit www.sloanpark.com or call 1-800-THE-CUBS.
Fans may direct ticket and additional spring training questions to mesa@cubs.com. For continuously updated information and to take a virtual tour of Sloan Park, please visit www.sloanpark.com.
The Cubs 2018 Spring Training schedule is below. All games are scheduled to start at 1:05 p.m. Arizona time unless otherwise denoted (start times still subject to change). Cubs split squad games are denoted with an (ss).
DATE OPPONENT SITE
Friday, February 23 Milwaukee Brewers Maryvale
Saturday, February 24 Texas Rangers SLOAN PARK
Sunday, February 25 San Francisco Giants Scottsdale
Monday, February 26 Seattle Mariners SLOAN PARK
Tuesday, February 27 Chicago White Sox SLOAN PARK
Wednesday, February 28 Oakland Athletics SLOAN PARK
Thursday, March 1 Colorado Rockies SLOAN PARK
Friday, March 2 Los Angeles Angels (1:10 PM) Tempe
Saturday, March 3 Cincinnati Reds SLOAN PARK
Sunday, March 4 Arizona Diamondbacks (1:10 PM) Scottsdale
Monday, March 5 Colorado Rockies (1:10 PM) Scottsdale
Tuesday, March 6 Los Angeles Dodgers SLOAN PARK
Wednesday, March 7 Cleveland Indians (6:05 PM) Goodyear
Thursday, March 8 San Diego Padres SLOAN PARK
Friday, March 9 Los Angeles Angels SLOAN PARK
Saturday, March 10 Chicago White Sox (ss) SLOAN PARK
Los Angeles Dodgers (ss, 7:05 PM) Glendale
Sunday, March 11 Oakland Athletics Mesa
Monday, March 12 OFF DAY
Tuesday, March 13 San Diego Padres (ss, 1:10 PM) Peoria
San Francisco Giants (ss, 7:05 PM) SLOAN PARK
Wednesday, March 14 Kansas City Royals Surprise
Thursday, March 15 Arizona Diamondbacks SLOAN PARK
Friday, March 16 Chicago White Sox Glendale
Saturday, March 17 Cleveland Indians (ss) SLOAN PARK
Cleveland Indians (ss, 4:05 PM Vegas Time) Las Vegas
Sunday, March 18 Kansas City Royals (ss) SLOAN PARK
Cleveland Indians (ss, 1:05 PM Vegas Time) Las Vegas
Monday, March 19 Cincinnati Reds (6:05 PM) Goodyear
Tuesday, March 20 OFF DAY
Wednesday, March 21 Texas Rangers Surprise
Thursday, March 22 San Francisco Giants (7:05 PM) Scottsdale
Friday, March 23 Milwaukee Brewers SLOAN PARK
Saturday, March 24 Colorado Rockies (ss, 7:05 PM) SLOAN PARK
Seattle Mariners (ss, 6:40 PM) Peoria
Sunday, March 25 Kansas City Royals (12:05 PM) Surprise