| | |
| --- | --- |
| Cubs announce Cubs Trophy Tour | |
---
| | |
| --- | --- |
| Thursday, December 8, 2016 3:19 PM | |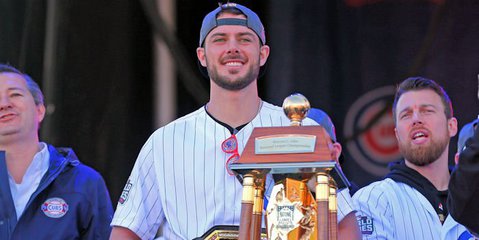 CHICAGO – The World Champion Chicago Cubs today announced the Cubs Trophy Tour presented by State Farm, designed to share the team's historic hardware with Cubs fans throughout Chicago and the Midwest.

The tour will kick off this Friday, December 9, at the new official Cubs Team Store on Michigan Avenue. Fans will be able to take their photo with the World Series Trophy from 12 to 3 p.m. inside the temporary location at 663 N. Michigan Ave. The pop-up store offers an expanded line of products sold at Wrigley Field – including popular World Series merchandise, holiday gifts and new items arriving daily – and is open Monday through Saturday from 10 a.m. to 9 p.m. and Sundays from 10 a.m. to 7 p.m.

"We're excited to share our cherished trophy with fans this offseason as we celebrate such a historic World Series Championship," said Cubs Executive Chairman Tom Ricketts. "This year's World Championship team is unparalleled, and so are our fans. We can't wait for them to experience the joy of seeing this piece of history in person."
"State Farm is delighted to continue supporting the Chicago Cubs and 'help life go right' for the organization and its fans," said State Farm Advertising Director Ed Gold. "Presenting the Cubs Trophy Tour is a great way to bring that excitement into Chicago neighborhoods, the Midwest and throughout Spring Training."

After Friday's Cubs Trophy Tour debut at the new Cubs Team Store, the tour will continue the following Thursday, December 15, at Chicago City Hall. Fans are invited to see the trophy from 9 a.m. to 4 p.m.

Following a series of visits to locations throughout Chicago, the World Series Trophy will hit the road, going on display in Bloomington, Champaign, Freeport, Peoria, the Quad Cities, Rockford and Springfield in Illinois; South Bend, Indianapolis and other cities in Indiana; Des Moines and other cities in Iowa; plus other locations throughout the Midwest. In Chicago, plans are underway to visit the Cubs Reviving Baseball in Inner Cities (RBI) program and participate in the annual Cubs Caravan and Cubs Convention in January. The trophy will visit Mesa, Arizona, during Spring Training and return to Wrigley Field for the Cubs' 2017 Home Opener April 10.

Fans can follow the Cubs on Twitter and Instagram (@Cubs) for specific updates on the Cubs Trophy Tour using the #CubsTrophyTour hashtag. These team updates and fans' social media posts with the trophy will soon be posted to www.cubs.com/trophytour, along with a tentative schedule, highlights and more information about the World Series Trophy.


#CubsTrophyTour is underway! pic.twitter.com/wxqDaClyeE

— Chicago Cubs (@Cubs) December 9, 2016