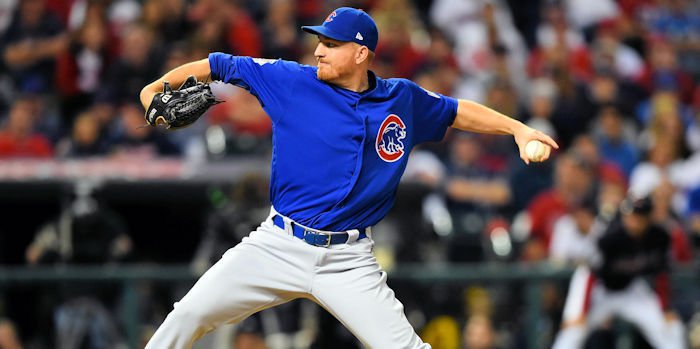 | | |
| --- | --- |
| Cubs blanked by Reds as Feldman dominates | |
---
CINCINNATI – Prior to tonight, the Chicago Cubs faithful likely thought fondly of Cincinnati Reds starting pitcher Scott Feldman, as he was used as arguably the greatest trading chip in franchise history when the Cubs shipped him to the Baltimore Orioles in 2013 as part of a deal to land a then-unheralded Jake Arrieta. In retrospect, the trade was remarkably one-sided, as Arrieta has gone on to become an ace for the Cubs, while Feldman, who spent only half of a season with the Cubs, has since been an MLB journeyman. However, Feldman, perhaps inspired to show out against a team that once dealt him, pitched one of the best games of his career tonight, likely earning the scorn of the Cubbie diehards in the process.
Giving up a mere two hits in seven scoreless innings pitched, Feldman was magnificent on the evening, making the Chicago batting order seem impotent. In fact, through 6.2 innings, Feldman, who collected seven strikeouts, held a no-hitter. Finishing with three hits in all, the Cubs advanced a runner into scoring position only twice all game, clearly not inspired by their epic come-from-behind victory on Thursday.
As for Chicago's pitching, reliever-turned-starter Mike Montgomery suffered through yet another lackluster start, falling to 1-5 overall. Although Montgomery struck out seven, his 6.2-inning outing was subpar, as he gave up four runs on nine hits and two walks. The lefty pitched well through three innings, but once Reds leadoff hitter Billy Hamilton began the bottom of the fourth with a double to center, Montgomery's start was downhill from there.
Reds first baseman Joey Votto, who went 2-4 at the plate, doubled soon after to put runners on second and third, and left fielder Adam Duvall followed that up with his 19th home run of the season on a three-run screamer over the wall in right field. Duvall produced for the Reds in the sixth inning, as well. He earned a leadoff walk and proceeded to steal second, which proved beneficial for Cincinnati later in the inning, when Reds second baseman Jose Peraza laid down a perfect squeeze bunt that scored Duvall from third and resulted in a single for Peraza.
Leading 4-0 upon entering the bottom half of the eighth, the Reds accrued an insurance run that was sparked by a double from Votto, his second of the night. With two outs, Votto attempted to steal third base, providing recent call-up Victor Caratini, a catcher who replaced Miguel Montero on the 25-man roster, a chance to show off his arm. Caratini failed to make it a shining moment, though, sending the ball sailing over third baseman Tommy La Stella's head.
Blanked in every aspect of the game, the Cubs lost 5-0 to the Reds to fall to 40-40, 1.5 games out of first place in the National League Central. Feldman received the win, becoming 7-5 overall and assuredly earning the respect of a team that once found him expendable in the process. Chicago will look to rebound in the second game of its three-game series versus the Reds (34-45) tomorrow afternoon.