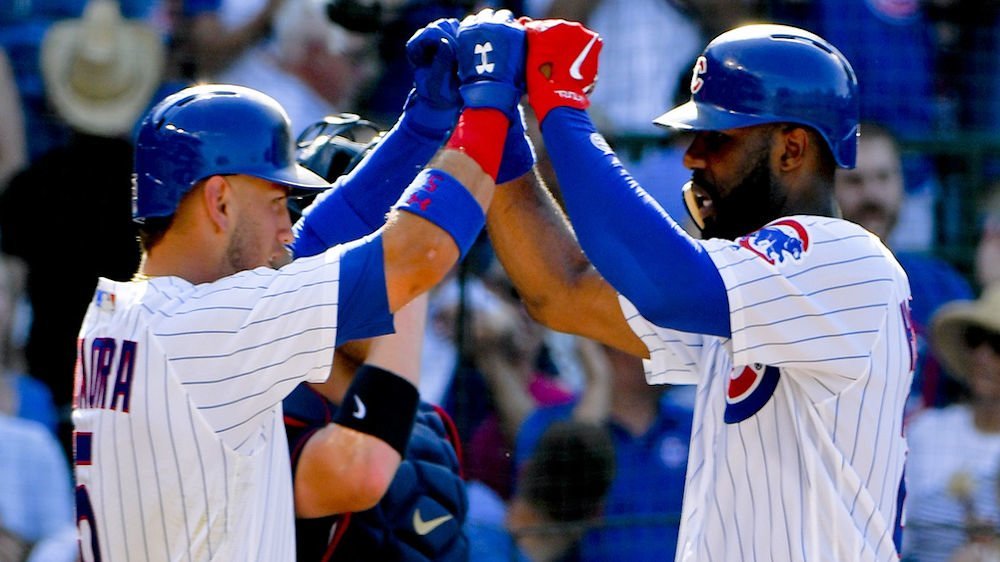 | | |
| --- | --- |
| Cubs by the Numbers: Who is indispensable? | |
---
| | | |
| --- | --- | --- |
| Thursday, July 12, 2018, 7:04 PM | | |
Sometimes I'll look at statistics to see what the numbers show. I decided to check the Cubs' records (and W %) based on which position players started. While I'm not suggesting that the Cubs are any better with or without certain position players, the stats did prove to be interesting.
Victor Caratini and Tommy La Stella's starts are included even though they have only had 28 starts between them. Caratini's stats were calculated only for the time that he was on the roster.
Cubs' record based on starts by position player: (Ranked by winning %)
Tommy La Stella: With 8-3 (.727)
Albert Almora Jr.: With 36-18 (.667)
Willson Contreras: With 44-24 (.647)
Ben Zobrist: With 32-20 (.615)
Ian Happ: With 32-22 (.593)
Victor Caratini (when on the roster): 10-7 (.588)
Addison Russell: With 42-30 (.583)
Anthony Rizzo: With 44-33 (.571)
Javier Baez: With 43-34 (.559)
Kyle Schwarber: With 38-33 (.535)
Jason Heyward: With 35-31 (.530)
Kris Bryant: With 33-31 (.516)
Winning percentage based on player absence:
Without Russell: 14-4 (.778)
Without Bryant: 20-6 (.769)
Without Schwarber: 14-5 (.737)
Without Heyward 17-7 (.708)
Without Baez: 9-4 (.692)
Without Rizzo: 8-5 (.615)
Without La Stella: 44-35 (.557)
Without Almora: 20-16 (.556)
Without Happ: 20-16 (.556)
Without Contreras 12-10 (.545)
Without Caratini: 21-18 (.538)
Without Zobrist: 20-18 (526)
While I'm not really sure what to make of these stats, I found it interesting that the Cubs had a better winning percentage without four of their five starting infielders (Baez, Bryant, Rizzo, and Russell), than we did when they played.
In games where more than one of these players were not in the starting lineup, the Cubs have gone 8-4 (.667). At no time were more than two of the four absent from any given lineup.
The three regular players who yield the highest Cubs' winning records when they start (Almora, Contreras and Zobrist), have appeared as starters together in 24 games, yielding a 15-9 record (.625). When Happ is figured in with Almora, Contreras, and Zobrist as starters, their record jumps to an astonishing 6-1 (.857). Tommy La Stella wasn't included in the grouped stats, as he only has 11 starts this season.
People will argue that a team cannot afford to trade this guy or that guy, but as the numbers show, no one is indispensable…

Tags: Cubs Baseball
,
Tommy La Stella
,
Albert Almora Jr
,
Willson Contreras
,
Ben Zobrist
,
Ian Happ
,
Victor Caratini
,
Addison Russell
,
Anthony Rizzo
,
,
Kyle Schwarber
,
Jason Heyward
,