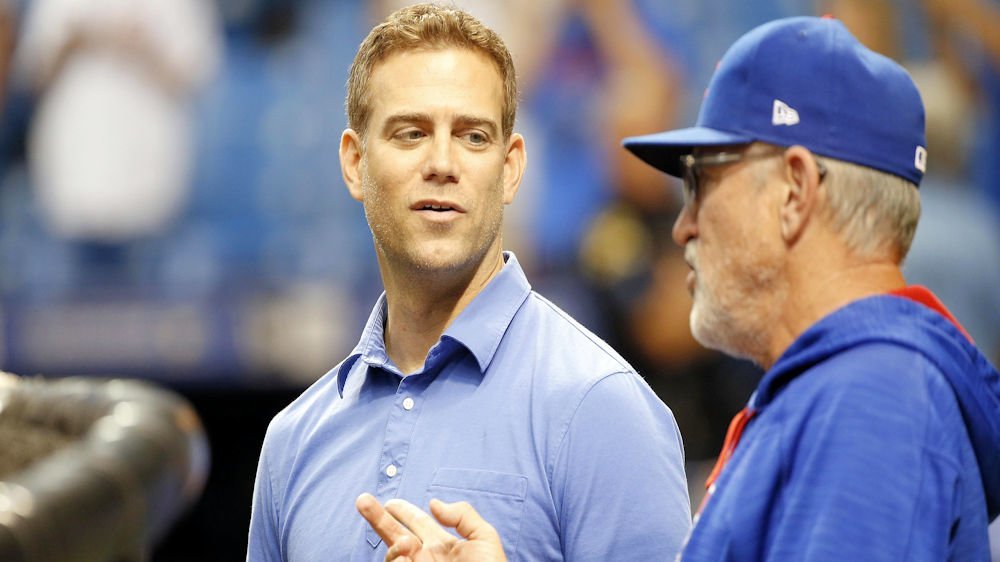 | | |
| --- | --- |
| Cubs' camp starting to stir with news | |
---
Well, it took the entire month of October to accomplish a few minor changes, but there's finally some movement in Cubs' country.
After losing the Wild Card Game to Colorado on October second, the Cubs recalled RHP, Oscar De La Cruz from the Tennessee Smokies on October third, then sat idle for the next eight days until they fired hitting coach, Chili Davis; four days later Anthony Iapoce was hired as Davis' replacement.
From October 15th through the 28th, all was quiet on the North Side, then on the 29th, all six players who were entitled declared free-agency. As a matter of formality, Jesse Chavez, Daniel Murphy, Jorge De La Rosa, Jaime Garcia, Justin Wilson, and minor league catcher Bobby Wilson all tossed their names into the free-agent market, triggering the five-day cycle for the Cubs to submit qualifying offers for them, before they are free to talk to, and sign, with other teams.
In my five-part article, " Rebuilding for 2019," I predicted that Murphy, Garcia, Justin Wilson, and Bobby Wilson would be departing, but that the Cubs would likely retain De La Rosa and Jesse Chavez. The Cubs have until Friday to retain those that they wish to keep. Chavez has already stated that he'd either be a Cub, or that he'd retire, so we can only hope that Theo and the Ricketts want to see him play at least another season or two.
Following the free-agent announcements, things stayed quiet for just a couple of days, then picked up again to end the month.
To no one's surprise, the Cubs elected not to pick up Brandon Kintzler's $10M contract, but Kintzler's no dummy- he has reportedly exercised his $5M player option within a few hours of the Cubs announcement to decline the team option. After a rocky second-half in Chicago, the likelihood of Kintzler receiving $5M in the free-agent market was nil.
I believe Kintzler had an overly poor year this year, and that his future may be promising- if Joe Maddon utilizes him properly. Kintzler was launched into several situations in 2018 where he was either going to be the hero or the fall guy and unfortunately, he faltered. Fans don't remember that Randy Rosario or Carl Edwards, Jr. loaded the bases, only that Kintzler allowed hits that ended up clearing them.
The Cubs' ended the month by picking up the $10.5M option for Jose Quintana, which was a smart move in my opinion, and one that I predicted would happen. Quintana isn't a flashy guy, and the term that I've used for him a lot is "quietly solid." Despite a few rough outings in 2018, Quintana managed a 13-11 record, and despite his 4.03 ERA, he got the job done. The offense failed to lend the necessary run support to Q, and I think an improved offense gets him 15+ wins in 2019.
The Cubs final maneuver for October was picking up 26-year-old, left-handed reliever Jerry Vasto off waivers from the Kansas City Royals. While Vasto is currently sporting an 8.31 ERA (total of 6 games in 2018), I wouldn't panic. He had a rough outing in his only appearance with Colorado, giving up three runs in two-thirds of an inning, causing his ERA in Colorado to come in at an insane 40.50. In his five appearances as a Ranger, Vasto gave up one earned run in 3.2 innings of work, lowering his overall ERA to 8.31.
After moving to the Royals, Vasto's WHIP improved to 1.091 (it was 6.000 with COL), and his strikeout to walk rate sits at 3:1. Vasto doesn't hand out a lot of free paces, issuing only two walks in the twenty-one batters he's faced.
Vasto is still playing for the league minimum of $545k, making him a smart, cost-effective choice to replace Jaime Garcia or Justin Wilson, should the Cubs fail to retain either of them. No, Vasto doesn't have the experience (yet), but instead of a litmus test, I use the "Chatwood test," with regards to walk-rate and Vasto passes.
October wasn't a huge month for the Cubs, but trust me, they'll be getting busy in November. Only days remain until the free-agent market sets sail in full force, and I think the Cubs will be buying. Stay tuned to CubsHQ for the latest transaction news.