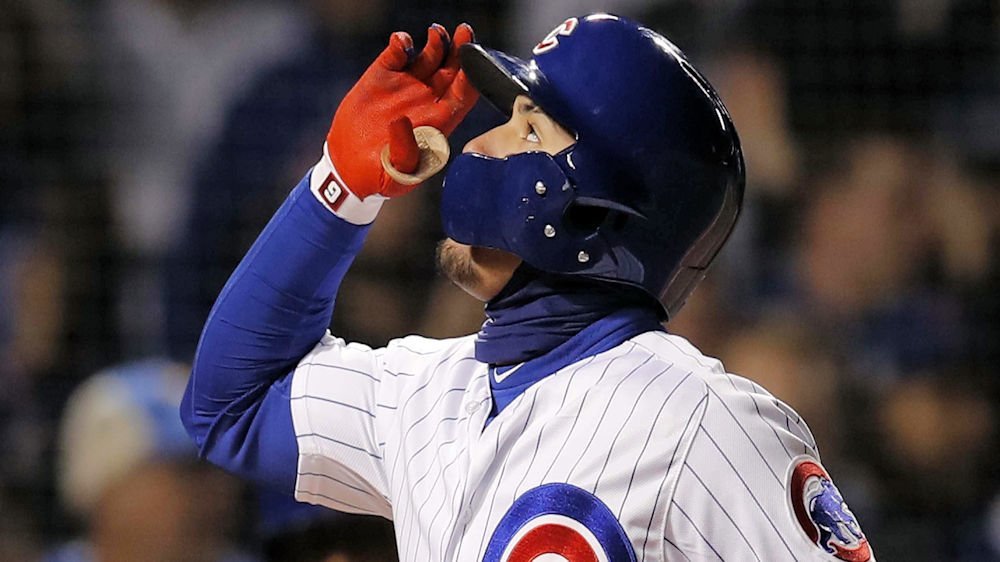 | | |
| --- | --- |
| Cubs demolish Bucs behind Baez's multi-homer performance | |
---
| | | |
| --- | --- | --- |
| Wednesday, April 11, 2018, 11:25 PM | | |
CHICAGO — Oftentimes, a three-run home run that puts a team up 3-0 in the second inning is a tone-setter, as it frequently provides the team that benefits from it with plenty of momentum. In the case of Wednesday's game between the Chicago Cubs and the Pittsburgh Pirates, the three-run jack hit by the Pirates' Sean Rodriguez in the second was essentially meaningless. Though a nice moment for Rodriguez, with the dinger serving as his first long ball of the year, it was absolutely meaningless because the Cubs went on to produce three separate four-run innings en route to a 16-hit offensive showcase as part of a 13-5 demolition of the swashbucklers from the Steel City.
While Cubs starting pitcher Jon Lester was far from adept on the evening, with seven hits and four runs charged to his name, his opponent on the hill, Steven Brault of the Pirates, was miserable enough in one particular inning to let Lester off the hook. Rattled by a surprise drag bunt from Cubs left fielder Ben Zobrist to lead off the second inning, Brault proceeded to give up four runs in the frame, allowing one run to score on a wild pitch and three runs to score on a home run by Javier Baez.
When life gives you a 3-1 fastball ... pic.twitter.com/xmLnVkNG7b

— Chicago Cubs (@Cubs) April 12, 2018
Entering the series against the Pirates with zero home runs on the year, Baez hit his third homer in two games with a 434-foot moonshot in the second inning, marking his 50th career home run. Leading 4-3 at that point, the Cubs were quiet offensively for the remainder of Brault's start. The second-year Pirates hurler finished with seven hits, two walks and three strikeouts in five innings pitched. Lester gave up another run before his five-inning outing ended, getting taken for a run by way of a Francisco Cervelli RBI single in the fifth.
Yet again, however, Lester was let off the hook by one bad inning from a Pittsburgh pitcher or, rather, in the case of Pirates reliever Tyler Glasnow, two-thirds of an inning. Like Brault, Glasnow appeared to come unglued because of a surprise start to an inning, with Baez striking out swinging on a wild pitch that was just wild enough to allow the speedy infielder to reach first base safely.
Baez stole his first base of the year soon afterward, swiping third and then scoring on a fielder's choice ground ball from Tommy La Stella. Leading 5-4 at that point, the Cubs tacked on three additional runs off of Glasnow before we was pulled with two outs. Slugger Kris Bryant, who went 3-5 with two RBI and one run on the night, hit one of two doubles in the matchup, scoring La Stella to give Chicago a two-run lead. Thereafter, Zobrist, who played the role of spark plug at Wrigley Stadium on Wednesday, knocked in two runs with a clutch single to shallow center.
Completing the triumvirate of inept pitching for the Pirates in their sizable loss to the Cubs was reliever Josh Smoker, who joined the party with a four-run inning of his own in the seventh. With his first home run since the legendary Opening Day bomb, Ian Happ got ahold of a Smoker splitter in a pinch-hitting spot, pulling a 374-foot home run over the left-field wall to put the Cubs up 11-4. Also contributing to Smoker's meltdown were Jason Heyward, who gave the Cubs a 9-4 advantage with an RBI single, and Bryant, who hit his second RBI double of the game that pushed the Cubs' lead to 12-4.
NINE #Cubs have base hits tonight.
NINE Cubs have scored a run tonight.#EverybodyIn pic.twitter.com/idsyJjupX2

— Chicago Cubs (@Cubs) April 12, 2018
Pirates third baseman David Freese hit another meaningless Pittsburgh homer in the next inning, and, just for good measure, Baez secured his second consecutive two-homer performance with a solo shot of his own in the bottom half of the eighth. Baez, who went 2-4 at the plate, was one of five Cubs to put together a multi-hit performance in the blowout win.
2nd homer of the day for Javy. pic.twitter.com/gfWEtY023C

— Kevin Marchina (@kg_holler) April 12, 2018
Moving to 6-5, the Cubs pulled to within two games of the 8-3 Pirates in the National League Central standings. Chicago reliever Brian Duensing became 1-0 by receiving the win for a solid one-inning showing, and Glasnow fell to 0-1 thanks to perhaps the worst outing of his young career. The rubber match of the three-game divisional battle will commence on Thursday afternoon at the Friendly Confines, with a scheduled start time of 1:20 PM CST.