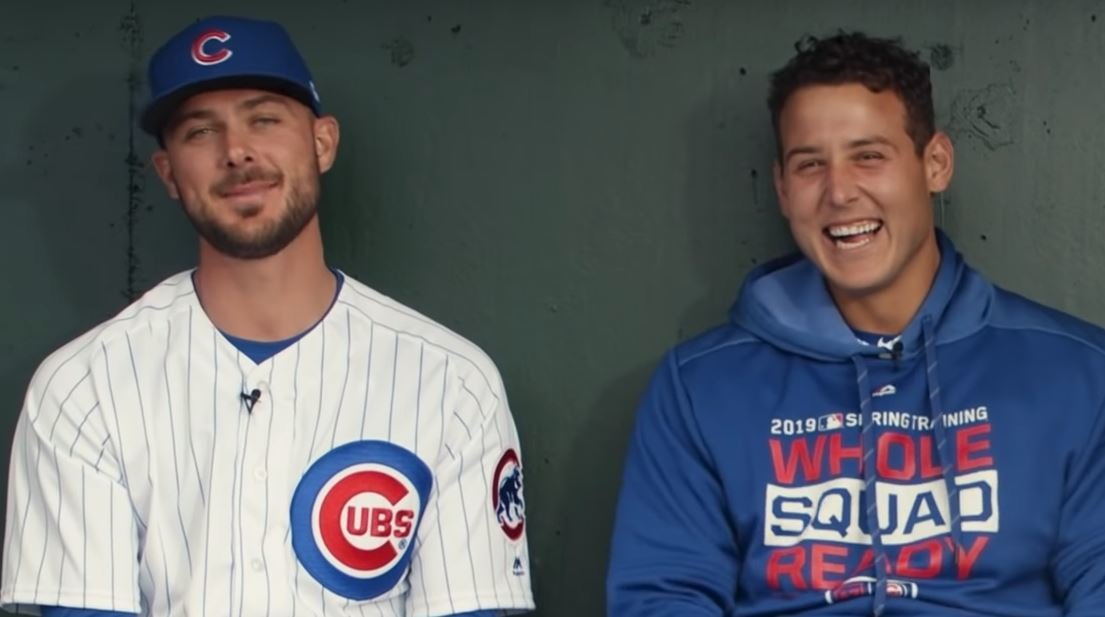 | | |
| --- | --- |
| Cubs' epic YouTube videos, Rizzo's dream-team, and MLB notes | |
---
| | | |
| --- | --- | --- |
| Tuesday, March 12, 2019, 7:13 AM | | |
Upcoming games: The Cubs will host the Reds tonight at 9:05 PM Central (Pitchers TBD). March 13, 3:05 PM Central: Cubs vs Athletics (Pitchers TBD)
Cubs' Opening Day: 16 days. March 28 @ Rangers; (Lester vs TBD). Game time: 3:05 PM Central. (WGN, MLB.TV).
Cubs' Home Opener: 27 Days. April 8 vs. Pirates: Game time: 1:20 PM Central. (ABC-7, MLB.TV)
Monday's Game Recap: The Cubs had one of their two off-days yesterday, with their final one scheduled March 18th. Following the off-day on Monday, the 18th, the Cubs will split the squad, with one-half staying home to host the Mariners, while the other half travel to Surprise Stadium to take on the Royals.
Cubs YouTube: The Cubs launched their YouTube channel on Monday, featuring several player related videos. Just one of many, but the "Call the Bullpen" video with Anthony Rizzo and Kris Bryant are hysterical.
Anthony Rizzo: When asked about being a lifetime Cub Rizzo recently replied, "I want to be a Cub for my whole career, it would be very special to do that."
David Bote: Who didn't see the game, or hasn't seen the video, featuring David Bote's pinch-hit, two out, walk-off grand-slam, coming after he was down to his last strike? Not many, I'm sure. But trust me… You've never seen it quite like this.
Cubs' 'Miracle': The Cubs' 2016 World Series season is headed to Broadway… ok, not exactly, but it has been made into a musical entitles, "Miracle." The play was based on the book by the same title, written by Jason Brett, with music by Michael Mahler. The show is set to hit the stage (for previews) on May 8th at the Royal George Theater in Old Town (Chicago).
Out of options: There's always a lot of talk about optioning players when they under-perform, but the truth is, some players can't be optioned- Tyler Chatwood, for example. Mike Montgomery, however, is currently the only man on the Cubs' 40-man roster with less than five year's worth of service time, and out of minor league options. That means that he must clear waivers before being sent to the minors if for whatever reason the Cubs would choose to do so.
Cub Birthdays: Belated birthday wishes (on Monday) to, ex-Cubs Rich Hill (39) and posthumously, Jack Spring (86).
Monday's Scoreboard: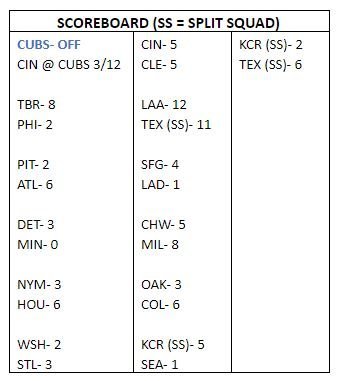 TUESDAY (EST): 1:05 PM: DET @ BOS, NYM @ MIA, MIN @ PIT, STL @ ATL, TBR @ TOR. 4:05 PM: CWS (SS) @ KCR, SEA @ CWS (SS). 6:35 PM: HOU @ WSH, BAL @ NYY. 9:05 PM: SDP (SS) @ CIN (SS). 9:40 PM: TEX @ ARI, OAK @ SDP (SS). 10:05 PM: CIN (SS) @ CUBS, MIL @ SFG.
WEDNESDAY (EST): 1:05 PM: MIN @ BOS, ATL @ WSH, STL @ MIA, TOR @ BAL, HOU @ NYM. 4:05 PM: CUBS @ OAK, CLE (SS) @ KCR, MIL @ CLE (SS), ARI @ COL. 6:35 PM: PHI @ NYY. 9:10 PM: SDP @ LAA. SFG @ SEA. 10:05 PM: CWS @ LAD.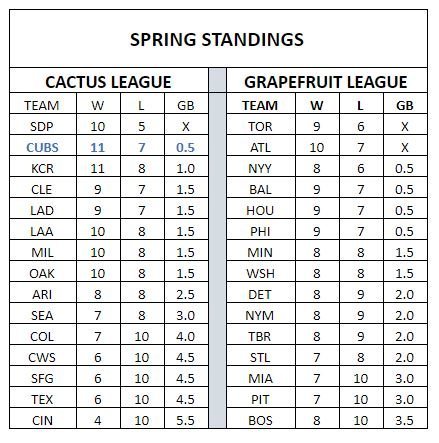 News from around MLB:
Braves: Two weeks ago, Mike Foltynewicz, the Braves #1 starter, was scratched from the lineup due to elbow soreness, and now manager, Alex Anthopoulos is saying he won't be ready for Opening Day. There is currently no timetable for his return. The Cubs will be in Atlanta for their second regular-season series of 2019 on April 1st, 3rd, and 4th.
Cardinals: After unsuccessfully negotiating salaries with two of their youngest and most prominent pitchers, St. Louis has now imposed salaries on Jack Flaherty and Jordan Hicks. No word yet on the salary figures.
Dodgers: The Dodgers have placed OF Andrew Toles on the restricted list. He hasn't reported to camp because of a personal matter. The move clears a spot on the 40-man roster.
Mets: NY will be without right-handed reliever, Drew Smith for 2019. Smith is due to undergo Tommy John surgery to repair the UCL in his right elbow.
Rangers: They say everything is bigger n Texas, and the Rangers are looking to uphold that tradition by unveiling "The Fowl Pole" this year. It's a single, 2 pound, breaded chicken tender that comes on a bed of waffle fries with ranch & honey dipping sauces. (Sounds great, looks great, but I can already feel my cholesterol rising)
The Texas Rangers are selling something called The Fowl Pole this season.

It's a single, 2 pound, breaded chicken tender that comes on a bed of waffle fries with ranch & honey dipping sauces.

It comes in its own carrying case. pic.twitter.com/5IHETUpoNz

— Darren Rovell (@darrenrovell) March 11, 2019
Rays: Tampa renewed Blake Snell's contract, but he's not happy about it. At the team's discretion, Snell will be paid $573,000.00- far less than he believes his value to be. Snell commented on the team's decision, saying, "The Rays have the right under the collective bargaining agreement to renew me at or near the league-minimum salary. They also can more adequately compensate me, as other organizations have done with players who have similar achievements to mine. The Rays chose the former. I will have no further comment and look forward to competing with my teammates and field staff in our quest to win the World Series in 2019."
White Sox: The Sox have claimed (LHP) Josh Osich off waivers from Baltimore.