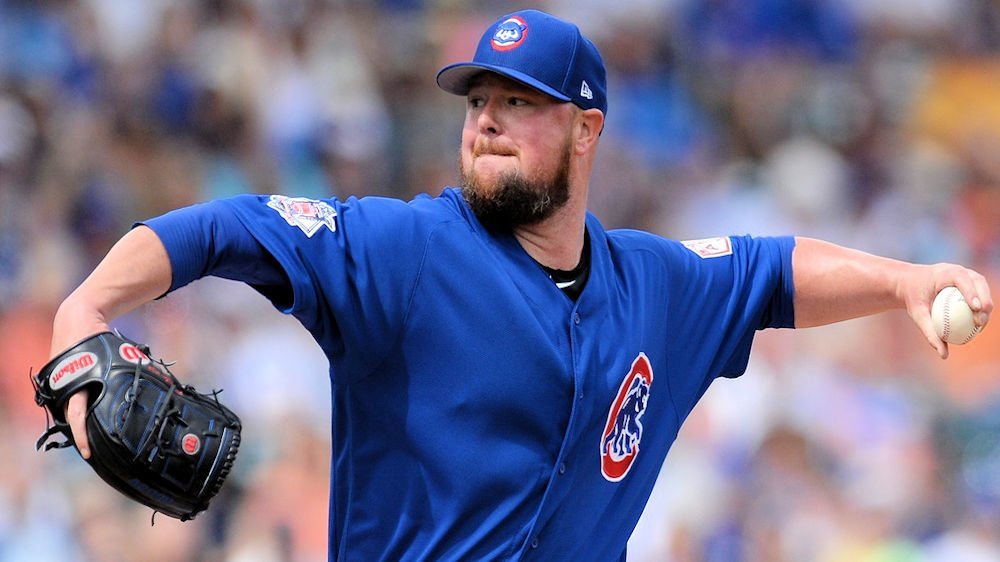 | | |
| --- | --- |
| Cubs fall to 8-6 on a bad day for Jon Lester | |
---
| | | |
| --- | --- | --- |
| Thursday, March 7, 2019, 6:18 PM | | |
The Cubs grabbed an early 3-0 lead, but seven unanswered runs by the Rockies would hand the Cubs their sixth loss of the spring. Final score 7-5 in favor of Colorado.
T1: Jon Lester came out firing strikes, claiming two strikeouts (Blackmon, Desmond) to start the game. Dahl would hit a single, followed by a ground-rule double by Reynolds, when the right-field ball-guy decided to pick up a live ball (not entirely bad, as it likely saved the Cubs a run). Lester would get out of trouble on a fly to Kyle Schwarber to end the inning.
B1: (COL: Sanzatela-RHP) Ian Happ and Ben Zobrist would start it off with back-to-back singles to center. Kris Bryant would go down swinging, followed by Kyle Schwarber's groundout to second, which would advance both baserunners. Willson Contreras' ground-rule double to left would score a pair. The inning would end on Jason Heyward's groundout. Cubs lead 2-0.
Willson Contreras giving the Cubs the early lead with this two-run double #Cubs pic.twitter.com/29r1D9Dj2K

— Cubs Insider (@realcubsinsider) March 7, 2019
T2: Lester got back to work in the second, striking out Valaika to start the frame. A groundout (McMahon) and a line-out to Bryant (Tom Murphy) would give Lester a 1-2-3 inning.
B2: (COL: Sanzatela-RHP) A trio of simultaneous singles (Addison Russell, Victor Caratini, Nico Hoerner) would net the Cubs another run, but Happ's grounder to first, followed by Zo hitting into a 6-4-3 double-play to end the inning. Cubs up 3-0.
#Cubs prospect Nico Hoerner put his skills on display yesterday against the Rockies.

The 2018 first-round pick went 3/3 with a Triple. pic.twitter.com/MIrR8nkMtH

— Cubs Talk (@NBCSCubs) March 8, 2019
T3: Jon Lester had nothing but problems in the third. A leadoff homer (Hampson), a one-out walk (Desmond) and a two-run homer (Dahl) would tie the game. Lester would retire the next two to end the inning. Game tied 3-3.
B3: (COL: Sanzatela-RHP) The Cubs would go down fast and in order on a pair of groundouts (KB, Schwarber) and a bunt by Contreras.
T4: Lester would come back to start the fourth, striking out Valaika and retiring McMahon to start the inning. Lester would be lifted (pitch count) and replaced by Wyatt Short (LHP). On the first pitch, Murphy would hit a no-doubter to center, putting the Rox up 4-3. Short would end the inning on a flyout to Happ.
B4: (COL: Davis-RHP) Former Cub, Wade Davis, get started with a pair of strikeouts (Heyward, Russell), but would plunk Caratini with two out. An infield hit by Hoerner, ending with a wild throw to first (E6) would advance Caratini to third, but the threat would end on Happ's groundout. Cubs trail 4-3.
T5: Brian Duensing would take the bump in the fifth, retiring the first two on a pair of infield groundouts (Blackmon, Desmond). Dahl would go 3-3 on a single to right, but Duensing would escape damage when Contreras gunned down Dahl, attempting to swipe second, for the third out.
B5: (COL: Dunn-RHP) The Cubs would stall again in the third, going down in order on a pair of strikeouts (Zo, Schwarber) and an infield pop-out (Bryant), Cubs behind 4-3.
T6: Brandon Kintzler would be clobbered in the sixth, issuing a walk (Reynolds), a pair of singles (Valaika, McMahon) and a three-run double (Murphy), putting the Rockies up 7-3. Kintzler did get one strikeout (Iannetta) and a groundout (Hampson) before being replaced by RHP Zach Hedges. Hedges would walk the first batter he faced (Blackmon) but would retire Desmond on a ground ball to end the frame.
B6: (COL: Oberg-RHP) A single by Heyward would be the only highlight of the sixth for the Cubs' offense, in another scoreless inning. Cubs still trail 7-3.
T7: Junichi Tazawa would get an awakening with an inning that started with screaming line-drive back to the mound, followed by a hard hit grounder back at him. After a ball skipped off Ryan Court's glove at first, resulting in an error, Tazawa would finish the frame on a fly out to left.
B7: (COL: Oh-RHP) Nico Hoerner would start the inning by going 3-3 on a triple. Charcer Burks would bring Hoerner home on a long fly out to left. Zack short and Phillip Evans would fan to end the inning. Cubs behind 7-4.
T8: Dillon maples would pitch the eighth, striking out Mundell to start the inning. A groundout to second (Nunez) would give Maples his second out, but Welker would double to center. Maples would escape, run-free, on a strikeout (Rodgers).
B8: (COL: Estevez-RHP) The Cubs would fail to score again in the eighth, going down in order on a strikeout (Trent Giambrone) a groundout (Taylor Davis) and a flyout to center (Jim Adduci).
T9: Dakota Mekkes would finish the day on the mound for Chicago. Despite giving up a leadoff single (Mooney), Mekkes would retire Tauchman on a flyout, then get out of the inning on a flyout that turned into an 8-3 double-play (Burks-Court).
B9: (COL: Tinoco-RHP) Cristhian Adames would bring the Cubs to within two on a no-doubter left field. After Ryan Court grounded out, Hoerner would reach for the fourth time today after being clipped by a pitch. Charcer Burks would go down on strikes, with the game ending on Zack Short's line drive to second. FINAL: Rockies-7; Cubs-5.
The Cubs will play their first night game of the spring tomorrow when they travel to Peoria, Arizona to take on the Mariners. Game time: 7:40 PM Central. This game is scheduled to air on MLB.TV and MLB Network.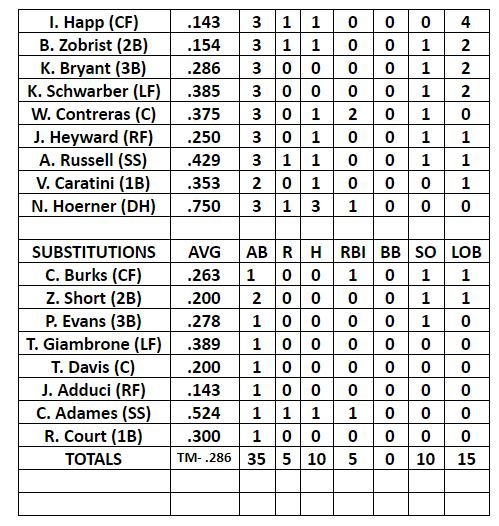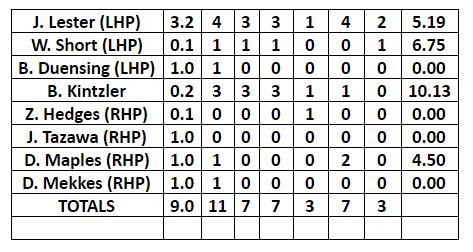 Final: Rockies 7, Cubs 5. #SpringTraining pic.twitter.com/tbFT5DEtKm

— Chicago Cubs (@Cubs) March 7, 2019

Tags: Cubs Baseball
,
,
Kyle Schwarber
,
,
Ben Zobrist
,
,
Willson Contreras
,
Jason Heyward
,
Addison Russell
,
Victor Caratini
,
Wade Davis
,
Brian Duensing
,
Brandon Kintzler
,
Taylor Davis