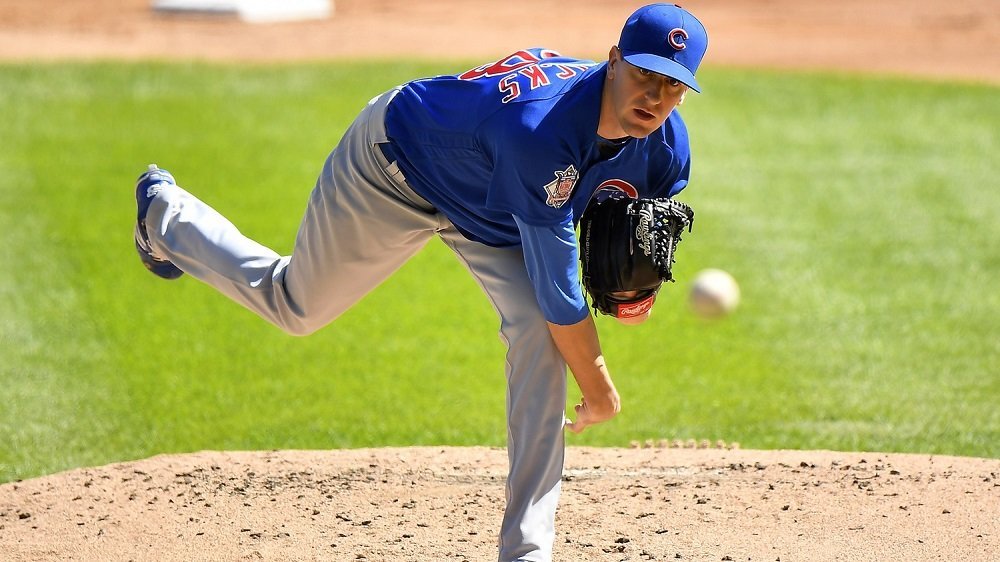 | | |
| --- | --- |
| Cubs lose big to Angels, Hendricks wants to remain a Cub, Zagunis turning heads, more | |
---
| | | |
| --- | --- | --- |
| Wednesday, March 6, 2019, 7:29 AM | | |
Upcoming games: March 6, 3:05 PM Royals at Cubs (Fillmyer vs. Quintana); March 7, 3:05 PM, Rockies at Cubs (Senzatela vs. TBD).
Cubs' Opening Day: 22 days. March 28 @ Rangers; Game time: 3:05 PM Central. (WGN, MLB.TV).
Cubs' Home Opener: 33 Days. April 8 vs. Pirates: Game time 1:20 PM Central. (ABC-7, MLB.TV)
Tuesday's Game Recap: The Cubs (7-4) traveled to Tempe today to take on the Angels (7-3). The Professor, Kyle Hendricks, got the nod for Chicago, while the Angels sent lefty, Tyler Skaggs, to the hill. The Cubs started with a 2-0 lead, but nine unanswered runs would end their day with a 9-2 loss.

Final: Angels 9, Cubs 2. #SpringTraining pic.twitter.com/IARpHlcWgC

— Chicago Cubs (@Cubs) March 5, 2019
Kyle Hendricks: The Professor had this to say about extensions and free-agency: "We're paying attention and taking note of what's happening. Regardless of all of that, I've always said I would love to be in Chicago for my whole career. I know how tough that would be in this day and age." In his start yesterday, Hendricks was charged with a pair of runs, after he went 2.1 innings, striking out four.
Hamels on Darvish: "His personality will come out a lot more, and people are going to identify with it and see the true Darvish we all know."
Jon Lester: In a video interview with NBC Sports Chicago's Kelly Crull, Jon Lester, among other things, reveals that he was a "lifetime" soccer player until high school when people started noticing his baseball talent. He's also realized that although he's a star, to his son, he's "just Dad."
#SpringBreak: @JLester34 opened up on a ride-a-long in AZ about how baseball found him, the unique thing about his team, and being a dad.

More from @Kelly_Crull on her experience with the @Cubs ace: https://t.co/bLDPRrKIhi pic.twitter.com/99fmYkxaMk

— NBC Sports Chicago (@NBCSChicago) March 5, 2019
Mark Zagunis: As I continue to watch the Cubs this spring, I've come to one conclusion: Mark Zagunis is becoming a beast. With only 12 appearances total for 2017 and 2018, Zagunis managed just a .105 batting average (2-19), with a .292 OBP. He hit no homers, only had two singles, had no extra-base hits, and only tallied 2 RBI (one each year). Although he did draw five walks in two seasons, he also struck out almost a third of the time, fanning seven times in 24 plate appearances.
Zagunis has figured something out this spring, though. He's currently slashing .350/.381/.750 (7 for 20)) with an OPS of 1.131. Although he's already tallied six strikeouts with just one walk, he now leads the team with 10 RBI. As of now, his only shot at a call-up this year will likely be as the result of an injury, which is unfortunate, as this kid is a diamond in the rough.
Birthday Wishes: Happy belated birthday to Kyle Schwarber who celebrated yesterday; he turned 26.
Happy Birthday Kyle Schwarber#EverybodyIn pic.twitter.com/qD7kMNYuqg

— CubsHQ (@ChicagoCubsHQ) March 5, 2019
Next televised game: Unless anything changes unexpectedly, the next televised game will be on Sunday, March 10- Cubs @ Brewers, 3:05 PM Eastern (WGN, MLB.TV). Following that game, the Cubs will have their first off-day of the spring on Monday, March 11, before taking on the Reds for a night game on the 12th.
Tuesday's Scoreboard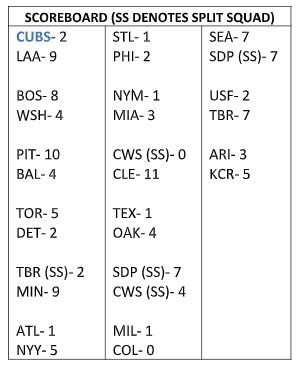 Wednesday's games (EST): 1:05 PM: PIT @ BOS, BAL @ TBR, STL @ NYY, ATL (SS) @ MIA (SS), MIA (SS) @ HOU, DET @ ATL (SS), PHI @ TOR. 3:05 PM: KCR @ CUBS, SFG @ TEX (SS), ARI @ MIL, LAA @ COL, SDP @ CIN, OAK @ SEA, CLE @ LAD.
Thursday's games (EST): 1:05 PM: MIN @ BOS, NYM @ WSH, BAL @ PIT, TOR @ TBR, NYY @ PHI (SS), HOU @ MIA, PHI (SS) @ DET, 3:05 PM: COL @ CUBS, LAA (SS) @ KCR, MIL @ CWS. 3:10 PM: TEX @ SDP, CLE @ ARI, LAD @ LAA (SS). 8:05 PM: SEA @ CIN. 9:05 PM: OAK @ SFG.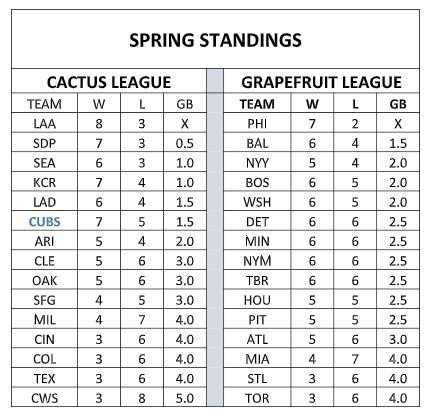 Other news from around MLB:
Craig Kimbrel: MLB Network's John Heyman weighed in on Craig Kimbrel remaining unsigned. "It's bad enough there are 30 plus, big league worthy, free agents still on the market, but to have a player on a Hall of Fame track, still in his prime, [left unsigned], is downright silly."
Blue Jays: With the announcement of the Clay Buchholz signing, the Jays have designated OF Dwight Smith, Jr. for assignment.
Dodgers: Clayton Kershaw is recovering from his shoulder injury, but manager, Dave Roberts says that he may not be ready in time for Opening Day. Kershaw is (or maybe, was) scheduled to be the pitcher for the season opener, which would have been his ninth consecutive start on opening day.
Mets: According to Tim Britton (The Athletic's beat writer for the Mets), "The Mets are going to name Jessica Mendoza as part of their front office, according to multiple sources. Mendoza will serve in a player-evaluation role, among other responsibilities. She will continue her work on ESPN Sunday Night Baseball." And here I thought the Phillies were the ones spending "stupid money."
Nationals: Although the Nats are very interested in reliever, Craig Kimbrel, the team is said to be hesitant about crossing the luxury tax threshold.
Padres: Outfielder, Tavis Jankowski, was diagnosed with a broken wrist after laying out for a catch. He's expected to miss "significant time."