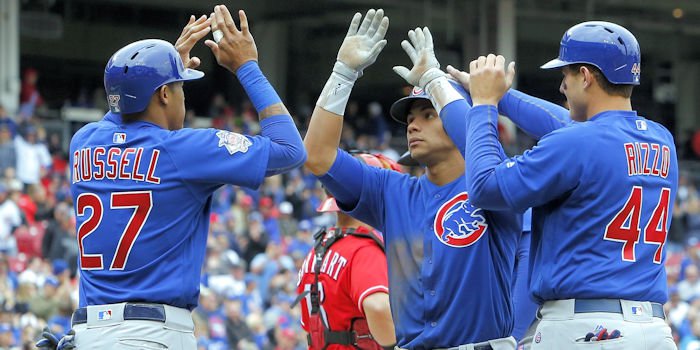 | | |
| --- | --- |
| Cubs lose despite Contreras' career-high six RBI game | |
---
CHICAGO -- It was a nightmarish start for the Chicago Cubs at Wrigley Field on Thursday afternoon but it soon turned into the Willson Contreras vs. Paul Goldschmidt show.
First, the Cubs faithful had to sit through an hour and a half minute rain delay and then once the action got started, the Diamondbacks hit Cubs newcomer Jose Quintana hard and won a 10-8 victory and the series win against the North Siders. The total rain delay that the fans and players had to endure was two hours and 35 minutes.
In the opening inning, bonafide all-star Paul Goldschmidt hit a three-run homer for his 23rd homer of the season followed by a solo shot to left field from Brandon Drury to take a commanding 4-0 lead. Much more to come from Goldschmidt shortly.
Cubs catcher Willson catcher Willson Contreras got the home team on the board with a 429-foot bomb to center field to make it 4-1 Diamondbacks. The homer was his sixth homer since the All-Star break and his ninth homer in 23 starts at the cleanup position this season.
Willson Contreras takes out his rain delay anger on this baseball. Flip over to @CSNChicago NOW or ??: https://t.co/AV1NBIwqn1 pic.twitter.com/x5IL4LYd7p

— Cubs Talk (@CSNCubs) August 3, 2017
With the wind blowing out, Goldschmidt crushed a two-run homer to left field onto Waveland avenue in the fourth inning to make it 6-1 Diamondbacks. Before today's game, Goldschmidt had only one homer in 64 at-bats at Wrigley Field.
Javy Baez hit a triple and scored on a wild pitch by starter Zack Greinke to make it 6-2 Diamondbacks at the bottom of the fourth inning.
The Cubs didn't go down easy as Contreras unloaded a three-run shot in the sixth inning to draw within one run at 6-5. He has nine homers in 23 starts at cleanup this season. It was his 18th home run of the season, and he is vying for team MVP this season with such insanely good play during this latest stretch of games.
Another interesting tidbit is that Contreras has 30 career homers in just 172 games which is the third fastest in Cubs history behind only Kyle Schwarber (140 games) and Kris Bryant (167 games).
In the seventh inning like someone playing a PlayStation baseball game, Contreras hit a go-ahead two-run double to put the Cubs up 7-6. It was his sixth RBI of the contest which is a career-high for the second-year emerging superstar.
RBI's 5 and 6 for Contreras as the @Cubs take a 7-6 lead in the 7th. Flip to CSN right NOW or ??: https://t.co/AV1NBIwqn1 pic.twitter.com/t3FLy9I6FW

— Cubs Talk (@CSNCubs) August 3, 2017
However, the Cubs bullpen faltered as Carl Edwards Jr. walked two batters and then Jake Lamb had a two-run single against newcomer Justin Wilson in the eighth inning to retake the lead at 8-7.
In the ninth inning off of Cubs closer Wade Davis, Goldschmidt hit his third homer of the game followed by a J.D. Martinez blast to put the game away in dramatic fashion. Goldschmidt is the first Diamondbacks player with a three homer game since Jason Kubel in 2012.
Davis gave up four hits in the inning in the unsuccessful and forgettable effort.
Cubs first baseman Anthony Rizzo started the final inning with a walk but Contreras could not continue his heroic efforts as he struck out for the first out. Newcomer Alex Avila had a pinch-hit walk to bring the tying run on base but Happ and Heyward also struck out to end the game.
On the pitching side of things, Quintana had a lackluster performance going five innings giving up six hits, six runs, a walk, and six strikeouts.
The next game for the Cubs is a Friday afternoon showdown with the Washington Nationals at 1:20 pm CDT.