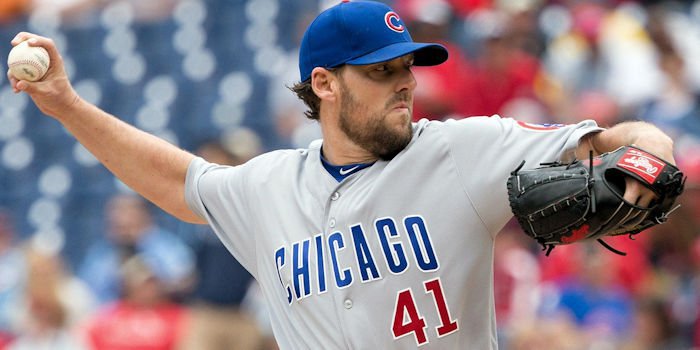 | | |
| --- | --- |
| Cubs lose despite return of Rizzo and Montero | |
---
| | | |
| --- | --- | --- |
| Saturday, June 25, 2016, 7:32 PM | | |
MIAMI -- The Cubs gained back Anthony Rizzo and Miguel Montero today in the lineup as rookie Willson Contreras started his first major league game out in left field. Ben Zobrist however missed out on the day's events after being hit in the foot yesterday, although the injury isn't considered serious at this point. The return of the two players didn't seem to be enough as the Marlins took over the game in the fifth and never looked back and won 9-6.
After pulling off a win against the Miami Marlins yesterday, the Cubs came into the game trying to get a winning streak started. The first inning left a few Cubs fans a bit weary of this as Yelich hit a sacrifice fly to centerfield to score Ichiro Suzuki to make it 1-0. The Cubs were able to redeem themselves in the next inning as Montero homered to right.
The third inning brought great news to the Cubs as Addison Russell homered to left center, scoring Contreras, and Javier Baez. The Marlins countered right back in the fourth inning as Bour homered to right scoring Stanton, putting them on the board again, but still behind 4-3.
A Cubs error in the fifth inning led to a double from Prado, which scored Suzuki. The error was costly as it tied the game at four a piece. Stanton then singled to center scoring Prado giving the Marlins a lead of 5-4. Lackey was then replaced by rookie reliever Gerardo Concepcion, making it Lackey's shortest start of the year. Bour then doubled to left off of Concepcion, scoring Yelich putting the Marlins ahead 6-4. Dietrich hit a sacrifice fly to left scoring Stanton, giving the Marlins a three-run lead at 7-4.
The seventh inning brought more grave news for the Cubs as Stanton doubled to center, scoring Prado and Yelich in the process making the score 9-4 for the Marlins. Concepcion was then replaced by Grimm on the pitching mound, who was able to get the Cubs out of the jam. A run was scored for the Cubs in the eighth by the kid Russell, putting the score at 5-9 still for the Marlins.
Bryant started the ninth inning for the Cubs with a walk as the rookie Contreras doubles to center scoring him putting the game at 6-9 with the Marlins still ahead by three. Russell was hit by a pitch to load the bases (five Cubs have been hit in the last two days), but it wasn't enough as the Marlins got out of the jam winning 9-6.
The Cubs continue the series tomorrow in Miami as they face the Marlins for the last game in the four-game series. Tomorrow's game will put Jason Hammel against Jose Fernandez, and hopefully, we'll see the return of Ben Zobrist to the starting lineup.