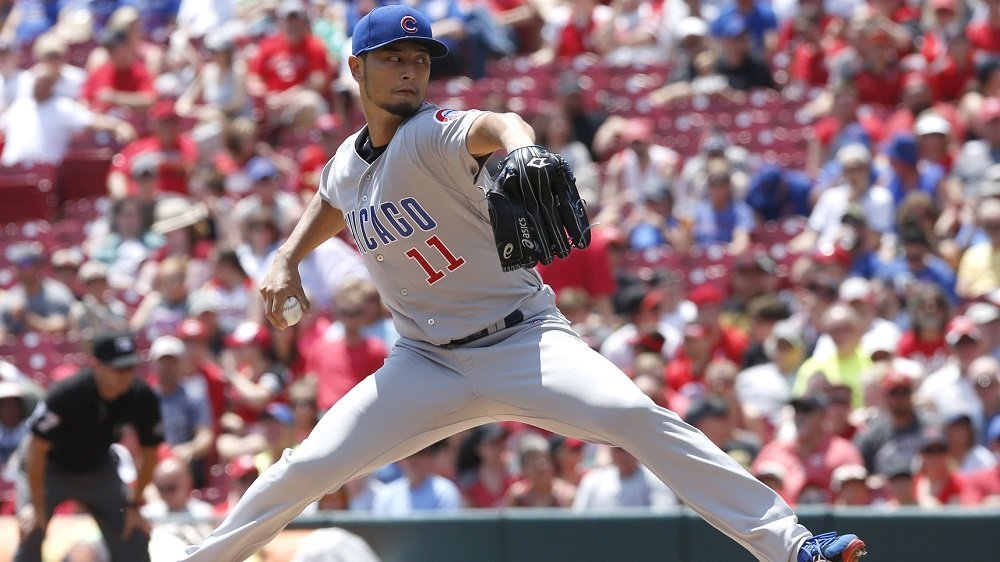 | | |
| --- | --- |
| Cubs need to find pitching after latest Darvish news | |
---
| | | |
| --- | --- | --- |
| Sunday, August 19, 2018, 7:06 PM | | |
Yu Darvish started today in South Bend, but starting was about all he did. After just one inning (19 pitches), Darvish summoned the trainer, once again complaining of pain in his arm, and requesting an MRI.
My first article for CubsHQ was a piece called "The Cubs' $164M question," and in that article, I questioned just what the Cubs' got for all that money they spent to sign Darvish and Tyler Chatwood. As time wears on, the answer is apparently "nothing."
I heard the boos, hisses, and jeers from the readers who stated that I had no idea what I was talking about, and the feedback became even louder when I suggested in a subsequent piece that Darvish was probably done for the season. Further drawing criticism, were my remarks about the Cubs' need to obtain a right-handed starter before the non-waiver trade deadline ended, but again, I was mocked and called "stupid," as the Cubs would be getting a right-hander back with Darvish's return.
Guess what? Ken's predictions seem to be coming to fruition, as Chatwood has continued to make a mockery of the title "starting pitcher," and the Cubs are now contemplating shutting Darvish down for the remainder of the season, in hopes to be able to utilize him next year.
So here we are, mid-way through August, the Cubs are still in first place, but now they are down two starters (three if you count Mike Montgomery). Monty is not scheduled to start this week at home against Cincinnati, but rather Chatwood is penciled in again in his place. Major mistake.
The morale of this team has got to be suffering somewhat, as they are down starters, relievers, a closer, and their star third-baseman, not to mention all of the offensive struggles. Still, they've played on, and they'll probably clinch the division, but what does this all mean for the post-season?
Right now, the Cubs have zero chance of surviving the first round of playoffs, unless and until they get another starter in the rotation. Chatwood shouldn't be on the playoff roster as a reliever, much less a starter, but if the Cubs don't manage to scoop up another pitcher, their choices will be limited. Montgomery might become healthy enough to get through the next two months, but let's face it, he belongs in the bullpen, as his recent starts have proven to be trouble.
The Cubs scored huge with the Cole Hamels deal, and there are still pitchers out there. Minor league options are available, but if the Cubs are to travel that road, they need to get someone up here and going now, rather than to wait until the playoffs start.
Rumors say that Matt Harvey (Reds) and Francisco Liriano (Tigers) may be traded before August ends. The Blue Jays may be looking to sell off Marco Estrada, and rumor has it that the Twins may be ready to part with Ervin Santana.
Matt Harvey would be the wisest choice if the Cubs can get him, based solely on the fact that Harvey is better than five years younger than the others. Harvey is currently 6-7 this season, with a 4.91 ERA, but bear in mind, Harvey is pitching for a team who is presently dead-last in its division. Cole Hamels came to Chicago from a similar situation, and he turned it around nicely.
Whether the Cubs elect to go old school or new school, they can no longer afford to bank on either Darvish or Chatwood. The two have been a letdown since April, and it only seems to get worse with each day that passes.
Failure to enlist some additional help soon most assuredly seals the Cubs' fate this season. If the Cubs are forced to eat the salaries of Darvish and Chatwood moving forward, you can be sure that the forty-man roster (and probably the 25 man roster) are in for some serious changes. Maybe Theo Epstein holds the nucleus together for the remainder of 2018, but trust me, as much as we'd hate to see it, the landscape is about to be changed.
As always, I welcome your comments, but before you go off on a tangent, please keep my track record in mind…