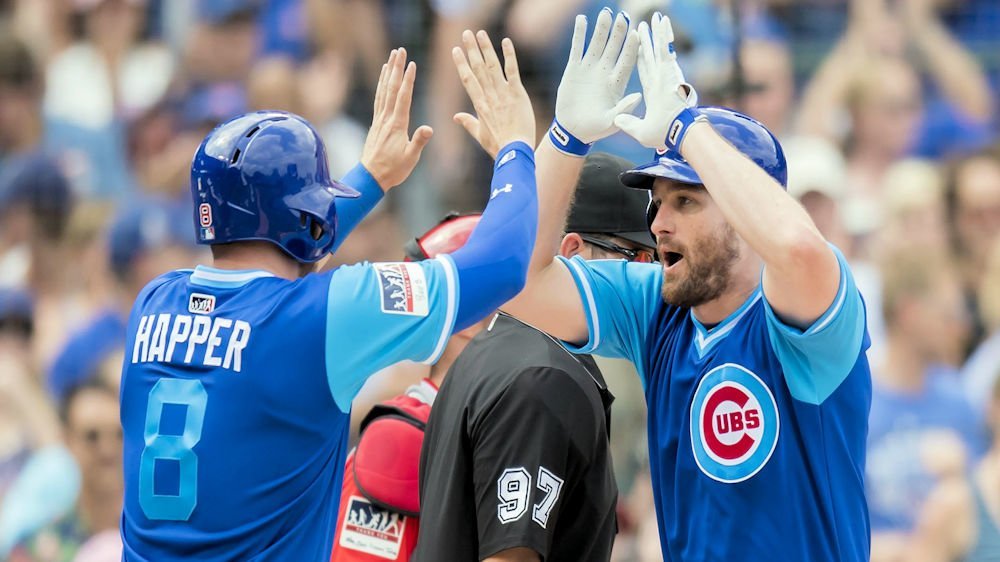 | | |
| --- | --- |
| Cubs offense with Murphy continues to sizzle | |
---
| | | |
| --- | --- | --- |
| Tuesday, August 28, 2018, 2:17 PM | | |
Although he didn't get off to an excellent start last night, I did not doubt that Jon Lester and the Cubs would be able to cover the deficit. A month ago, a start like that would have had me flailing my arms and screaming at the TV, but things seem different now.
The Cubs, now 6-0 with Daniel Murphy, have tied their longest winning streak of the year (6 games), and there's no sign that they're slowing down. It wasn't like they were facing Homer Bailey or Matt Harvey last night, this was a solid win against Noah Syndergaard, one of the best in the business.
The Cubs' bats were hot, with every starting player (including Lester) getting at least one hit. The team collectively went 14 for 37 (.378) on their way to win by a final score of 7-4. Murphy, Javier Baez, and Ben Zobrist collected two hits each, and Anthony Rizzo went three for five with a homer.
Murphy is now 11 for 27 (.407), with two home runs and five RBI as a Cub, and he seems to be packing in several of the Cubs' players on his offensive freight train. In the last seven days: Rizzo: 10 for 23 (.435), 3 HR, 7 RBI; Baez: 11 for 27 (.407), 3 HR, 8 RBI; Zobrist: 8 for 22 (.364), 0 HR, 2 RBI; Bote: 5 for 16 (.313), 3 HR, 6 RBI; Heyward 5 for 16 (.313), 0 HR, 2 RBI; Almora: 4 for 13 (.308), 0 HR, 0 RBI.; Caratini 2 for 5 (.400), 0 HR, 2 RBI. As a group, these guys have now gone 56 for 160 (.350) in the last week, combining for 11 dingers and driving in 32 runs between them.
While Murphy and the boys listed above have continued to put up substantial offensive numbers, Kyle Schwarber, Ian Happ, and Willson Contreras continue to struggle at the plate. The trio has only gone a combined 10 for 51 (.198) over the last seven days, adding just two home runs (both Schwarber's) and 8 RBI, to the remainder of the Cubs' blazing hot offense.
Tonight it will be Jacob deGrom's turn to try and shut down the Cubs. The Cubs' offense will have its hands full, as deGrom has carried a sparkling 1.71 ERA through 26 starts this season. If the Cubs can get to deGrom tonight, I truly think the sky's the limit for the remainder of the season.
As nice as a winning streak is, I think we all realize that it can't go on forever. If signing Murphy meant no losses, the Mets would have never parted with him, much less the Nationals. While the chances of achieving a 2016-like season (103-58) are almost nil, the Cubs, currently 77-53, can easily exceed last year's record of 92-70 by playing just .500 ball for the remaining 32 games. While 100 wins this year would require the Cubs to go 23-9 (.719) over their remaining games, I don't think it's an impossible task, giving how they've played lately.