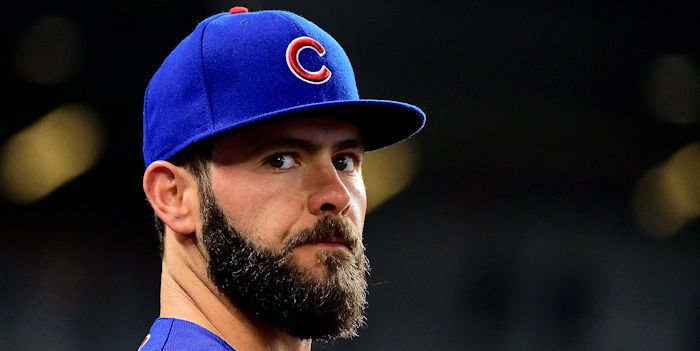 | | |
| --- | --- |
| Cubs pitching will have more questions in 2018 | |
---
CHICAGO -- Heading into next winter, the Cubs will have a lot of unanswered questions, mainly regarding the state of their pitching staff. After having a historically dominant performance a season ago, the starters have regressed significantly in 2017. Last year the starters posted a league best 2.96 ERA, the runner up being the Washington Nationals at 3.60. This year the Cubs starters ERA has shot up to 4.33 which is 11th in the majors. While the Cubs must have estimated that the starting staff would take a step back from last year, nobody predicted this far of a step backwards. Jon Lester, John Lackey and Jake Arrieta have all been very up and down this season, coupled with setbacks such as the injury to Kyle Hendricks and the inability to find a fifth starter at the beginning of the season. As the Cubs move onward during the season in 2017, they also must look toward the state of the pitching staff next year and beyond. The questions will be if the Cubs can build a rotation capable of winning another championship. When answering these questions the first issue that the Cubs must address is what will happen to Jake Arrieta next winter.
Arrieta, the 2015 Cy Young Award winner is set to hit free agency this coming offseason. After one of the best seasons a starting pitcher could ever dream of in 2015, he was thought to make a lot of money somewhere when he became a free agent. However, currently, Arrieta's value seems to be unclear as he has struggled somewhat towards the end of last season and those struggles have carried over into this season. He has been plagued by inconsistency, being unable to get into a groove like he was in 2015 and the beginning of last season. Following a 2015 season where he went 22-6 with a 1.77 ERA, Arrieta started strong in 2016 posting first half numbers of 12-4 with a 2.68, but fell off a bit in the second half finishing the season by going 6-4 with a 3.69 ERA.
This season Arrieta's numbers have fallen off as he's gone 7-5 with a 4.36 ERA. The steady decline in Arrieta's numbers along with a noticeable dip in his velocity could be very concerning to several ballclubs this winter. Another red flag for teams may be that a 31-year-old Arrieta, himself has admitted the increased workload has had a negative effect on his pitching. It will be interesting to see what Arrieta does get next winter but chances are it will be significantly less than what it could have been and it will not be with the Cubs. Despite a lower than expected price tag, it is still probable a team will offer Arrieta a contract bigger than the Cubs would like to match. If Arrieta does depart, the Cubs will more than likely replace him with another big-time free agent.
The 2018 free agent pitching class will be an interesting one. It is headlined by Arrieta, Yankee's C.C Sabathia, Ranger's Yu Darvish, Giant's Johnny Cueto and Yankee's Masahiro Tanaka. This will be a tough call for baseball general managers seeing as all of the pitchers have great upside but a lot of risk too. Sabathia is a former ace but his age and weight issues are likely to keep him from getting a big contract. Darvish and Tanaka both feature impressive pitches but have been plagued by injury and have struggled at times this season. Cueto has had his ups and downs in his career but seems the most likely for the Cubs to pursue.
Cueto, also 31, has had his own struggles this season going 5-7 with a 4.20 ERA. He has been more successful throughout his career going 119-82 with a career 3.28 ERA. They were already interested in him before he went to San Francisco to pitch for the Giants, and have entertained trade offers to acquire him this season. If Arrieta does, in fact, move on from Chicago it is most likely Cueto will be his replacement. If the Cubs do not want to spend the money he would require, look for the Cubs to target a cheaper pitching option, possibly Jeremy Hellickson from the Phillies who will also be a free agent.
The contracts dished out to all of these pitchers will be interesting because they all offer huge potential but also offer a fair amount of risk. As much as baseball executives normally give out big money to acquire pitching, organizations often fear tying up large sums of money in players. As it becomes more and more likely that Arrieta will play elsewhere next summer, the Cubs hope he can find his groove again, let his stock rise back up and leave Chicago after another playoff run.

Upgrade Your Account
Unlock premium boards and exclusive features (e.g. ad-free) by upgrading your account today.
Upgrade Now