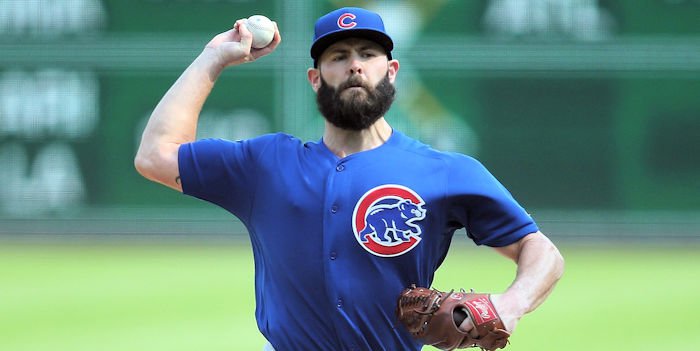 | | |
| --- | --- |
| Cubs projected to land Yu Darvish, Arrieta predicted to Brewers | |
---
Dodgers starting pitcher Yu Darvish had a horrible World Series in his two starts against the Houston Astros. One of the reasons for his poor play was that he was tipping pitches to the Astros batters.
However, regardless of his dismal play, he is regarded as possibly the top free agent pitcher on the market. For the 2017 season, he was 10-12 with 3.86 ERA with 209 strikeouts and 1.16 WHIP.
Mlbtraderumors.com has Darvish ranked as their No. 1 free agent overall and has him projected to go to the Cubs with a six-year deal worth 160 million.
"The 31-year-old righty should have no problem setting a new free agent record for a Tommy John survivor, passing Jordan Zimmermann's five-year, $110MM deal," MLBTR.com said. "Seven-year contracts have historically been reserved for slightly younger pitchers without elbow surgery on their resume, so we're expecting six years for Darvish. Free agent starters have exceeded a $25MM salary four different times, and we're projecting Darvish to become the fifth. If the Dodgers decide to move on, the Cubs, Phillies, Nationals, Cardinals, Astros, and Twins could be potential suitors. There's a shortage of obvious big-market players here, allowing for dark horses to enter the mix."
During his MLB career, Darvish is 56-42 with 3.42 ERA with 1021 strikeouts and 1.18 WHIP.
This projection to the Cubs makes little sense because the Cubs would just re-sign Arrieta if they thought signing a 31-year old to a long-term deal was a safe idea. The Cubs management want big-game pitchers and Darvish showed that he was not up to the task in two starts in the 2017 World Series.
MLBTR.com has Arrieta as the No. 4 ranked free agent and projected to go to the Brewers with a four-year deal worth 100 million.
"We expect him to come out looking for a six-year deal, but land at four or five," MLBTR.com said. "Arrieta appears likely to move on from the Cubs, with whom he was unable to agree to an extension in the past few years. However, it's possible Arrieta could circle back to the Cubs later in the offseason if his market disappoints. We don't see a clear favorite to sign him, so we've chosen a dark horse pick in the Brewers. The Cardinals, Nationals, Astros, Rangers, Phillies, Yankees, Angels, Mariners, Braves, Twins, and Dodgers could be in the mix depending on the price."
I don't see the Brewers being able to sign away Arrieta for that four year total for only 100 million. I think before Arrieta decides on that sum, he would re-think not re-upping with the Cubs. The North Siders do not want to have to face him several times a season as a member of the Brew Crew. The ideal situation would be him landing in the American League if the Cubs can not work out terms with him.
In 2017, Arrieta was 14-10 with 3.53 ERA with 163 strikeouts and 1.22 WHIP.